Ernie Johnson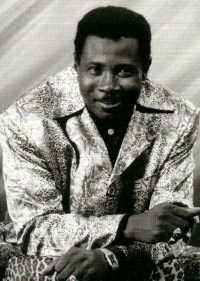 Born in Winnsboro, Louisiana, Johnson didn't begin singing professionally until after moving to Dallas. Johnson had a chance to open for Lavelle White in Mexia, Texas, and stole the show. At that point, he quit his day job with the Dallas parks department and formed a band, the Soul Blenders. He recorded his first single, "Lovin You" b/w "Cold Cold Heart," for Movin' Records in 1968. Johnson recorded other singles before his first album for Ronn Records, "Just In Time". Johnson has played the blues festivals in San Francisco and Monterey, and his next compact disc, "It's Party Time", was released on the Louisiana-based Paula Records label in 1993. Starting in 1995, Malaco Records released another 2 albums ("In The Mood", "Hot & Steamy"), before he recorded a great disc for Frank-O Johnson's Phat Sounds label entitled "Squeeze It". From there Johnson formed his own label, Stairway Ent., and released a couple albums- one Gospel and one Southern Soul LP. No material has surfaced since 2009's "I'm The One You Need".
Album Discography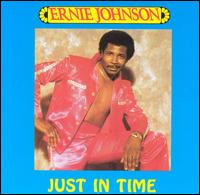 "Just In Time" (Ronn 1986; 1994)
1. Just in Time
2. You're About to Succeed
3. Party All Night
4. You're Gonna Miss Me
5. Mouth to Mouth Resuscitation
6. In My Dreams
7. Cold Woman
8. Give Me a Little Bit of Your Loving
**1/2 Debut LP by Johnson shows off his raspy Otis Redding-inspired vocals over a confident set of soul, blues & funk.. "Party All Night" is a great juke joint groover. The highlights are the soulful "You're About To Succeed" and Bobby Bland-like blues "Cold Woman".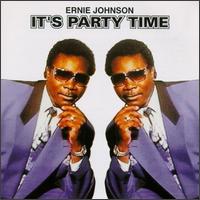 "It's Party Time" (Paula 1993)
1. It's Party Time
2. Honey I Love You
3. That Thang
4. Congratulations
5. Broke Man Can't Win
6. Dreams to Remember
7. Hard Times
8. Am I Losing You
9. Crying Out the Blues
10. Final Notice
11. I'm Doing Alright
12. Jesus Is a Waymaker
*** Successful CD features the smash hit title track, plus the impressive soul yearning of "Honestly I Love You", "Congratulations" and "Am I Losing You?". All but one song are Johnson originals (his marvelous take on Otis Redding's "Dreams To Remember") which are sturdy soul & blues numbers in the classic Chicago and Stax vein.
"In The Mood" (Waldoxy 1995)
1. I'm in the Mood for the Blues
2. Loves on the Other Line
3. Cold This Winter
4. Don't Waste My Time
5. I Love You
6. Bouncin' Back
7. Share You With Someone Else
8. Hold On
9. Move Along
10. It's All Over
****1/2 This essential disc has it all- rollicking juke joint blues ("I'm In The Mood For Love"), soulful, aching slowies ("Cold This Winter", "Share You With Someone Else"), midtempo southern soul ("Move Along", Robert Cray's "Bouncin Back"), even a finger-snappin' jazz soul song ("Love's On The Other Line"). Every song a gem- expertly produced by the Malaco staff. Props to the "Heavyweight Rhythm Section" featuring Clayton "Clyde" Ivery on piano and B-3, Big Mike Griffin and William Andrew Thomas on guitar, Lil David Hood on bass and Paul "Heavy" Lee on drums. The "Muscle Shoal Horns" are Charles Rose- trombone, arranger, Harvey Thompson- tenor sax, Doug Moffet- baritone & alto sax and Gary Armstrong trumpet.

"Hot & Steamy" (Waldoxy 1998)
1. Kiss It
2. Can't Keep a Good Woman Down
3. I'll Be Gone for Good
4. Made Your Bed Hard
5. Honey Love
6. I'll Choose
7. Hot & Steamy
8. My Lover's Prayer
9. Tonight's the Night
10. E.J. Stomp
**1/2 Southern soul star Mel Waiters is on board as collaborator and producer on this 2nd Waldoxy set. That Waiters "Hole In The Wall" sound is unmistakable on this set of funk-lite dancers and southern soul. Interestingly, the best song is written by Johnson himself, the great "Made Your Bed Hard", one of those midtempo head-bobbing soul blues cuts that is pure ear candy. Johnson does another dead-on cover of an Otis song ("My Lover's Prayer"). Waiters contributes several dance cuts, such as "Hot & Steamy", "I'll Choose" & "Honey Love" that are pleasant but are more suited for Mel himself than Ernie's vocal style. A thumping Johnson/Waiters co-write closes the album ("E.J. Stomp").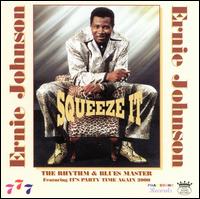 "Squeeze It" (Phat Sounds 2001)
1. Who Is That Man
2. All American Girl
3. Squeeze It
4. It's Getting Hard
5. It's Party Time Again 2000
6. I've Been Loving You to Long
7. Who Told You
8. Entertainer, The
9. You Made This a Happy Home
10. I Remember J.T.
11. Sexy (Sleeper)
***
1/2
It's party time again! ZZ Hill, Johnnie Taylor, Otis Redding, Bobby Bland- like them? Then you'll like Ernie Johnson guaranteed. EJ's 2001 cd
"Squeeze It"
unfortunately did not reach as many ears as it deserved. Soul/Blues lovers missed a real gem if they didn't pick this cd released on Frank O Johnson's Phat Sound imprint. Possessed with a raspy soul voice reminiscent of Redding (he has included an Otis song on nearly every disc- "I've Been Loving You Too Long" is wonderfully covered here!). Ernie masters blues on "Who Is That Man?" & "Who Told You", Southern Soul on "It's Getting Hard" & "The Entertainer" ("Young, Fine, Sweet & Tender"), party blues-funk on the cheeky "Squeeze It" & "It's Party Time Again 2000" (a sequel of sorts to his 1993 hit "It's Party Time"). Another highlight is the Johnnie Taylor tribute "I Remember J.T.". Everything about this disc is right- backed by a real band with real horns, a good batch of songs and some down home soul singing. Also recommended is
"In The Mood"
on Waldoxy.

"Jesus Is A Waymaker" (Stairway Ent 2005)
1. Jesus is a way maker
2. Lord take control of my soul
3. Sinner man
4. Search me Lord
5. That's heaven to me
6. I'm building my manision in the sky
7. I believe in my Lord
8. Jesus will see you through
9. Bring our troops home
N/R First gospel album plus the anti-war track "Send Our Troops Home".

"It's Party Time Revived: The Best Of Ernie Johnson" (Stairway Ent 2005)
1. It's Party Time
2. Dreams to Remember
3. Hard Time
4. Cold Woman
5. Crying out the Blues
6. You're About to Succeed
7. That Thang
8. Broke Man Can't Win
9. Final Notice
10. Just in Time
11. Give Me a Little Bit
12. You Gonna Miss Me
13. In My Dream
14. Big Man Cry
15. Old Man Blues
16. Bring Our Troops Home
17. Party All Night
18. Drowning in Misery
19. Narc Man
*** Johnnie Taylor...Tyrone Davis...Little Milton. Three soul & blues greats who've left us in the last several years, leaving only a few veteran greats in the blues world. We still have the likes of Bobby "Blue" Bland, B.B. King and Denise LaSalle. We also have Mr. Party Time, Ernie Johnson. Blessed with a real deal soul voice ala Otis Redding (he was even nicknamed "Little O" at one point), Johnson has been pourin' his soul out for nearly four decades. "It's Party Time Revived" is a 19-song collection that gathers some of his best from 1975 to the present day. Beginning with his classic and timeless hit "It's Party Time", a rollicking blues anthem in the league of Milton's "Blues Is Alright", and culminating in an obscure funky, synth jam called "Narc Man". There's too many highlights to mention but suffice it to say you get great hard blues cuts like "Crying Out The Blues" and "Party All Night", plus smoky slow blues like "Cold Woman" & "You Gonna Miss Me" and deep soul like "You're About To Succeed". There's also some Curtis Mayfied-inspired social commentary on the rolling blues "That Thang" where Johnson decries how crack cocaine has affected the black community. There's also a brand new track called "Bring Our Troops Home" that clearly calls for a pull out of American soldiers from Iraq. It's a smooth, R & B groover with an earnest vocal from Johnson. Speaking of vocals...Ernie bravely covered a Redding song on each of his records, so it's fitting he'd show his remarkable chops here with an Otis song. Prepare to be impressed by his passionate reading of "Dreams To Remember". You don't cover Otis unless you got the goods and Ernie sho 'nuff does. Most interesting to collectors may be the 70s-era material like "Big Man Cry", "Old Man Blues" and "Drowning In Misery". All three are slightly discofied dancers that work surprisingly well with more recent material. Still, not all of EJ's greatest cuts are included here (and the sound quality could be better- probably recorded from LPs). Nothing from his two Waldoxy records ("In The Mood" & "Hot & Steamy") nor his 2001 disc for Frank-O's Phat Sound label ("Squeeze It") makes an appearance but you'll hardly notice because this tight soul/blues set smokes and is guaranteed to "revive party time"! That said this is not really the "best of" without material from his best albums now is it?