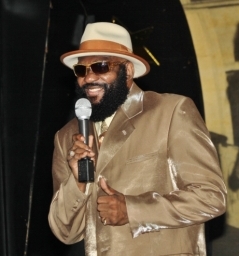 El' Willie
Songwriter, Arranger, Producer, Sax & Keyboard Player, Singer William Travis aka "El Willie" began his professional career began in the early 70's, when he joined The Original Drifters as a sax player. In the late 70's he left The Drifters to venture into other types of music. So in the late 70's he joined the renown group called, The Cornelius Brothers & Sisters Rose as a sax player and band leader. He was with that group approx. two years, and at that time the same guy that was managing The Drifters, Cornelius Bros & Sister Rose, was now managing The Flamingos, and they needed a singer. So he asked him to do him a favor and sing with that group. So he sang with The Flamingos as a background singer and choreographer for about nine months but at the time the doo-woop style wasn't for him. At the request of Eddie Cornelius he returned to the group to become the band director, background singer, and choreographer. He was with the group a total of nine years. In 1991 he branched out on his own and formed a four piece jazz band. In 1994 moved to Atlanta, GA where he became an established songwriter who has written, arranged and produced songs such as, "All My Baby Left Me A Note, My Guitar And A Cookie Jar" and "Stand Up In It" for Theodis Easley. Which remained in the Billboard Magazine at the number one spot for three months as the number one song in single sales , and he wrote "I'm A Man On A Mission" for Willie Hill , El' also added some lyrics to an already very solid layed track as El said by Bruce Billips on" Come Back Home," for Lebrado.
El' Willie released his first C.D. on M.V.P. Records out of West Palm Beach Fla. entitled, "EL ' Over Easy."
Album Discography

"El Over Easy" (MVP 2006)
*** Former sax player for the Drifters El' Willie (William Travis) is a successful songwriter. In fact he's the co-writer of Theodis Ealey's "Stand Up In It" and writer of Willie Hill's recent hit "I'm A Man On A Mission" and Ealey's "All My Baby Left Me Was A Note, My Guitar & The Cookie Jar". You can hear a little of that style in "I've Got A Problem", the first cut on "El' Over Easy". Vocally, El' has a plaintive delivery that sounds like guide vocals, but he's nonetheless effective. Though his style is mostly "easy" there's a couple dancers too like "Sexy Lady", a hybrid of Johnnie Taylor's "Disco Lady" & Marvin Gaye's "After The Dance". But it's on slowies like "Mr. D.J.", "It's Alright", which borrows from "Cruisin", and "Tell Me" where El's in his element. Sometimes you just need easy listening and El's got your back.

"Dance With Me" (Hep' Me 2007)
1 I'm So Blessed
2 Will You Marry Me?
3 Sugar I'm Tryin' to Get to Know You
4 I'm So Glad to See You Again
5 Dance with Me
6 I Don't Wanna Stop Loving You
7 Crazy Kind of Mind
8 Stay With Me Tonight
9 You Got Me Where You Want Me
10 Hello Sunshine
11 Springtime at the Old Havana
12 You Made Lovin Easy
13 One Wish- A Song for You
*** The E to the L to the Willie is now with Senator Jones' label Hep Me Records. El's bag is the easy, lean back, nod yo' head and get your sip on groove and here it is again on "Dance With Me". While this isn't a club record there's more mid-tempo tracks than normal like "I'm So Blessed", "Dance With Me", "Crazy Kind Of Mind", "Hello Sunshine". Still El's strength is romantic, seductive slow jams. Listen to him intone on "Sugar I'm Tryin' To Get To Know You". So smooth. I can't help but picture Tyrone Davis covering this song. I don't think El ever wrote for Tyrone like he did for Theodis (Ealey) and Willie Hill but they would've made one amazing baby making record. Smokey Robinson should cover "Hello Sunshine"!
The only thing I have against the record is being that El is a great sax player he doesn't play on most of the tracks. Instead he uses keyboards for horns. Nothing against keyboards but when El dons his sax like on "Springtime At The Old Havana" it just makes me hope for an album's worth.

"Situations" (MVP 2008)
1. Come Get Your Groove On
2. Shoo-Be-Doo-Be-Doo-, Shoo-Be-Doo-Be-Dee
3. Situations
4. I Can't Get Over You
5. Don't Ever Be Lonely
6. Will He Be There ?
7. Simple Girl
8. If Someone Know Somebody ?
9. Baby Don't Be Gone Too Long
10. Dope Or Dogfood ?
11. You Got To Play With The Hand You Got
12. Blues Raggae Style
13. Say It's Time For Loving Baby
14. Show Me What You're Working With
15. I'm So Glad I've Got You
16. You Need Jesus
**** The EL Willie has a gift for melody, expert vocal phrasing and clever lyrics. "Situations" is where it all comes together. Again, in case you forgot, he is the brutha who co-wrote Theodis Ealey's "Stand Up In It" and penned Ealey's "All My Baby Left Me Was A Note, My Guitar & The Cookie Jar" and Willie Hill's "Man On A Mission".
While he is mostly known for his uber-mellow slow jams El does add a dancer or two to his repertoire like the booty mover "Come Get Your Groove On" & the funky "You Got To Play With The Hand You've Got". Still, he's got made skills with the laid back to midtempo numbers. I fell in love with "Shoo-Be-Doo-Be-Doo, Shoo-Be-Doo-Be-Dee", a coasting finger snapper with a memorable refrain. It may seem light and even slight sonically but it's soulful in it's restraint, a perfectly structured song in it's simplicity that the Temps or the Four Tips (or heck, Boys-2-Men for that matter) could take to the top of the chart. Just as melodic is the lovely "Don't Ever Be Lonely", the early 70s hit for the Cornelius Brothers & Sister Rose. These two songs make it worth the while for me. But, wait! If you order now you also get...seriously there's much to like amongst the generous 16 tracks. The title track, "I Can't Get Over You", "If Some Know Somebody?" and the supremely romantic "I'm So Glad I've Got You" is vintage El'- chillin' on the slow tip- rappin' to you. Speaking of "rap" in the Hip Hop sense our hero adds a little Hip Hop flavor to the hilarious "Dope Or Dogfood" (with lyrics from Bishop James E. Bryant). Here El' reproves a foolish youngin' who's trippin' and wasting his life. Funkay! I've also grown to dig El's baritone voice. Initially (in my review of his first CD "El' Over Easy") I referred to it as "guide" or "pilot" vocals but either he's greatly improved or I just finally get it. It creeps up on you. Now I'd consider him a top notch singer. El's cool as all get out.

"Come Together" (MVP 2009)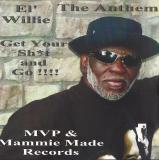 "The Anthem" (MVP 2010)
1 The Spot
2 El' Over Easy
3 Tell Me
4 Tj Hustle
5 James Brown (LP Mix)
6 Snap
7 Let It Rain
8 The Anthem (Club Mix)
9 What's Going On In The World Today
10 A Song For My Mama
11 James Brown (Radio Mix)
12 The Anthem (Radio Mix)
13 A Song For Mother
14 Enchanted Memories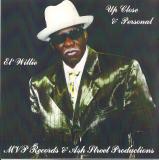 "Up Close And Personal" (MVP 2012)
1. When I Think About You
2. It's Getting Kinda Rough Out Here
3. I'm Not Gonna Give Love
4. Part Time Girl
5. Jackpot
6. Old School, New Jack, & Some Hip Hop
7. Sugar, Honey, Coffee & Tea
8. Body Calling
9. Up Close & Personal
10. If You Be Down
11. Dance, Dance, Dance
12. Ride With Me
13. Tell Me
14. 3:30 in the Morning
15. This Is What I See in You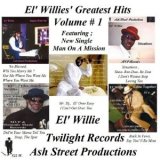 "Greatest Hits Vol. 1" (Twilight 2013)
1 Man On a Mission
2 So Blessed
3 Will You Marry Me ?
4 Mr. DJ
5 Did'nt Your Mama Tell You, Huh ?
6 Situations
7 Shoo-Bee-Doo-Bee Doo
8 I Can't Get Over You
9 The Spot
10 Snap
11 I Don't Wanna Stop Loving You
12 Back in Town
13 El' Over Easy
14 You Got Me Where You Want Me
15 Say You'll Be Mine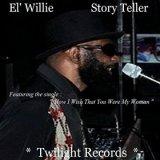 "Storyteller" (Twilight 2014)
1. Come On Down
2. If By Any Chance
3. I Don't Wanna Loose What I Got
4. How I Wish That You Were My Woman
5. What Would You Do ?
6. Leaving Won't Be Easy
7. Give Her What She Want
8. I Can Make You Feel Good
9. It's a Groove Like This
10. The Countdown
11. You Got to Play With the Hand You Got
12. Hurt 34
13. Let It Rain
14. Yes Jesus Love Me
15. Maybe This Time

"Try Me" (Twilight 2015)
1. Rise Above It All
2. Smooth Sailing
3. The T.J. Hustle
4. Try Me
5. Bullheaded Woman
6. You Made Loving Easy for Me
7. Do You Wanna Get Freaky Tonight?
8. Stay
9. Lets Go Somewhere
10. For One Night Only
11. Looking for My Babys' Mama
12. 3:30 in the Morning (Ahsadet)
13. Maybe This Time
14. Do You Wanna Get Freaky Tonight (Extended Version)
15. Looking for My Babys' Mama (Remix)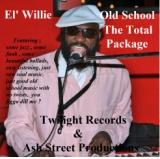 "Old School-The Total Package" (Twilight 2016)
**** On the cover of El' Willie's new album there's a blurb that reads "Featuring some Jazz, some Funk, some beautiful ballads, easy listening, just raw Soul music. Just good old school music with no twists...". That's a pretty fair description of what's here. It's the El' Willie style at it's best. While he often uses minimalistic keyboard arrangements that emphasize the melody and the vocals over the groove it doesn't mean he can't work up a groove evidenced by one of the standout tracks, "Check Me Out Babe", a smooth midtempo grinder that (as does all the tracks) reminds me of Marvin Gaye. He namechecks the great one on "The Countdown", another laid back-funk headbobber. It's El's "Inner City Blues" mixed with "A Funky Space Reincarnation". He sings of space travel to a celestial summit where "The time has come with us as a people to sit down and straighten this out/So let's designate a place get together there and I'm sure we can work it out". Considering the disturbing number of police shootings and gang-related violence the past few years the message is especially pertinent.
One of those "beautiful ballads" is "Never Knew Love Like This Before", a reminder of what an accomplished songwriter the man is. Then there's the lovely "It's True It's You". One day some big name R&B singer is going to discover El's catalog and record some classics. In the meantime El' deserves some hits of his own in the Southern Soul market (by the way he co-wrote Theodis Ealey's "Stand Up In It"). He's written hundreds of songs and released eight previous albums by my count but there's a freshness and fullness to this album that is quite infectious. The production is fuller- doing away with any previous criticisms that his recordings are too bare bones.
An accomplished sax player, El' jazz's up the slinky "Raining In My Heart". A terrific quiet storm record. "It's nice outside but it's raining in my heart". His chops are then highlighted on the sax instrumental "Maybe This Time". It was at this point in the album , which is 15 tracks deep, when it occurred to me how much care is taken to create an album. Again, being a zealous Marvin Gaye fan, I can appreciate the importance of the album as an overall statement or piece of art rather than just a collection of tracks. To create a vibe and/or a mood is an art in itself. El's albums are best taken as a whole. That's deliberate and not too common in this singles-driven genre.
As a bonus the album ends with a new take of one of his best songs, "The Anthem (Get Your Sh** And Go) Club Uncut Mix", a simmering funky boiler and the ultimate kiss off. Whether you're new to El' Willie or just need to catch up "Old School: The Total Package" is an ideal way to get hip to the El'. He's our dare-I-say modern day Marvin Gaye in this Southern Soul universe. As track 1 proclaims "El' Willie Done It Again".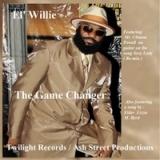 "The Game Changer" (Twilight 2017)
1. Feel Real Good
2. Nobody
3. Come on over to My Place
4. Love Story
5. The Game Changer
6. Dance
7. My Baby
8. Caller I.D.
9. Love Land
10. You Were (Always on My Mind)
11. Sexy Lady (feat. Mr. Clinton Powell)
12. Feel Real Good (Remix )
13. Jesus: The Anointed One, Pt. 1
14. Jesus: The Anointed One, Pt. 2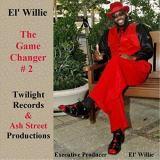 "The Game Changer #2" (Twilight 2018)
1. Give Me Your Love
2. Bye, Bye, Baby
3. I Just Dodged a Bullet
4. The Backstreets
5. El' Willie Slide Song
6. El' 3 Funk
7. Get Down
8. Oop Poop Pee Doo
9. I Love Talking About My Baby
10. I Just Like Chillin' with You
11. I Wish I Had a Girl Like You
12. I Think I Fell in Love
13. Since I Met You Baby
14. Wine & Dine You
15. Reunited (Welcome Home)
16. Slow Songs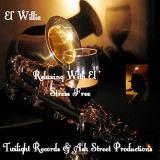 "Relaxing With El' Stress Free" (Twilight 2018)
1. How I Wish That You Were My Woman
2. Ride with Me
3. Lets Go Somewhere
4. Crazy
5. My Kinda Woman
6. For One Night Only
7. Just in Case You Need to Hear It
8. Blues Raggae Style
9. Jackpot
10. Baby Can You Come Over
11. Raining in My Heart
12. Relax, a Song for a Friend
13. Maybe This Time
14. 3:30 in the Morning
15. Will He Be There ?
16. Love Story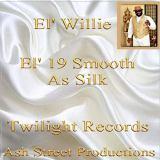 "El' 19 Smooth As Silk" (Twilight 2019)
1. How I Wish That You Were My Woman
2. Ride with Me
3. Lets Go Somewhere
4. Crazy
5. My Kinda Woman
6. For One Night Only
7. Just in Case You Need to Hear It
8. Blues Raggae Style
9. Jackpot
10. Baby Can You Come Over
11. Raining in My Heart
12. Relax, a Song for a Friend
13. Maybe This Time
14. 3:30 in the Morning
15. Will He Be There ?
16. Love Story