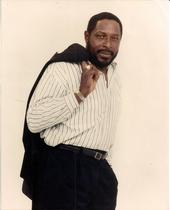 Eddie Leon
Eddie Leon is a R&B SOUL artist. A native of Jackson MS, born January 31. He has been surrounded by gospel and influenced by Sam Cooke. Eddie started professionally singing background for Lenny Williams. He joined a group call "Love Uprises", they were the opening act for groups such as The Temptations, The Whispers and The O Jay's just to name a few. "All Wrapped Up" was his first CD released in 1997. "Let Me In Yours Arms Again" was his second CD released in 2002.
Album Discography

"All Wrapped Up" (3-J's 1997)
1. Wrapped Up
2. New Sweetness
3. Thank God
4. Open The Door
5. Nothing Can Change This Love
6. Tell Me When
7. Just Tired Of Waiting
8. I've Been Loving You Too Long
9. My Turn To Play
10. Don't Need No Borrowed Love

"Let Me In Your Arms Again" (Leon 2002)
1 Let Me In Your Arms Again
2 Show And Tell
3 Nothing Without Your Love
4 I'll Come Running Back To You
5 Love Power
6 Serious
7 Just Got Tired Of Waiting
8 She's Out Of Sight
9 Just A Woman's Way
*** A good ole classic soul album from Mississippi's Sam Cooke, Eddie Leon. Actually Leon's voice is smoother but he certainly has some of those Cooke inflections to his voice, especially on "I'll Come Running Back To You". "Let Me Back In Your Arms" is a dynamite maiden cut of the nine here. A groovin' shuffle bumper with sweet female backups and an impassioned vocal from our man Eddie. The arrangements made me think of Harrison Calloway and a quick perusal of the liners confirmed my suspicion (along with Freddie Young). Nearly as good is "Kiss And Tell", with a refrain dripping with Memphis molasses, and Frank Hutch's "Love Power". Ace songwriter Tommy Tate penned the five other tracks here (two with Cookie Palmer, one with Calloway) like the gorgeous "Just A Woman's Way", previously done by the late Johnnie Taylor. Eddie cut his teeth opening for Taylor, in addition to the likes of B.B. King, Tyrone Davis, The Temptations and Lenny Williams. The mellifluous "Nothing Without Your Love" and "She's Out Of Sight" are also worthy of mention. Personally I'd like to hear Eddie funk it up just a notch next time around as "Let Me In Your Arms Again" is almost too smooth but that's just a matter of taste. This is only his second record but Leon sounds like he's been around for years and may there be many more to come.