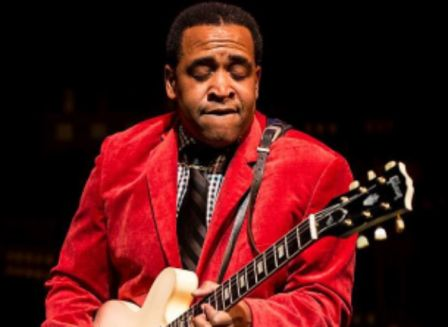 Eddie Cotton
Eddie Cotton (aka Eddie Cotton, Jr.) was born in Jackson, Mississippi. By his teens Cotton had become a skilled guitarist. After high school, Cotton studied music theory at Jackson State University, where he also began playing jazz. During this time, he befriended local blues icon King Edward, who invited Cotton to join his band on their weekly show at Jackson's Subway Lounge. After two years with Edward, Cotton formed his own band, the Mississippi Cotton Club, and released the independently produced album, "You're the Girl" in 1998. His next two releases garnered a lot of press "Live at the Alamo Theater" and and "Extra". Just when it seemed some record label would sign him based on the hype let alone his considerable talent. Instead he self released "Live Back At The Alamo Theatre" and continued to pay his dues on the road. He formed his label, DeChamp Records, and in 2014 released "Here I Come", quickly followed by "One At A Time" in 2015.
Album Discography
"You're the Girl" (Sam's House 1998)

"Live At The Alamo Theatre" (Proteus Ent. 2000)
1 Born Under A Bad Sign
2 Same Thing
3 Don't Give Up On A Love Affair
4 Shake For Me
5 Why Must I Cry
6 She's Gone
7 You're The Girl
8 Walkin' The Backstreets And Cryin'

"Extra" (self released 2002)
1. Feelin' Kinda Good
2. Let's Straigten It Out
3. Extra
4. Be Good To Me
5. Wrapped Up In Love
6. End of the Rainbow (Acoustic Version)
7. End of the Rainbow
8. I've Got A Right
9. Cool With Me
10. Time Will Tell
11. Killing Floor (Should Have Quit You)
12. Let Me Love You, Baby
13. Take Me To The River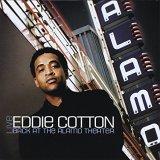 "Live Back To The Alamo Theatre" (self released 2007)
1. I Need Your Love
2. Straighten It Out
3. Funky Good Time
4. How Can You Mend A Broken Heart?
5. Love War
6. All Night Long
7. I'm Gonna Leave You
8. Here To Testify
9. I'll Play The Blues For You
10. Match Box Blues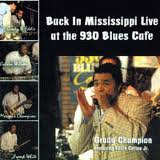 Grady Champion featuring Eddie Cotton Jr. "Back In Mississippi Live At The 930 Blues Cafe" (Grady Shady Music 2008)
1 Intro 0:31
2 I'm Ready 3:52
3 Baby What You Want Me To Do / Bright Lights 6:25
4 You Got Some Explaining To Do 4:19
5 1-800-Blu-Love 4:42
6 Policeman Blues 4:12
7 Spoonful 6:59
8 Lonesome Bedroom Blues 7:50
9 Love And Memories 5:59
10 Why I Sing The Blues 5:57
11 Wine And Women 5:47
12 Brother, Brother 4:53
13 I'm Yours 4:10
14 Blues On Christmas 5:37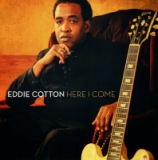 "Here I Come" (DeChamp 2014)
1 Here I Come
2 A Woman's Love
3 Pay To Play
4 Friend To The End
5 Get Your Own
6 My Boo
7 Leave Love Alone
8 Back In A Bit
9 No Love Back
10 Berry So Black
***1/2 Cotton is a curious case. I still recall all the hype and acclaim he received for his 2000-2002 albums, "Live At The Alamo Theatre" and "Extra". It seemed like he was on the verge of breaking out/crossing over Robert Cray-style but despite countless live performances honing his craft it took another twelve years for a new LP to appear and he had to release it (maybe by choice) on his own DeChamp imprint. There was also "Live Back At The Alamo Theater" in 2012. "Here I Come" features his Al green-inspired vocals and economical guitar licks. The title cut is a laidback, coasting Soul Blues like (you guessed it) Al Green is so good at. The even more mellow "A Woman's Love" has a pinch of Jazz, the Funky "Gey Your Own" sports a "Soul Man"-like rhythm while "Pay To Play" is a jookin' shuffle. For us ClassicSoul lovers we have the loping "No Love Back".
"One At A Time" (DeChamp 2015)
1 One At A Time 4:42
2 Be Careful 3:37
3 Better Deal 6:10
4 Catch I Wanted 3:30
5 Dead End Street 3:57
6 Fair Weather Lover 3:58
7 Filling Me With Pleasure 3:58
8 Hard Race 4:26
9 Je Ne Sais Quoi 4:42
10 Mississippi 3:36
11 My Money 4:45
12 Ego At Your Door 3:46
13 Race To The Dollar 4:32
14 War Is Over 5:02
***1/2 Cotton wastes no time succeeding last year's "Here I Come" with his second full length in as many years. He recently won the 2015 International Blues Challenge. Cotton's style brings to mind Little Milton, a little Bobby Rush Funk/Blues as if sung by David Brinston (or more accurately Al Green). The Soul-slanted numbers include "Ego At Your Door", "Dead End Street" and "Filling me With Pleasure"