Dicky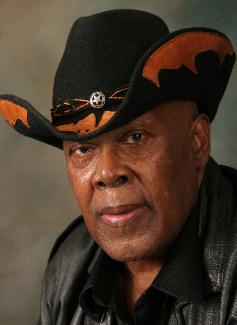 Williams
If you could pick one modern example of that earthy, downhome, story-telling, chitlin' circuit Soul/Blues Mr. Dicky Williams would fill the spot quite nicely. One thing's for sure he's one of the most underrated Soul/Bluesmen of our era. Like one-time fellow labelmate Chick Willis (Ichiban Records) Williams became known for bawdy songs like "Come Back P***y" & "I Want You For Breakfast" but he's actually a strong Soul singer/songwriter in the Otis Redding vein even without the x-rated shtick. Williams claims to have written "over 200 lbs" worth of songs- most of which have yet to be released!
Dicky's recording career dates back to the novelty 45 "Tee Na Na" in 1960 followed by scattered singles for Metro ("That's Where True Love Began"), Backfire ("Ride The Wind"), Pledge ("Heartache Hill") & Ace Records ("You Got A Good Thing Going On") before his first LP dropped in 1978 on Backfire Records, the highly sought after collector's item "Triple Dyn-o-mite". After a single or two more, including "Touching You" for Sirco in 1984, his second album, "Red Negligee', White Whiskey & Blue Lights" was released in 1986.
His greatest success to date came after signing with Atlanta's Ichiban Records. In 1989 he released "In Your Face", which produced the aforementioned "Come Back P***y" and his stone classic "In The Same Motel" (which also appeared on his "Red Negligee" record). He followed it up with 2 more records for ichiban before releasing two obscure records on his own in 1996 & 2003. In 2007 he recorded a new Blues/Rock album with guitarist Ken Massey, featuring the semi-popular song "Dog Kinda Love". In 2011 he teamed with Jerry Teel of Unity Deep promotions for a Country Gospel album.
Album Discography

"Triple DYN-O-MITE" (Backfire 1978)
1. Brother-In-Law
2. Old Bald Headed Man
3. Lovers After All These Years
4. Make Room For Three
5. My Woman
6. Black Woman
7. An Old Woman
8. If You Believe

"Red Negligee, White Whiskey & Blue Lights" (Backfire 1986)
1. Red Negligee, White Whiskey & Blue Lights
2. (In The) Same Motel
3. Turn It Up
4. Only One Woman
5. Don't Give Your Love (To Anyone Else)
6. Don't Leave Me
7. I Truly Love You
8. It's Christmas Again
***
Classic 1960s-styled Soul singer Dicky Williams starts this one off with a bona fide (and damn good) country tune with the title cut. Even better comes the best Otis Redding song Otis never wrote. Perhaps the ultimate cheating song, "In The Same Motel", delivers a hilarious storyline (man goes to cheat at the local motel and his wife is cheating in the next room) and an earthy vocal to be reckoned with. He further genre jumps with the Funky, disco-fied "Turn It Up" and "Only One Woman" next. Quite a range for four songs! What's next? heavy metal? Thank goodness not, instead he's back to Deep Soul and a lil' Blues for the remainder of this very fine LP.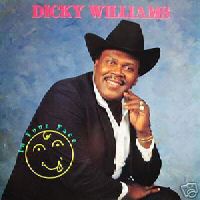 "In Your Face" (Ichiban 1989)
1. The Same Motel
2. I Didn't Do Nothin'
3. Come Back Pussy
4. Laughin' And Grinnin'
5. I Wanna Know Why
6. Ugly Men
7. Fat Girls
8. Do You Know (Where Your Woman Is Tonight)
9. Bad Luck And Hard Times
***1/2
This is as close to Deep Southern Soul as anyone got in this less than stellar decade. Opening with his career best song, the Deep Soul wailer "The Same Motel", the nearly equal sequel "I Didn't Do Nothin'", the nasty slow Blues "Come Back P***y" and "Laughin' And Grinnin' In Your Face" the disc was on it's way to greatness. Then a few synth-heavy throwaways ("I Wanna Know Why", "Ugly Men") derail the quality until "Do You Know (Where Your Woman is Tonight)?" and "Bad Luck & Hard Times" end the record on a high.
"I Want You For Breakfast" (Ichiban 1991)
1. Weekend Playboy
2. You Hurt The Wrong Man
3. I've Been Loving You Too Long
4. Letter From A Soldier
5. Need Your Love
6. Lost My Woman To A Woman
7. Good Used Man
8. I'm In Love With Two Women
9. I Want You For Breakfast
10. Let Me Love You Before We Make Love
11. Don't Give Your Love To Anyone But Me
12. A Little Closer
***
Props to Dicky for paying no heed to musical trends of the day (like New Jack Swing) and sticking to his Downhome Southern Soul/Blues style. Overall the material is split between humorous story songs and earnest Soul. The title cut is a clever Soul slowie making use of metaphors, and the similar "Lost My Woman To A Woman" beat others to the joke. "You Hurt The Wrong Man" is a vintage 60s-style ballad in Otis Redding territory (Williams also covers Redding's "I've Been Loving You Too Long") and "Weekend Playboy" is a strong Downhome Blues. Still, the fluctuating sound quality and occasional cheesy synth swashes lesson the impact of the songs.
"Full Grown Man" (1995)
1. Everything Is Everything
2. Everybody's a Fool for Somebody
3. I Live to Love You
4. Man
5. Beer Drinkin' Man
6. Our Love Needs a Tune-Up
7. Fall Out of Love
8. President of the Blues
9. Stronger
***
Dicky is tougher than ever on this Blues-oriented platter, which should have broke him through to the next level in popularity. After opening with a meaty Travis Haddix cover ("Everything Is Everything") Dicky hits hard with sturdy Bluesers like "Everybody's A Fool For Somebody" and the testosterone boiling "Man" that has more swagger than even Muddy Waters' "I'm A Man (Mannish Boy)". The pounding Stax-like "Stronger" and "Our Love Needs A Tune-Up" should've been radio hits. Meanwhile "Beer Drinkin' Man" delivers more of than storytelling Deep Soul wit and "I Live To Love You" proves he can single a sentimental ballad as well. What might have been had Dicky's record company marketed him right.

"Where Would I Be Without My Woman?" (Bald Eagle 1996)
***
An obscure independent release that includes a few of Dicky's best ("In The Same Motel", "I Want You For Breakfast") and a cache of decent Deep Soul ballads (title cut, 'Sex, Lies & Alibis"), Blues ("Somebody's Talking") and funky R & B ("Up All Night Long", "Love At The Laundromat"), County Soul ("No Other Man's Hands") & more which deserve a reissue.

"Did The Dog (Get It All)?" (Blues Recount 2003)
**
1/2
Independent release contains some classic Dicky-isms with the humorous title cut. Here he questions his woman if she's been cheating and wonders if the "dog" got to "stand up in it", "bone it like he own it" and other colorful descriptions of coital activity. "Sugar Daddy" is another in a long line of BB King "Thrill Is Gone" knockoffs that succeeds again by Dicky's cocksure vocals and wit. Elsewhere the collection feels like a haphazard assembling of material copied from vinyl or previously unused demo songs based on the fluctuating sound quality. The Country Soul ballad recalls his strong Ichiban albums "In Your Face" and "I Want You For Breakfast". In fact the title track from the latter album makes another appearance here. "The Rest Of My Life (With You)" and "The Last Woman (I'll Ever Love)" are two of the most gentle, Pop songs he's cut.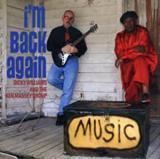 Dicky Williams & The Ken Massey Group "I'm Back Again" (CDS Records 2007)
1. I'm Back Again
2. Dog Kinda Love
3. Lovin' One Woman At A Time
4. Sugar Daddy's Back
5. Pain In The Gas Lane
6. Did The Dog Get It All?
7. It Ain't Over 'Til I Win
8. Treat Me Like A Dog
9. Somebody's Teaching My Woman How To Cheat
10. Makin' Love And Makin' A Mess
11. Love & Sex Is Not The Same
12. Dog Kinda Love (Simeo's Remix)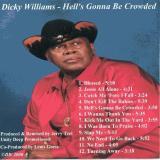 "Hell's Gonna Be Crowded" (Unity Deep Promotions 2011)
1. Blessed
2. Jesus All Alone
3. Catch Me 'Fore I Fall
4. Don't Kill The Babies
5. Hell's Gonna be Crowded
6. I Wanna Thank You
7. Kick Me Out In The Yard
8. I Was Born To Praise
9. Slap Me
10. We Need To Go Back
11. No End
12. Turning Away