David Dee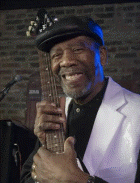 Singer-guitarist David Dee is best known for his 1980s blues hit "Going Fishing", which took him from the local clubs of East St. Louis to the national soul-blues "chitlin circuit." Dee, a native of Greenwood, Mississippi, moved to East St. Louis as a youngster and except for a stay in Chicago and a stint in the army, he has lived there ever since. Dee started as a spiritual singer and later formed his own group, David and the Temptations. A booking agent in Springfield, Illinois, suggested the name David Dee to him (his real name is David Eckford), and that's the name he has used on all of his recordings. Dee has been called the St. Louis area's premier contemporary bluesman. His other moniker is 'Workin' Man," and a hardworking man indeed he is. Recently retired from a construction job, he now works for the East St. Louis Police Department and still performs regularly with his Hot Tracks band, augmented on special occasions by his three daughters who also sing.
Album Discography

"Going Fishing" (Vanessa 1985)
1.GOING FISHING
2.SWEET LOVING BABY
3.RECONSIDER BABY
4.BACK IN YOUR ARMS AGAIN
5.BLUES JAM
6.JUST ONE STEP
7.SINCE I'VE BEEN LOVING YOU
8.GIVE ME SOME AIR
9.IF YOU HAD A CHANGE IN MIND
10.KEEP ON DOING WHAT YOU DO

"Sheer Pleasure" (Edge 1986)
1. On Your Way Fishing 4:14
2. The Two Of Us (We Can Work It Out) 4:15
3. Your Sweet Word 3:48
4. Working Man Blues 3:42
5. I'm Working On It 3:47
6. I Wanna Get Into You 4:44
7. Don't Leave Me On Hold 5:12
8. Something's Missing 3:46

"Portrait Of The Blues" (Edge 1987)
1 Going Fishing 3:49
2 Sweet Loving Baby 3:34
3 Reconsider Baby 3:19
4 Back In Your Arms Again 4:04
5 Blues Jam 4:12
6 Just One Step 3:54
7 Since I've Been Loving You 3:42
8 Give Me Some Air 4:16
9 If You Had A Chance In Mind 2:54
10 Keep On Doing What You Do 3:48

"Goin' Fishing'" (Ichiban 1991)
1. HEATIN' ME UP
2. RAINY NIGHT IN GEORGIA
3. IF I KNEW THEN
4. SPECIAL WAY OF MAKIN' LOVE
5. PART TIME LOVE
6. GOIN' FISHIN'
7. WORKIN' THIS DREAM
8. OVERTIME
9. LEAD ME ON
10. THOUGHT MY LOVIN' WAS OVER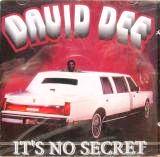 "It's No Secret" (I.B. Records 1999)
The Blues
It's No Secret
Crying All Night
You Took the "V" Out of Love
Unselfish Love
Qualified
Bad Luck Falling
Leave Me Alone
Just Be Happy
Mega Bills & Mini Bucks

"Mixed Emotions" (Eck Williams 2000)
1. The Way You Look Tonight
2. The Blues
3. It's No Secret
4. Crying All Night
5. You Took The "V" Out of Love
6. Unselfish Love
7. Qualified
8. Leave Me Alone
9. Bad Luck Falling
10.Just To Be Happy
11.Mega Bills and Mini Bucks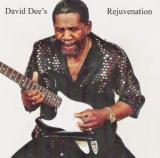 "Rejuvenation"
Info needed on this album