Chuck Roberson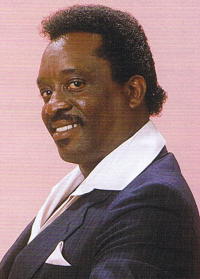 Born in Augusta, GA, Chuck Roberson is a dynamic singer that sounds like a cross between Jackie Wilson and Tyrone Davis. Roberson began his musical career in the mid-'70s issuing several singles on the Albradella label, including such titles as "Love Affair," "You're Gonna Miss Me When I'm Gone," and "I Feel It Coming," which enjoyed regional success but failed to break through nationally. In the late '70s, Roberson relocated to Philadelphia in hopes of launching a disco career, but eventually returned back home in 1983. Things improved for Chuck with the release of two lps in the late '80s. "I Don't Think You Heard Me Yet" on Traction Records and "Lollypop Man" on Vision raised his profile. "Lollypop Man" became his signature tune. In 1991 he released an obscure LP, "The More We Are Together", on a Florida label called Soul Potion. That record was a flop but he was signed by Ecko Records in 1996. The label positioned him as a singer of ribald Southern Soul Blues on his debut LP "Something Good For You" with bawdy titles like "A Whiskey Glass And A Woman's Ass", "Lollipop Man 2" and the title track. This formula continued for six more albums for the label before Chuck found himself back on the independent level. He promptly formed his own imprint, Cruise On Records, and issued a new record in 2005 called "Expressions Of Yesterday". The release compiled the choicest sides from his first two LPs from the late 80s with the addition of several new songs. In 2009 Roberson signed with CDS Records for a full band CD with 100% real instruments.

Album Discography
"I Don't Think You Heard Me Yet" (Traction 1987)
1. Hit & Git
2. I Need You
3. Good Thing Man
4. You Gonna Make Me Cry
5. Next Time We Make Love
6. I Don't Think You Hear Me Yet
7. More Than I Can Say
8. I Was Born All Over
9. I Can't Leave Your Love Alone
10. Share It
*** Produced by James Bennett this LP introduced Roberson to a wider audience. The singles "Hit It And Git It" & "Good Thang Man" remain two of his most beloved recordings. Other highlights includes the stomping funk rollers "I Can't Leave Your Love Alone" & title track, plus a fantastic version of "You're Gonna Make Me Cry".
"Lolly Pop Man" (Vision 1988)
1 Lolly Pop Man
2 Every Time You Go Away
3 Let's Stay Together
4 I Can't Take It
5 Let's Do It All Over
6 I Want To Make Love Tonite
7 She Put The Hoo-Doo On The Hoo-Doo Man
8 Give Me Some Of That
**1/2
Here Chuck Roberson becomes the "Lollypop Man", which is his calling card- an energetic slice of soulful pop that pleads with the ladies that Chuck will be their "Lollypop Man"- obviously a nod to a certain sexual practice the ladies may enjoy. "Let's Do It All Over" is a strong slowie.

"The More We Are Together" (Soul Potion 1991)
1 The More We Are Together
2 Let's Take This Night For Love
3 Let's Have Some Fun Together
4 Wildflower
5 Real Thing
7 Pattie-Pattie
8 Secret Love
** Chuck gets a touch of Bobby Brown-itis ("New Jack Swing") on this LP. Spirited performances of mostly mediocre songs. The small budget production and material is just not well suited to Mr. Roberson. The title cut, however, is a pleasant shuffling pop tune. The LP also contains a version of his masterpiece "Hurt Keeps Getting Stronger", which he later covered in superior fashion on "Meet Me Tonight".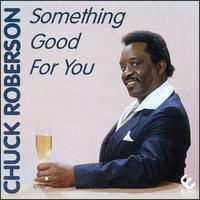 "Something Good For You" (Ecko 1996)
1. You Can Do What You Feel and Still Be a Lady
2. Shut In, Shut Up
3. Whiskey Glass and a Woman's A**, A
4. She's Been Slippin' Out on Me
5. Something Good for You
6. Town I Live In, The
7. Fireman, The
8. Private Affair, A
9. It'll Make You Want to Slap Your Mama
10. Lollipop Man II - (X-Rated Version)
11. Something Good for You (X-Rated)
*** Debut disc on Ecko Records finally showcases Roberson's powerful vocals. His version of McKinley Mitchell's "The Town I Live In" is a tour-de-force fully showing off his raspy range. Chuck can sing blues too as evidenced by the cheeky "A Whiskey Glass And A Woman's Ass". Chuck claims those are his two weaknesses. The CD includes two x-rated bonus cuts ("Lollipop Man 2" & a dirty version of "Something Good For You")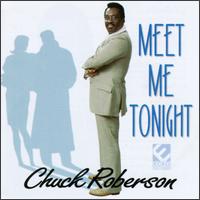 "Meet Me Tonight" (Ecko 1997)
1. Lollipop Man
2. I Do It All
3. When You Put That Love on Me
4. Love Got Me, The
5. Born All Over
6. Booty Call
7. Meet Me Tonight
8. Got to Have Your Love
9. Hurt Keeps Getting Stronger
10. Let Me Satisfy You Like You Satisfy Me
**** Once again Chuck puts on a vocal clinic with remakes of "Hurt Keeps Getting Stronger" & "I Was Born All Over". Roberson wrote "Hurt" and it's perhaps his best song. It's also one of the best vocal performances of his career showing great range and power- reminiscent of the great Jackie Wilson. Just listen to how he sinks his teeth into Deadric Malone and Johnny Copeland's "Born All Over" and see what I mean. Two more excellent updates appear via "Lollipop Man" & "Got To Have Your Love"- both superior to the originals. "Got To Have Your Love" dates back to his "disco period" and retains much of it's flavor and "Lollipop Man" is now his signature song. There's not a bad song in the bunch. This is probably the high water mark of his Ecko discography and one of the better albums of it's kind..

"Love Power" (Ecko 1998)
1. Love Power
2. Play on It
3. Back up Lover
4. Make It Sweet
5. Mr. Lover Man
6. Booty Scoot
7. You Ain't Cheatin' by the Rules
8. Whoop That Thang
9. Save It for Me
10. I Don't Know Why You Treat Me Like You Do
***
1
/2
More upbeat soul, blues and R & B. Here Chuck improves upon two songs previously released by the late Ollie Nightingale (the hit dancers "Booty Scoot" & "Make It Sweet"). Another great blues cut shows up ("You Ain't Cheatin' By The Rules") in which he rebukes his lover for giving more lovin' to the other man than him at home. Also the joyous title cut is pure ear candy.
"Love Freak" (Ecko 2000)
1. I'l Even Blow Down There
2. Love Freak
3. She Made a Hoochie Man Out of Me
4. Candy
5. Party Freak
6. You Ain't the Only One I'm Giving Some
7. Booty Scoot 2000
8. I'd Rather Be With You
9. Back in the Day
10. If You'r Lucky Enough to Have a Good Woman
*** Just ignore the joke of a cover because this is seriously good southern soul blues. The Tyrone Davis-inspired "I'll Even Blow Down There" shows just how determined the "Lollipop Man" is to please a woman. If that doesn't convince her try "Candy" where he uses a candy bar as a metaphor for similar purposes. The poignant "If You're Lucky Enough To Have A Good Woman" balances out the many cheating songs that appear on his albums. Two blues cuts this time in "You Ain't The Only One I'm Giving Some" & "She Made A Hoochie Man Out Of Me". Chuck handles blues as well as he handles soul. Plus he's both a "Love Freak" and a "Party Freak" on this same album according to the so-named songs. Topping this fun disc off is the irresistible disco soul of "Back In The Day".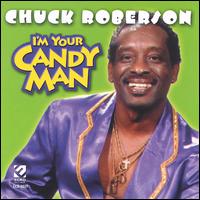 "I'm Your Candy Man" (Ecko 2001)
1. Candy Man
2. I Hit the Jackpot
3. You Put Me in the Mood
4. Porno Star
5. Lollipop Woman
6. Let's Set a Date
7. Down Home Blues Show
8. Love Seat 2001
9. Check Up on My Good Thang
10. Are You Just Making Love
**1/2
If it ain't broke don't fix it as the saying goes. More upbeat dance soul & blues from a master of the genre. This one is a little nastier than the others with Chuck falling in love with a certain type of "actress" in the crass "Porno Star" and then reprising Charles Wilson's equally ribald "Love Seat 2001". Meanwhile, "Candy Man" has Chuck singing: "You'll melt in my mouth/not in my hands". Hey, I thought Carl Sims was the M & M Man?! Not just a "love freak" Chuck can be romantic too as on "Let's Set A Date". The blues is represented by "Down Home Blues Show", a complete rip of the ZZ Hill classic and toe-tapping southern soul appears via "I Hit The Jackpot" & "Check Up On My Good Thing". On the latter he says "I gotta check up on my good thing/I gotta cool it down/Keep old Jody from coming around". Johnnie Taylor would be proud.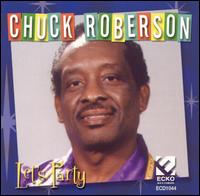 "Let's Party" (Ecko 2002)
1. Keep It in the Bedroom
2. You're Gonna Love Me
3. Booty Bounce
4. It Sho Wasn't Me
5. Stroke Me Right
6. That Thang
7. We're Gonna Party
8. You've Been Caught
9. Jealous Love
10. Stand Up America
*** Living up to the album title, this 10-song platter serves up another dance smash with "Booty Bounce"- simply sugar for the ears. Chuck tried to teach his woman the "Booty Scoot" but she ended up creating a new dance! All joking aside, "Stand Up America" is a patriotic post 9/11 plea for America to "stand up" and be proud. Two strong slowies are included in Ronnie Lovejoy's "Sho Wasn't Me" & "Youre Gonna Love Me", the latter a Jon Ward original that's a perfect vehicle for Chuck's soulful chops. Elsewhere Chuck himself co-wrote the blithe "Stroke Me Right", an energetic four minutes of goofiness. Deep Soul purists might balk at this kind of album but "Southern Soul", "Retro-Soul", whatever you may call it still reaches the soul- if not through the heart than maybe the feet (or booty!).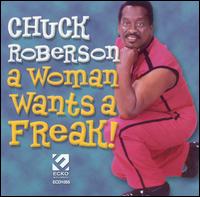 "A Woman Wants A Freak" (Ecko 2003)
1. Turn It Loose
2. Woman Wants a Freak
3. You Don't Know How Good You've Got It
4. Heart Can Love Two
5. You Are
6. No Time Like the Present
7. Chuck Strut
8. I Forgot to Be Your Lover
9. I Can Handle It
10. Double Cross
**1/2 Album number 7 and final album for Ecko Records continues the successful formula of mostly programmed party soul music- only with diminished results. "Turn It Loose" & "Chuck Strut" were the minor hits here. Amazingly after 7 albums the Ecko/Chuck Roberson formula never got tiring.

"Expressions Of Yesterday" (Cruise On 2005) 1. You Gonna Make Me Cry
2. Lollipop Man
3. Good Thing Man
4. I Can't Leave Your Love Alone
5. Do It All Over
6. She's Pouring It On
7. Doing What My Heart Say Do
8. Man Is Got to Have a Woman
9. Let's Stay Together
10. I Wanna Make Love Tonight
11. Hit It and Get It
12. I Feel Sexy
13. Give Me Some of That

****

1/2 When I hear Chuck Roberson sing I hear Jackie Wilson and bit of Tyrone Davis. Roberson has a powerful voice- with huge range, able to hit operatic highs and raspy lows. After releasing 7 quality albums of party soul blues on Ecko Records we now have the independent "Expressions Of Yesterday" and it's his best. I suspect this is material that was recorded in the late 80s (8 or 9 tracks remixed and remastered from his LP-only "Lolly Pop Man" & "I Don't Think You Heard Me Yet" albums) because the production is slightly dated at times but actually bodes just fine in the Southern Soul circuit. This 13-song gem includes his signature songs "Lollipop Man" (with different lyrics) and "Hit It And Git It"- both written by Roberson, plus the excellent upbeat dancers "Good Thing Man", "Let's Stay Together" & "I Can't Leave Your Love Alone" and slower soul wailers like "Your Gonna Make Me Cry" & "I Wanna Make Love Tonight". Nearly every song is Grade A which makes this sound like a "best of"-type CD. You gotta discover Chuck Roberson.

"The Best Of" (Ecko 2006)
1. Mr. Lover Man
2. You Put The Hoodoo On The Hoodoo Man
3. Booty Scoot
4. Let's Slip Out Tonight
5. Lollipop Man
6. Love Freak
7. A Private Affair
8. Candy
9. Backup Lover
10. No Time Like The Present
11. Turn It Loose
12. You're Gonna Love Me
13. The Fireman
14. Lollipop Man (remix)

"For Real This Time" (CDS 2009)
1. We're Gonna Have a Party
2. I Want You to Rock Me
3. Show Me What You Working With
4. Love Me or Leave Me Alone
5. Sexy Lady
6. Lollipop Man Can, The (Revenge of the Lollipop Man)
7. Come Back Kind of Lovin'
8. Tired of Waiting
9. Temporary Sugar Daddy
10. At the Hideaway
11. Change Is Gonna Come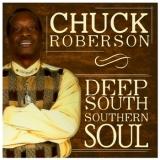 "Deep South Southern Soul" (CDS 2010)
1. Stop! (The Ladies & The Babies)
2. Lonely In This House Tonight
3. She's Gonna Love The One Who Loves Her The Best
4. Deep South Southern Soul
5. I Don't Want To Live Alone
6. Jammin' On The Blues
7. The Woman A Man Is Looking For
8. I'm Gonna Make My Move On You
9. Happy With What I Got
10.Words

"I'll Take Care Of You" (Desert Sounds 2011)
1. You Gonna Make Me Cry
2. Lollipop Man
3. Good Thing Man
4. Do It All Over
5. Doing What My Heart Say Do
6. Man Is Got to Have a Woman
7. Let's Stay Together
8. I Wanna Make Love Tonight
9. Hit It and Get It
10.I Feel Sexy
11.I'll Take Care Of You (Vocal)
12.I'll take Care Of You (Instru)
13.I'll take Care Of You (Extended Club)

"The Devil Made Me Do It" (Desert Sounds 2012)
1. It Shouda Been Me
2. They Got a Room
3. Spare Me the Heartache
4. Hometown Blues
5. I'll Take Care of You
6. The Devil Made Me Do It
7. Woman Enough to Leave
8. It's Not Over
9. Chuck Strut
10. After Our Love Affair
"The Other Side Of Me" (Cruise On 2014)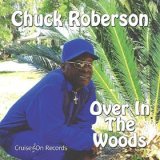 "Over In The Woods" (Cruise On 2016)
1 Disco Lady
2 Over in the Woods
3 You Been Cheatin' on Me
4 Let Your Love Fall Down
5 She Was Your Wife, but I'm Her Man
6 Do It All Over
7 We're Gonna Have a Party
8 It's Not over Till You Say We're Through
9 Tired of Waiting on You
10 When Something Is Wrong with My Baby
11 Back Stabbing Friend
12 Words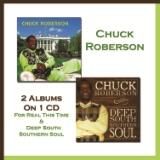 ""2 On 1: For Real This Time + Deep South Southern Soul" (CDS 2017)
1. We're Gonna Have a Party
2. I Want You to Rock Me
3. Show Me What You Working With
4. Love Me or Leave Me Alone
5. Sexy Lady
6. Lollipop Man Can, The (Revenge of the Lollipop Man)
7. Come Back Kind of Lovin'
8. Tired of Waiting
9. Temporary Sugar Daddy
10. At the Hideaway
11. Change Is Gonna Com13
12. Stop! (The Ladies & The Babies)
13. Lonely In This House Tonight
14. She's Gonna Love The One Who Loves Her The Best
15. Deep South Southern Soul
16. I Don't Want To Live Alone
17. Jammin' On The Blues
18. The Woman A Man Is Looking For
19. I'm Gonna Make My Move On You
20. Happy With What I Got
21. Words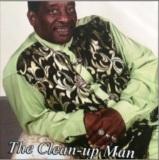 "The Clean Up Man" (Cruise On 2019)
1. Over In The Woods
2. You Bean Cheating On Me
3. I feel Sexy Tonight
4. Let Your Love Fall Down
5. What You Got On Me
6. I'm The Clean Up Man
7. Come On Home
8. Shady
9. If Loving You Is Wrong
10. Move That Thang
11. Who's Loving You
12. Let Me Put That Thang In It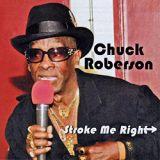 "Stroke Me Right" (Cruise On 2021)
1 Stroke Me Right
2 Booty Call
3 Let's Set a Date
4 Doing What My Heart Say Do
5 Hit It and Get It
6 Let's Do It All Over
7 Spare Me the Heartache (Live)
8 They Got a Room Some Where
9 It Should Have Been Me
10 It's Not Over
11 When Some Thing Is Wrong
12 You Got Me Singing the Blues
13 If You Woman Enough to Leave