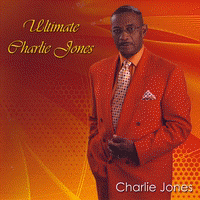 CHARLIE JONES
Charlie Jones, born in Gadsden County Florida (the northern end), one of 6 children born to Edward and Annie Mae Jones. Charlie's father notice that he had an unbelievable love for music at an early age, and he encouraged it because he sang and played the guitar himself. At the age of 7, Charlie, his older brother and 4 cousins started a gospel group, and performed in their Church on most Sunday's and on special occasions. Charlie was with this group until the age of 12. Upon turning age 12, he left the young group to join an adult group from Quincy, Florida. Charlie's father bought him a guitar at age 10, and by age 12 he was good enough to play and sing with adults. Charlie, his brother and 4 sisters had to be in Church every Sunday, sometimes most of the day. Their father were a Baptist Minister, and he demanded that the whole family be in church, unless you were ill.

The move to an adult group came about when a group called the Gadsden Harmonizers visited Charlie's Church to perform. Charlie, his brother and cousins also performed. The group and its manager was very impressed with Charlie's talent, and the manager asked his father if he would allow Charlie to perform with them on weekends. It took about 3 weeks, and his father getting to know the manager of the group, before his father finally agreed. Charlie performed with this group from age 12, to age 15.
Shortly after turning 15, Charlie joined a more popular adult group from Chattahoochee, Florida. This group expanded Charlie's travel's to Georgia, Florida, and Alabama. He remained with this group until he turn 18. At age 18 he joined the Gospel group the Mighty Wonders. Charlie remained with this group from 1965 to 1972.

In 1972, Charlie started his own group in Winston Salem, where he had clearly made a name for himself with the other group (The Mighty Wonders). Charlie named his 6 man group the Gospel Stylistics, which became famous for their deep sweet harmonies, which all competing groups respected. Charlie left his group for a short time in 1974, when he received a phone call from the world famous Gospel Keynotes, from Tyler Texas. After approximately 4 months on the road with the Gospel Keynotes, Charlie return home to Winston Salem to be with his group.
In late 1974, Charlie decided it was time to move on, and he changed to Soul and Rhythm & Blues. With the financial backing of a local Attorney by the name of R. Lewis Ray, of Winston Salem, Charlie recorded his first soul album in late 1974 in Taylorsville, North Carolina. In 1991, he wrote Johnnie Taylor's hit "Crazy Over You" Theodis Ealey, Chick Willis, and many other blues greats also recorded many of Charlie songs.

Album Discography

"Everybody's Business Is Nobody's Business" (Askia 1976)
1 Everybody's Business Is Nobody's Business
2 Woo Baby You're So Sweet
3 I Feel Like Humming
4 Paradoxes Is Confusing Me
5 She's A Right On Girl
6 Troubles Is Troubling Me
7 I Love Him
8 Just A Smile

"Songs Of Love, Life And Re-ality" (Sum-Na 1983)
1.Everybody's Business
2.Woo Baby You're So Sweet
3.Just A Smile
4.Pardoxes Is Confusing Me
5.She's A Right On Girl (inst.)
6.Troubles is Troubling Me
7.I Feel Like Humming
8.She's A Right On Girl
9.Everybody's Business (inst.)

"Charlie L. Jones" (Timeless 1987)
1.Pretty little sexy thing
2.I thought I was over you
3.Crazy over you
4.Love on the Beach
5.Troubles is troubling me
6.It's how love should be
7.Blues all over
8.Let's have a good time
9.Just a smile
10.Woo-Baby you're so sweet

"Choking Kind Of Love" (Kon-Kord 1997)
1. Crazy Over You
2. Let's Have a Good Time
3. Finders Keepers
4. Blues All Over
5. Lordy Miss Clawdy
6. Need to Belong to Someone
7. Choking Kind
8. Daddy's Little Boy
9. I Don't Hurt Like I Use To
10. Love Can Be a Nuisance
11. You Can Feel Your Love

"Power Of Love" (Ambush 1998)
1. POWER OF LOVE
2. SAD MOOD
3. MY KINDA MUSIC
4. ALWAYS
5. MAKING LOVE IN MY DREAMS
6. I FALL IN LOVE EVERYDAY
7. GLAD TO BE YOUR LOVER
8. I'LL NEVER LEAVE YOU
9. WIN YOUR LOVE FOR ME
10. YOU KEEP ME HANGIN' ON
11. TEMPORARY LOVE
12. I ALMOST GAVE UP

"Crazy Over You" (Ambush 2006)
same album as "Choking Kind Of Love" re-issued plus the track "Nine Pound Steel"

"Ultimate Charlie Jones" (Ambush 2009)
1. Don't You Feel You Owe Me Some Lovin
2. It's How Love Should Be
3. Can't Stop Lovin' You
4. Reach Down Inside
5. Keeping You Forever
6. When You Love Somebody So
7. I'm Just Watching You
8. That Gives Me the Blues
9. See What You Do to Me
10. Believe in Yourself