Charles Wilson
Charles Wilson was raised in Chicago, began performing at age seven and started singing as a teenager in Chicago area nightclubs. Blessed with a unique Soul voice, Wilson has become a fixture on the Southern Soul circuit. Blues king Little Milton is his uncle, but his break came when he got the opportunity to go on the road with Bobby Rush. Wilson waxed his first single in 1964, but "Trying To Make A Wrong Thing Right," didn't do much; his next effort "You Cut Off My Love Supply" wasn't a smash either but it established Wilson as a blues player of note. He drifted into Southern soul when he cut his first album "Blues In The Key Of C" on Ichiban Records in 1991. After one disc for James Bennett's Traction Records he found his most success recording with Ecko Records. His first, "It's Sweet On The Backstreet" (1995), was one of the first few releases for the fledgling label. It sold respectably and songs like "In The Room Next To The Room" impacted Southern Soul radio but it was the followup, "Love Seat" (1996), that gave Wilson his first major hit with the salacious title cut. Wilson and label tried to follow that up with more sex-themed songs on both "It Ain't The Size" (1997) and "Mr Freak" (1998) but to lesser success. In the midst of his tenure with Ecko he also recorded an album for James Bennett's Traction Records (1997's "Why").
Following a split with Ecko Wilson started his own label, Wilson Records, which scored a regional hit on one of his artists, The Mystery Man ("Bedroom Workout"). Encouraged by the initial success Wilson Records released CDs by Maurice Davis, Lee Shot Williams, Mystery Man and Wilson himself in 2002 featuring the usual keyboard programmed music common to the genre. His career then hit another upswing when he recorded a bona fide Blues album for Delmark Records, "If Heartaches Were Nickels", which featured Little Milton and Carl Weathersby on guitar. The album earned Wilson a W.C. Handy nomination for "Best Soul/Blues Album" of 2004.
Since that time he's returned to modern Southern Soul mould by releasing a couple more middling albums for his own label but it was an obscure singer named Will T that scored a moderate hit for the label with "Mississippi Boy", a track that appeared on a compilation CD called "Soul Blues Vol. 2" and then again on Wilson's own "If It Ain't Broke Don't Fix It" LP. Trying to capitalize on the songs' success Wilson added his own version on his next album, "Sexual Healing" but it was Denise LaSalle who got a big hit out of hit (re-named "Mississippi Woman") for Wilson's former label Ecko. Overtime though the song has become mostly identified with Wilson.
Wilson next signed with CDS Records, recording three albums for the California-based label ("The After Party Deluxe" (2007), "Pay Myself First" (2009) & "That Girl Belongs To Me" (2010)). During that time Severn Records also released a more "retro"-Soul-Blues album on Wilson called "Troubled Child".
Album Discography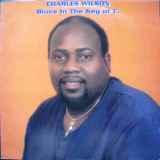 "Blues In The Key Of C" (Ichiban 1991)
1. Who's It Going to Be
2. Is It Over
3. Leaning Tree
4. You Cut Off My Love Supply
5. Let's Have a Good Time
6. Selfish Lover
7. It's a Crying Shame
8. I've Got a Good Woman
**1/2 Low-budget production values, synthesizers, sequencers and drum machines almost bury this otherwise likable debut. Uncle Little Milton does play some guitar here and "Selfish Lover" & "Is It Over?" are good 70s-style soul numbers. It also contains a modernized version of one of his first recordings ("You Cut Off My Love Supply") and a cover of Artie White's hit, "Leanin' Tree".
"It's Sweet On The Backstreet" (Ecko 1995)
1. In the Room Next to the Room
2. I've Got Trouble in My Bedroom
3. Homewreckers
4. Keepin' up With the Joneses
5. Over at Fannie Mae's
6. It's Sweet on the Backstreet
7. Old Man Jody's Son
8. Slow Down, Lowdown Kind of Love
9. I Wanna Do You Tonight
10. Wife, Woman and Lover
***1/2 Wilson begins his successful tenure on John Ward's Ecko Records. The title track was a hit in the South, as was "In The Room Next To The Room" (later recorded by Bill Coday). Most of this disc is upbeat programmed southern soul dance music, but Wilson also adds some straight blues with "Over At Annie Mae's" and covers a Tyrone Davis classic in "Home Wreckers". His best overall disc in terms of quality for the label.

"Why?" (Traction 1997)
1. Part Time Lover, Full Time Fool
2. Why?
3. If Walls Could Talk
4. Broke and Raggedy Blues
5. Tell Him
6. Good Thing Man
7. Is It Over?
8. Home Wrecker
9. Ain't Nothing Wrong With Cheating
10. Is It Him or Is It Me?
*** Although released in 1997 I suspect this disc was recorded earlier and released to take advantage of Wilson's new found success with Ecko Records. It includes a couple songs found on his first two albums ("Is It Over?" & "Home Wreckers") but contains more fine soul blues, such as the bouncy self-penned title cut and a good version of a song made famous by his uncle Milton Campbell ("If Walls Could Talk").

"Love Seat" (Ecko 1998)
1. Cheater's Nightmare
2. Backdoor Lover
3. Snapper
4. Goin' Back to Cheatin'
5. Two Steps Behind
6. Sooner or Later
7. Love Seat
8. Right in the Middle of Wrong
9. Viagra Song, The
10. Private Affair
**
1/2
The title track was a huge hit on a disc that is somewhat hampered by too many redundant cheating songs and mediocre covers. Wilson is a standout singer that doesn't need to resort to gimmicky daytime talk show material.

"It Ain't The Size" (Ecko 1999)
1. If You've Got a Love Problem
2. It Ain't the Size
3. Give a Woman What She Wants
4. We Ought to Be Doin' It
5. Keep It a Secret
6. Fireman
7. Two Wrongs Made a Right
8. Outside Woman
9. You Can't Out Cheat the Cheater
10. Cheater's Paradise
*
**
More sexual innuendo and songs about cheating from this southern soul blues man. The hit title track gives hope to all those, um, size-challenged men. "Give The Woman Want She Wants" offers words of wisdom to men over an upbeat head-bobbin' groove and on "You Can't Out Cheat The Cheater" he reminds women what playing around on a player will do.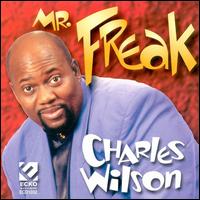 "Mr. Freak" (Ecko 2000)
1. Mr. Freak
2. Let's Stomp
3. You Can't Lose What You Never Had
4. Why Should I Get Married When My Neighbor's Got a Wife
5. Hoochie Booty
6. I'll Be Your Lover
7. I Love the Love in You
8. I'm So Glad
9. Why Don't We Get Together
10. Leave the Light On
*** Fun party disc by Wilson consisting of dancers like "Let's Stomp", "Hoochie Booty" & and the somewhat goofy "Mr. Freak". One of his best slow soul songs is found in "You Can't Lose What You Never Had" and he scores with a couple upbeat southern soul chuggers ("Why Can't We Get Together" & "I'll Be Your Lover"). The ubiquitous cheating theme is a little disproportionate at times but Wilson sings with zeal.

"Goin' Jookin" (Ecko 2001)
1. It's Sweet on the Backstreet
2. Love Seat
3. Private Affair
4. Why Should I Get Married When My Neighbor's Got a Wife?
5. Goin' Jookin'
6. Over at Fannie Mae's
7. Love Seat - (Remix)
8. Two Wrongs Made a Right
**
1/2 8 song budget collection contains some of Wilson's best Ecko material ("Over At Annie Mae's", "It's Sweet On The Backstreet") and one strong new juke joint blueser, "Goin' Jukin". Also included is a remix of the hit "Love Seat" (in addition to the original). But a proper "best of" this is not.

"Songs From The Vault" (Wilson 2001)
1 I Love My Wife
2 Partime Woman
3 Too Think
4 All Because of Your Love
5 So Called Friends
6 Home Wreckers
7 Tell Him
8 If Walls Could Talk
9 So in Love With You
10 Ain't Nothing Wrong
11 Good Thing Man
*** Compilation released on Wilson's own label includes songs from his Traction disc "Why?" and some previously unreleased material. Most noteworthy is "All Because Of Your Love" & "So Called Friends". The latter was a hit for Roscoe Robinson recently. He also does one of Uncle Milton's (Campbell) songs, "If Walls Could Talk".
"You Got To Pay To Play" (Wilson 2002)
1. Show Me What You Working Wit
2. Monkey Talk
3. Brown Sugar
4. Back and Forth
5. Same Door
6. Smack It Up
7. All Caught Up
8. Shadows on the Wall
9. Your Body's Here
10. You Got to Pay to Play
***
1/2
Infectious soul dance disc featuring 10 songs written and co-produced by hitmaker Floyd Hamberlin. Although 100% programmed music I find this music pure ear sugar. The best jams musically are the lewd "Monkey Talk", "Smack It Up" & "Shadows On The Wall". Soul and blues purists (snobs) may whine about programmed soul music but if you have an appreciation for it - you'll find this disc a cut above most of the cds you see in the rack! I just wish the subject matter was more creative.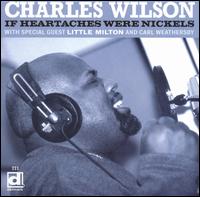 "If Heartaches Were Nickels" (Delmark 2004)
1. Cut You A-Loose
2. Doctor Doctor
3. You Belong to Me
4. Ain't No Hoochie Coochie Man
5. I Talk to Myself
6. Hattie Mae's
7. Cadillac Assembly Line
8. Losin' Boy
9. Up at Carl's
10. Next Time You See Me
11. If Heartaches Were Nickels
12. I Like Your Style
13. Your Love Is Real
14. Lonely Man
15. I Walked All Night Long
**** Charles Wilson's last disc (the very fine independently-released "You Got To Pay To Play" ) was catchy programmed party soul that is popular on the "chitlin circuit". But this Delmark debut is 100% organic- meaning it's actual humans playing on it- and it rips! Everything about this CD works- the band is tight and Carl Weathersby is a tour-de-force on guitar as he plays on 13 of the tracks! Charles' vocals are the best example so far of his talents- the way he soulfully owns the title track, Robert Ward's "My Love Is Real", Lee Shot Williams' "I Like Your Style", Little Milton's "Hattie Mae" and Travis Haddix' "Doctor Doctor". 15 tracks- not a dud in the bunch. He even does justice to the overdone "Cut You-A-Loose". He has a unique voice, one that even straddles gender lines. He sings from the gut with a heavy vibrato. Hopefully this will not be a one time event because this is a strong record. The only thing that keeps this from being a stone classic is too many covers. More original material would be the right move next chapter.