Charles Walker
Charles Walker was born in Nashville July 12th, 1940. He was nicknamed 'Wig' by his mother because of his full head of hair as a kid. Like so many others from Charles background his singing began in Church and school.His professional musical journey began in his hometown with his first recording 'Slave To Love' released in 1959 on the Nashville 'Champion' label. He relocated to New York shortly afterwards and met record entrepreneur Bobby Robinson who cut some demos with Charles for his 'Fury' label. Soon afterwards, a chance meeting with the J.C Davis Band, who had played the famed Apollo Theatre, opening for Jackie Wilson led to Charles becoming their lead singer. During his time with the L.C Davis band he toured the country opening for many of the greats of the era, including Jackie Wilson, James Brown, Etta James, Wilson Pickett, and Little Willie John. With Charles as lead singer they recorded 'Sweet Sweet Love' and 'The Chicken Scratch' for Chess records. These cuts never become hits at the time, but their quality has endured that over the years they have become highly collectable. By 1965 Charles had split with the J.C Davis band and taking some of the key players with him formed 'Little Charles and The Sidewinders' . Through the help of Lloyd Price the group recorded 8 sides for Decca, but they didn't chart. The Sidewinders continued to record for more outre labels with names like Botanic, Drum and Red Sands. At one time Charles even had his own label, P R Gallery. If that's an odd name for a record company it's because it was named after a New York art gallery which Charles owned in the eighties. The Sidewinders and a solo album recorded for Lloyd Price in the 70s remains unreleased.
Throughout much of the 70s Charles' music career was on hold as he threw his efforts into his gallery, until he took a short stint as a songwriter for Motown in 1979. He then decided to relocate to Europe, with writing partner Barbara Perrie. Some of his earlier recordings had been reissued in Europe that created a demand for 'live appearances '. Charles spent most of the eighties in England and Spain with his career mostly in once again in limbo before returning to Nashville in 1993.Although reluctantly and not in the best of personal circumstances Charles found that he'd returned to a thriving blues/soul scene and quickly slipped back into the live circuit. Other legendary Nashville soul/blues recording artists were also making comebacks and Charles would often sit in on sessions with the likes of Earl Gaines, Roscoe Shelton, Johnny Jones, Al Garner appearing on Garner''s "Leavin' Tennessee" album on Black Magic; followed by his own disc for the label in 1999. It was picked up by Cannonball in early 2000 and retitled "Leavin' This Old Town".
Album Discography

"I'm Available" (Black Magic 1999)
Re-released as "Leavin' This Old Town" below.

"Leavin' This Old Town" (Cannonball)
1. Homewrecker Legs
2. Leavin' This Old Town
3. Fleetwood Cadillac
4. Make It Rain
5. Nothing a Young Girl Can Do
6. Need Somebody
7. I'm Available
8. Judge of Hearts
9. Monkey Song, The
10. You Got the Walk
11. Tattler, The
12. When I'm Gone
13. Very Thing That Makes You Rich
**** It's been a long journey to Walker's first solo album. Performing and recording sporadically since 1959, he finally got his due in Europe first when Black Top issued "I'm Available", was re-issued in the USA as this disc albeit with a new album cover. An impressive, sympathetically-produced (by Fred James) collection of Deep Soul and modern Soul/Blues. Rather than dig oup some moldy oldies the set features mostly recent and even newly-written songs like the stunning "Make It Rain" (also appeared on Michael Burks' Alligator debut of the same name), slinky "Fleetwood Cadillac" and Memphis soul "Need Somebody". Guests include guitarist Johnny Jones who also duets with Walker on the juke joint R & B "Nothing A Young Girl Can Do", which gives mature ladies their propers, and Al Garner who sings harmony on three of the tracks. Two more highlights are the gospel imbued "Judge Of Hearts" and sly, nasty blues "The Monkey".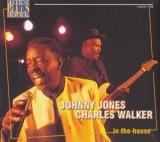 Johnny Jones & Charles Walker "In The House" (Crosscut 2001)

1. I Can't Do That
2. Drifter, The
3. Slave to Love
4. Gypsy Woman
5. Finger Lickin'
6. They All Look Better in Green
7. Can I Get an Amen
8. Chicken Scratch
9. Storming and Raining Blues
10. Strain on My Heart
11. 99, 000 Watts of Soul Power
12. Nothing a Young Girl Can Do

****1/2 Dynamite live disc taken from the famous Lucerne Blues Festival in Switzerland featuring Johnny Jones and band plus vocalist extraordinaire Charles Walker. It's a set of energetic soul n' blues augmented by a pristine sound quality- something these Crosscut Records live albums are known for. The set opens with a humorous delta-styled blues called "I Can't Do That" with Jones taking the role of a "bum". Well, this homeless person makes no apologies for his situation. "That 9 to 5 life just ain't where it's at/I can do this but I can't do that!"......"folks they wonder how I wound up here/With a sign in my had saying: 'I'll work for beer'....rushing through life is a race for rats/I can do this I can't do that!". Jones plays some mean blues guitar here and especially on the testifying "Can I Get An Amen". Hammond B-3 man Billy Earhart gets some praise too as his organ glides in and out and through most of the tracks here. Walker especially shines on the slow, pleading blues numbers "Slave To Love" & "Storm And Raining Blues". He then growls out some throaty verses on the staxy groover "99,000 Watts Of Soul Power" and that isn't much of an exaggeration either. Man I wish I'd been there!

"Number By Heart" (Zane 2003)
1. Number by Heart
2. Your Time to Cry
3. One Man's Poison
4. I Just Want to Love Somebody
5. Love and Tenderness
6. Snake Juice
7. We Got a Secret
8. Ain't Gonna Beg
9. Give Me Your Hand
10. Alison
11. Fool's Advice, A
12. At the End of the Day
13. It Tears Me Up
***** Producer Fred James had asked: "How do you feel about making a deep soul album Charles, you know, songs with passion and fire and with a feel of the classic era when the sounds of Memphis and Muscles Shoals ruled". Mr. Charles Walker agreed and that is exactly what they did! This is deep southern soul with organ, horns, gutsy singing- the works; transporting you back to the days of Otis Redding, Sam & Dave, Percy Sledge and even James Carr in their prime. No that's not hyperbole. Charles had released two other excellent cds in the last five years (2001's "Leavin' This Old Town" & the live disc with Johnny Jones from the Lucerne Blues Festival), but this is his masterpiece! What is most surprising about the sure quality and classic sound of the music is that the majority of the album is original- from the heartbreaking title track, to the chugging blues of "One's Man's Poison" to horn-fueled "Love & Tenderness". There are a few great covers (Elvis Costello's "Allison", Percy Sledge's "It Tears Me Up"), but it's all Charles Walker. Who says they don't make'em like they used to?
The Dynamites with Charles Walker "Kaboom" (Thirty Tigers 2007)
1. Intro (Body Snatcher)
2. Own Thing
3. Can You Feel It?
4. Come on In
5. Way Down South
6. Slinky
7. Every Time
8. Dig Deeper
9. What's It Gonna Be?
10. Killin' It
"Still Finding My Way" (Deep Down 2007)
1. Not This Time
2. Somebody Like You
3. Sweat
4. How Wrong
5. Love's Gonna Get You
6. More Than You'll Ever Know
7. Livin In A World Of Hurt
8. I'm Still Finding My Way
9. Weekend Love Affair
10. Call It What You Will
11. Love Don't Work Like That
12. Hush Money
13. Chain Reaction
14. Standin' In A Circle
15. Let's Fall Back In Love
**1/2 The Deep Soul voice is in full force but the songs just aren't there. Too many clunkers like "Standin' In A Circle", "Hush Money" and "Chain Reaction". Making matters worse is that the better songs ("Love's Gonna Get You", "Not This Time") were recently cut by others. Preston Shannon on the former and Johnny Neel on the latter. It's got a real band, real horns, the whole deal so how can I complain? Like I said the material just doesn't live up to the performers or performances so it disappointments overall.

The Dynamites with Charles Walker "Burn It Down" (Thirty Tigers 2009)
1. Burn It Down
2. If I Had Known
3. Somebody's Got It Better
4. Can't Have Enough
5. Do the Right Thing
6. I Got Love for You
7. Treadneck
8. Somebody Stop Me
9. (It's A) Sunny Day
10. Third Degree, The
11. If You Don't Mean It
12. Real Deal

"Soul Stirring Thing" (Blues/SPV 2010)
1. Soul Stirring Thing
2. There Is Nothing I Can Do
3. That's a Lie
4. One Step Closer to the Blues
5. Magic Man
6. No More Tears for You
7. Third Time's a Charm
8. House That Love Lives In, The
9. Tomorrow Night (Colsow)
10. San Diego Serenade
11. My Buddha
12. Time to Kill
13. Danger Zone, The
14. Giant Switches

"Love Is Only Everything" (Redeye 2013)
1. So Much More to Do
2. Wakie Wakie
3. Still Can't Get You Out of My Heart
4. I Just Want to Know
5. Yours and Mine - (featuring Bettye LaVette)
6. Love is Only Everything
7. Get Up On Living - (featuring Spencer Garn)
8. Keep Close
9. Serendipity - (featuring Charles Treadway/Derrek Phillips)
10. Please Open Up the Door - (featuring Derrek Phillips)