Buddy Ace

Born Jimmy Lee Land in Jasper, TX, on November 11, 1936, bluesman "Buddy Ace" was known as "The Silver Fox of the Blues". His name was changed to "Buddy Ace" by Duke's Don Robey after Johnny Ace's younger brother (St. Clair Alexander) had no success with it! Lee Land was in gospel groups at first (one contained Joe Tex) before going R & B in the early 50s. He played in Bobby Bland and Junior Parker's bands before he finally got a record contract with Duke/Peacock in 1955. In the mid-'60s, Ace scored several R&B hits but never scored a major breakthrough. Relocating to Los Angeles in 1970 and later to Oakland, he spent much of this period touring in and around the Bay Area. Ace continued to perform and record into the '90s with 3 albums released on Leon Haywood's Evejim imprint. On December 26, 1994, Ace passed away in Waco, TX.
Album Discography

"The Real Thing" (Jewel 1996)
1. Fingerprints
2. Houston Town
3. For the Good Times
4. Take 'Em Up
5. I Kicked the Habit
6. I Wonder
7. Pleasing You
8. It's the Real Thing
9. Do What You Think Is Best
10. I Love Your Funki Sole
11. Take 'Em Up - (alternate version)
12. I Kicked the Habit - (alternate version)
**
1/2
Funkified soul blues album recorded in the 70s. "Fingerprints" has the memorable line "If fingerprints showed on skin..." B.B. KIng's influence is heard on "Houston Town" with a groove nearly identical to "Thrill Is Gone". "Take 'Em Up" is an odd funk number replete with scratchy guitar and vocals mostly shouted by Ace, who tells a woman to hike her dress up so he can see what she's got. He sounds like McKinley Mitchell on "I Wonder" and delivers county soul on "I Love Your Funki Sole". Overall the production sounds dated.

"Don't Hurt No More" aka "Root Doctor" (Evejim 1988,1994)
1. Root Doctor
2. I Kicked the Habit
3. Love of Mine
4. Don't Hurt No More
5. Chokin' Kind
6. Pouring Water on a Drowning Man
7. Your Time to Cry
8. She Ain't Givin' up No Love
**** Great modern soul blues album with soon-to-be classic title track (LP title track was "Root Doctor") by Roy Hytower. Ace does two flawless soul covers in "Chokin' Kind" & "Pouring Water On A Drowning Man" showing his voice has aged well- with a Bobby "Blue" Bland rasp and Little Milton power. The highlight, however, is the aching "Don't Hurt No More".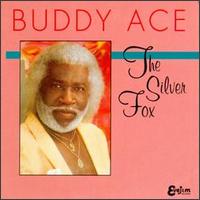 "The Silver Fox" (Evejim 1988,1994)
1. Fix It Man
2. It's Time to Move On
3. Damn Sho Get over You
4. Sittin' in the Dark
5. Think
6. Keep It in the Family
7. Just Your Fool
8. Let Me Do Something for You
9. Big Leg Woman
10. Do It Together
11. Just Gotta Know
12. Fix It Smooth
**** Gem of modern soul blues features first rate songs by Ronnie Lovejoy ("It's Time To Move On", "Damn Sure Get Over You"), Leon Haywood ("Keep It In The Family", "Just Your Fool") and Jimmy McCracklin ("Think", "Do It Together", "Just Gotta Know") ranging from funky blues, smooth jazzy soul ("Fix It Man") to pleading soul ("Let Me Do Something For You"). Ace's vocals are on fire and the production sounds contemporary to this day. Get it!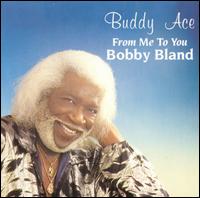 "From Me To You Bobby Bland" (Evejim 1995)
1. Members Only
2. Ain't Nothing You Can Do
3. Two Steps from the Blues
4. That's the Way Love Is
5. Cry Cry Cry
6. Don't Cry No More
7. St. James Infirmary
8. Farther Up the Road
9. Stormy Monday Blues
10. I Pity the Fool
***
Being that Bobby "Blue" Bland was Buddy's main influence it comes as no surprise we have a tribute project to ponder.
The material is mostly Bland's early hits ("Cry, Cry, Cry", "Two Steps From The Blues" & "St. James Infirmary") but leads off with Bland's most famous modern day classic, "Members Only". In some ways it's like having the man himself do modern versions of his classics benefited by modern studio technology. This is significant because Bobby's voice had been greatly diminished due to cigarettes and fast living by the time this record was recorded. To his credit, Ace is no mere Bland clone- nevertheless the renditions aren't all that different from the originals.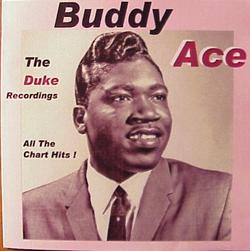 "The Duke Recordings" (Duke 2005)
1. Baby Please Don't Go 2. Come On In This House 3. Darling Depend On Me 4. Good Lover 5. Got To Get Myself Together 6. Hold On (To This Old Fool) 7. I'm Counting On You 8. Inside Story 9. It Makes You Want To Cry 10. It's Gonna Be Me 11. Jump Up and Shout 12. Just To Hold My Hand 13. My Love 14. Never Let Me Go 15. Nothing In the World Can Hurt Me (Except You) 16. Screaming Please 17. She Will Love 18. She's My Baby 19. Something For These Blues 20. Chocolate Child 21. This Little Love of Mine 22. True Love, Money Can't Buy 23. What Can I Do 24. Who Can Tell 25. Won't You Reconsider 26. You've Got My Love
**** Early recordings reveal throaty Ace to be very much in the Bobby Bland-tradition of soul blues singers. "Nothing In The World Can Hurt Me (Except You)" and "Hold On (To This Fool)" were minor hits.