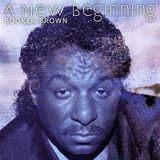 Booker Brown
Booker Brown was born in Memphis, Tennessee, on January the 17th, 1951.
Naming James Brown, the Temptations and Bobby Bland his early influences, Booker got hooked up with music for good in the early 70s."I started singing in different clubs and have travelled with different stars, like Latimore and Johnnie Taylor. His first single was released in 1991 "Good Old Southern Blues" on the TOC label. His first full length was "Stir It Up", followed by two obscure albums on Quinn Golden's QP Records and one for Steel Groove ("A New Beginning")
Album Discography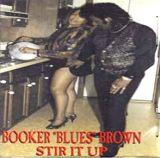 "Stir It Up" (TOC )
1. Stirr It Up
2. Stirr It Up (instr)
3. Good Lovin' Daddy
4. It's Alright
5. Blues Stew
6. Never Too Much Love
7. Yo' Wild Thing
8. It's Alright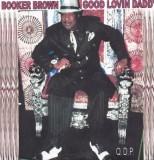 "Good Loving Daddy" (QP)
1. CHEATING GAMES (04:35)
2. JODY I`M WARNING YOU (04:38)
3. WHY AM I STILL LONELY (05:13)
4. GOOD LOVIN DADDY (05:13)
5. I TAKE GOOD CARE OF YOU (04:09)
6. CADILAC FANNIE (05:43)
7. 634-5789 (03:17)
8. LOVE STEALING (04:57)
9. DON`T MOVE MY MOUNTAIN (04:32)
10. 634-5789(INSTRUMENTAL) (03:13)
"My Heat Undercover" (QP 2000)
1 My X Lucy Bell
2 Part Time Worker
3 Casino Man
4 Why Not Today
5 I Can't Go Down
6 Looking For Somebody Else's Love
7 My Heat Undercover
8 I Married Her, But Her Mother Is The One I Really Love
9 Heaven On Earth
10 Double It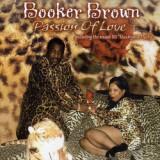 "Passion Of Love" (East West 2004)
1. Cuchie Cuchie
2. Passion Of Love
3. Still Lonely
4.BackyardParty
5. I'm So Glad
6. Sugar Daddy
7. Anytime You Want It
8. I Need Your Love
9. Same Thang
10.Passion Of Love (club mix )
****1/2 How on earth did I miss this disc when it came out in 2004? (Somebody's gonna get fired!) This is one of the best modern "Southern Soul" albums of the decade. Mostly due to Memphis-born Booker Brown's roaring, Soul shoutin' voice that invokes comparisons to Wilson Pickett! I kid you not this guy has a classic Soul voice- emotive, raspy and well, full of "passion of love". Sure live horns and real players is always preferred (the guitar licks are organic) but as far as "synthetic" production goes this is superb- a big bottom sound produced by Percy T Friends and the ubiquitous Morris J. Williams. Percolating, vibrant- at times scorching- Southern Soul dancers like "Backyard Party", "Passion Of Love" (in two versions), "Cuchie Cuchie" & "I Need Your Love" are all knockouts. On the slow Deep Soul tip Brown sinks his teeth into Quinn Golden's "Still Lonely" and the gospelish "Same Thang" with an impressive duet turn by Linda Govan.
This is actually Brown's fourth record, releasing three obscure records in the 90s ("Stir It Up", "Good Loving Daddy", "Heat Undercover" of which I am now on the hunt for), and this once again underscores the inequities of the music business that this guy isn't better known. Don't let your reticence to programming keep you from checking this one out. Many people forget that at the heart of this music is Memphis and had these songs been played by a live band perhaps it would get mainstream approval (air play, press attention). Mainstream Soul & Blues magazines don't think the retro-Southern Soul genre warrants it's own chart or column but the reality is there's a riot going on in the underground with fans of the music voraciously snatching up hard-to-find CDs in the few places you can find them.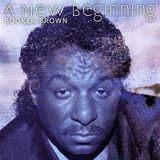 "A New Beginning" (Steel Groove 2007)
1. Love Is Blind (But The Neighbors Ain't)
2. Stir It Up
3. Ladies' Night
4. Fishin' At The Hole In The Wall
5. Lookin' For A Freak
6. Soul Train Dancer
7. Match Made In Heaven
8. Don't Get Your Meat Where You Make Your Bread
9. Let The Past Stay In The Past
10. Tyrone Lives On
**1/2 This is the maiden release for Pernell Garrison's new label, Steel Groove Records, and he's got one hecka-talented singer for the launch. It's good but a bit frustrating for me. Well-written Downhome Bluesers like "Love Is Blind (But The Neighbors Ain't)" and "Don't Get Your Meat Where You Bake Your Bread" are Grade A songs, but (dangit!) suffer from poor sound. Distortion obscures Booker Brown's mighty voice, but these independent, demo-like recordings will still resonate with longtime fans of the genre (who don't care how slick the sound is). Hitman songwriter John Cummings (who's written hits for O.B. Buchana and other Ecko Records artists lately) contributes typically strong bumpers like "Ladies Night", "Fishin' At The Hole In The Wall" & "Soul Train Dancer". That cheeky, Chitlin' Circuit wit appears in spades. For example on "Fishin" Brown boasts "I got a pole. It's so long. I got a hook. It's so damn strong. I got a line. It just won't break".
One of the best cuts is "Tyrone Lives On". Who says it's ever too late for a tribute to the late Southern Soul legend? Brown delivers a throaty homage here. Two of the cleaner-produced tracks, "Lookin' For A Freak" and "Stir It Up", have the best chance at radio. Just good headbobbin' shuffle bumpers. Again, wish it had a bigger sound. Same goes for the Soulful ballad "Match Made In Heaven". That's my only complaint. Good songs. Great singer. Small, brittle sound. Buy this record anyway so these talented folks can put out a bigger production. We'll all be grateful.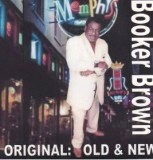 "Original Old & New" (2017)
1 Love Is Blind
2 Love Stealing
3 Saturday's A Prime Time Party
4 Never Too Much Love
5 Stir It Up
6 Soul Train Dancer
7 Match Made In Heaven
8 Plus Size Woman
9 Wild Thang
10 Backyard Party
11 Blues Stew
(thanks to Soul Express & Heikki Suosolo for some of this info)