Blues Boy Willie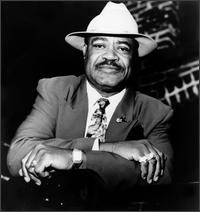 Willie McFalls, aka "Blues Boy Willie", was born Nov. 28 1946 in Memphis, Texas. Blues Boy Willie came to Ichiban Records courtesy of his boyhood friend from Texas, bluesman-producer Gary B.B. Coleman. He is best known for his "Be Who?" comedy song routines with Coleman and his ex wife.
Album Discography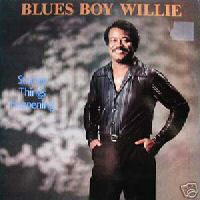 "Strange Things Happening" (Ichiban 1989)
1. Leroy
2. Blues in This Town
3. One More Mile
4. Fly, The
5. Sweet Home Chicago
6. Fishing Trip
7. Let's Go, Let's Go, Let's Go
8. Strange Things Happening
*** Debut Album by McFalls displays his thick baritone vocals and sturdy soul blues with a touch of humor. We are introduced to "Leroy", one of many "characters" Willie talks about in his songs. Leroy is one crazy cat who's constantly getting in trouble. On "The Fly" Willie expresses his frustration over a little nuisance we all can relate to at one point or fifty in our lives. "Fishin' Trip" is the first in a trilogy of cheating metaphors revolving around, you guessed it, fishing. The set was produced by Gary B.B. Coleman who plays plenty of B.B. King-kissed guitar licks.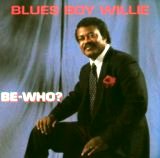 "Be Who?" (Ichiban 1990)
1. Why Are You Cheatin' on Me
2. Same Ol Fishing Hole
3. Crack Up
4. Stealin' Your Love Tonight
5. Let Me Funk With You
6. Can We Talk Before We Separate
7. Highway Blues
8. Be- Who
**** Surprise hit album featuring the jukebox smash "Be Who?", a funny dialogue over laidback blues between Willie, his then wife Miss Lee and producer/friend Gary B.B. Coleman. Willie says he's gonna leave and he's only paying support on five of their seven children because the two "bug-eyed" ones aren't his. She informs him, however, the "bug-eyed" ones are the only ones who are his. They have a fight and when they make up Willie's wife accidentally calls him "B.B" and you can guess what happens next. Anyway, this isn't the best track here. Fine slow blues cuts like "Stealin' Your Love Tonight" and "Can We Talk Before We Separate?" showcase Willie's deep, rich vocals benefited by Coleman's sympathetic production. The album spent 21 weeks on Billboard's Top R & B Albums Chart, peaking at #57.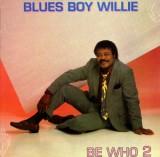 "Be Who? 2" (Ichiban 1991)
1. party all night
2. i still care
3. break away
4. the rest of my life
5. where is leroy
6. love darling love
7. lets get closer
8. be who too
*** Follow up to his breakthrough album begins with a terrific blues shuffle called "Party All Night" that is dangerously close to Little Milton's "The Blues Is Alright". Actually the chorus is the same with altered words. "Be Who? 2" is another easygoing blues album mixed with shuffles and slow blues like "I Still Care" and "Let's Get Closer" where Willie's smooth voice croons over a indolent groove. The songs, mostly written by Coleman and McFalls, are fairly generic but consistent and are a perfect backdrop for Willie's voice. The centerpiece of the record is of course part two of the "Be Who?" series. On "Be Who, Too" Willie still suspects that "old B.B." is "dipping in my sugar bowl?". Miss Lee points out Willie is "stupid" cause he's the only person she knows that "brings three rolls of toilet paper to a craps game"!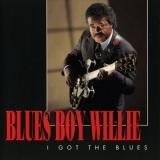 "I Got The Blues" (Ichiban 1992)
1. Hard Headed Woman
2. Restless Soul
3. I Got The Blues
4. Stream Line Woman
5. Keep Lovin' Me, Baby
6. B Who - 3
7. I Ain't Doing Too Bad
8. I Need Your Love
** The formula has grown a little stale on Blues Boy Willie's fourth Ichiban disc. The set opens with a fine blues shuffle written by McFalls called "Hardheaded Woman" but the remainder are by-the-numbers modern blues that Willie's done far better on previous releases. "Be Who 3" is more jive banter between Willie and Miss Lee. Gary B.B. Coleman also stops by and to say he saw Willie's ex. Turns out Willie paid her child support for 18 years before finding out on the child's 18th birthday it wasn't his child! Funny stuff. Although McFalls is holding a guitar on the cover he doesn't play on the record. Nevertheless, he does play guitar, drums, stand up bass, electric bass and, of course, harmonica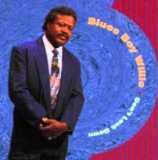 "Don't Look Down" (Ichiban 1993)
1. Injustice
2. Funny Stuff
3. So Close
4. Better Not Look Down
5. Disco Blues
6. I Gave Myself Away
7. If Lovin' Ain't Right
8. I Smile Because I Love You
9. Rainy Night in Georgia
**
1/2
Blues Boy Willie's back but no Gary B.B. Coleman this time. McFalls wrote five cuts himself like "Funny Stuff" where he accidentally finds himself in a gay bar where they were "doin' funny stuff". Wouldn't you know it but Leroy's there too! Willie also does a few tepid covers of B.B. King's "Better Not Look Down" and Brook Benton's "Rainy Night In Georgia". He fares much better with his deep crooning on Benton's "So Close".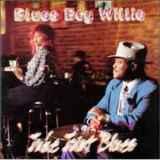 "Juke Joint Blues" (Ichiban 1995)
1 Juke Joint Blues
2 One Step from Poverty
3 I Should Have Listened
4 Crazy Life
5 I've Seen Blues Like I've Never Seen Before
6 Whose Clothes Is These?
7 Marry Myself
8 Fat Cat Faye
9 A Sudden Change
*** Final Ichiban album is one of his better efforts with more soulful blues and urban humor. The rockin' "Juke Joint Blues" is one of his best cuts- with pounding drums, rolling bar room piano and weaving blues guitar. "Crazy Life" is another upbeat blues shuffle with a sharp guitar solo from Lamont B. Bad. The comic comes out again on the iffy "Marry Myself" where he announces he might as well marry himself because he "can do the same thing a little girl can do...well, almost the same thing.". Interestingly a woman, guest writer Cathy Green, contributes the nasty ditty called "Fat Cat Faye". Even Leroy shows up here. Be warned it ain't pretty!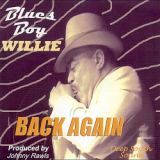 "Back Again" (Deep South Sound 2002)
1. Break Down and Cry
2. Keep on Moving
3. Got Some Loving
4. Always Love You
5. Down in Texas - (featuring Destini Rawls)
6. Tight Jeans - (featuring Johnny Rawls)
7. Get Loose
8. Love
9. Greyhound Blues
10. Blues Boy
*** Blues Boy Willie McFall's first CD since 1994's "Juke Joint Blues". Credit must go to producer Johnny Rawls, who recently started his own label Deep South Sound and asked Willie to record this album. The fat, bass & horns-heavy rhythmic backbone of the band is a perfect backdrop for Willie's thick, bluesy vocals. "Get Loose" & "Keep On Moving" are catchy soul groovers that should be hits. Other highlights are "Tight Jeans" (a duet with Rawls), "I Always Love You" & "Greyhound Blues", which sounds like a theme song for the bus company. Rawls' daughter Destinii also duets with Willie on "Down In Texas". As a bonus Willie exhibits some decent harmonica playing on the last track "Blues Boy"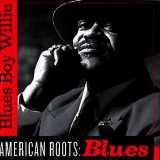 "American Roots: Blues" (Ichiban 2002)
1. Juke Joint Blues
2. Party All Night
3. I Still Care
4. Rest of My Life, The
5. Where Is Leroy
6. Stealin' Your Love Tonight
7. Can We Talk Before We Separate
8. Highway Blues
9. Injustice
10. Funny Stuff
11. If Lovin' Ain't Right
12. Leroy
13. Fly, The
14. Fishing Trip
**** It is great to have some of Blues Boy Willie McFall's Ichiban blues songs available again. This is a generous 14-song collection of many of the highlights from Willie's 6 Ichiban albums. Upbeat anthems like "Party All Night", "Juke Joint Blues", "Leroy" keep the foot tappin' and slow blues numbers like "Let's Talk Before We Separate" & "I Still Care" are full of soul. Only complaint is that the compilation didn't include any of his comedy blues routines with his then wife Lee (remember "Be Who", "Be Who 2" & "Be Who 3"?). This is quite odd since "Be Who?" was an R & B radio hit and helped keep the album "Be Who?" on the charts for 6 months! Still it's a satisfying platter of soul blues...

Blues Boy Willie & Johnny Reverb "Can Stop No Hurricane" (Creative Audio 2009)
5 song digital-only EP featuring some acoustic Blues
1. Shuffle The Deck
2. Can't Stop No Hurricane
3. Muleshoe Blues
4. Sleep Walkin' Blues
5. What Happened To The Blues

"Can't Deny The Blues" (Jekee Music 2013)
digital-only album
1. Can't Deny the Blues
2. Catfish Head Gumbo (feat. Johnny Reverb Holston)
3 Im Not the Fool I Look
4 West Texas Wind (feat. Johnny Reverb Holston)
5 Juke Joint in the Barn
6 Let's Go Poppin'
7 Mojo Workin'
8 You Gotta Short Circuit
9 Worse Blues We Ever Had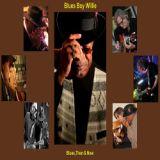 "Blues Then & Now" (Funny Stuff 2019)
1. Hungry Harp Blues
2. Sleepwalking Blues
3. Expectin' You to Change
4. Let's Go Poppin'
5. Short Circuit
6. I'm So Lonesome I Could Cry
7. Squeeze Me
8. Tribute to Jimmy Reed
9. The Worse Blues We've Ever Had
10.Plainly in Love With You
11.What Happened to the Blues
12. Ol' Train a Comin'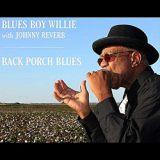 "Back Porch Blues" (Funny Stuff 2020)
digital-only album
1 Squeeze Me 5:29
2 What Happened to the Blues 6:18
3 So Lonesome I Could Cry 3:14
4 Sittin' On the Dock 4:32
5 Hungry Harp Blues 3:37
6 Expectin' You to Change 5:42
7 Catfish Head Gumbo 3:57
8 Sleep Walkin' Blues 5:38
9 Tribute to Jimmy Reed 6:49
10 I'm Not the Fool I Look 5:18
11 Ol' Train a Comin' 5:11