Billy "Soul" Bonds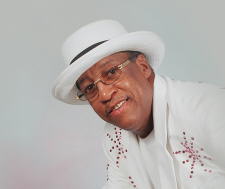 Bonds has been a regional favorite in the "Deep South's" Soul/Blues world, now referred to as the "Southern Soul", for years with hits like "Baby I've Been Missing You", "Going Public With My Love" & "Reverend Joe". He released a half dozen records from 1992-2002 before signing with Malaco Records in 2006 and releasing his signature tune, "Scat Cat...Here Kitty Kitty". The cut was the biggest hit in the genre for that year.
Album Discography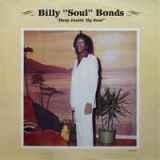 "Deep Inside My Soul" (M & T 1985)
***
Mid 80s debut shows Bonds funkier than usual on the one-two punch "The Blues Is Here (Because Of You") and "Love Injection" which open the record. The latter contains the bizarre lyric: "I need a love injection about 25 cc's I caught my woman with Victor Daniels, better known as 'VD'". The grinding rhythm of the title track is another highpoint. While the slick synthesized sounds are dated the disc holds up well. "Finders Keepers" features real horns.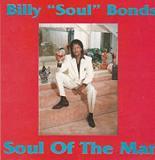 "Soul Of The Man" (SOG Secret 1992)
***1/2
Bonds introduces us to his laidback Southern Soul with plenty of dialogue intersplices throughout the songs. The indolent ballad "Baby I've Been Missing You" has become a minor classic amongst Soul/Blues fans. The midtempo bumpers "Movin On", "Get Right Or Get Left" & " Good Love Going Bad" and the Blues "Down Home Is Still Down Home" are also keepers.
"Heart And Soul" (SOG Secret 1994)
1. Vote For Me
2. Going Public With My Love
3. I Found Her In Time
4. I Just Don't Know (What To Do)
5. Let This Be A Lesson
6. Get It Straight (Before It's Too Late)
7. Stake Out (Vocal)
8. Stake Out (Instr.)
***
Bonds is running for the "president of love" and asks the ladies to "Vote For Me" and goes on a "stake out" to check up on his good thang on this relatively short record (7 songs + 1 instrumental). Although both got plenty of mileage it was a slowie ("Going Public With My Love") that became a fan favorite. The most memorable, however, is the socially conscious "Get It Straight (Before It's Too Late)", featuring a sweeping Philly Soul arrangement.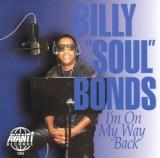 "I'm On My Way Back" (Avanti 1998)
1. I'm on My Way Back
2. Who's Fooling Who
3. You Can't Do Wrong Right
4. Trying to Leave a Good Woman
5. Looking for a Love
6. Too Late to Turn Back Now
7. Outside Woman
8. I'm Searching
9. I Don't Want None
10.I Don't Want None [Instrumental]
**
The ballads are starting to all sound the same, almost self-parody and there isn't a single standout track to be found. The title track and "Who's Fooling Who" (not the Johnnie Taylor song) are the catchiest but his cover of "Looking For A Love" is pointless. Still, Bonds fans will still find this material mildly entertaining.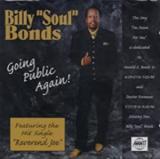 "Going Public Again" (Avanti 1999)
1. Going Public With My Love
2. Use It While You Got It
3. I Failed
4. One Way In...No Way Out
5. Getting What I Want
6. Ain't That Loving You
7. Reverend Joe
8. I'm Down for You
9. Proof Is in the Puddin'
10. If Love Was a Snake
11. If Love Was a Snake
12. Let Me Prove It
13. Please Mr. D.J.
14. Ain't That Loving You
****
"Reverend Joe" has got to be one of Bonds' best cuts. A tale of a conflicted preacher distracted by the fine ladies in the front pews! He sings "From waist up I'm a preacher but waist down I'm just a man". Hey at least he's honest. Elsewhere Bonds revisits his earlier hit on the title track, duets with Pat Brown on "If Love Was A Snake" and composes an excellent melodic hook on "I'm Down For You", which to analytic ears borrows from "My Girl". Another Southern Soul artist, Earl Duke, had a a regional hit with the song in 2004. This is Bonds' best disc overall.
"Special Edition" (Avanti 1999)
N/R This is a 3-song single containing two tracks from the LP "Going Public Again" and a Christmas song.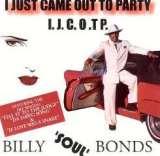 "I Just Came Out To Party" (Hus-La 2002)
1. Tell It To The Judge
2. Yes I'm Ready
3. If Love Was A Snake
4. Best Of My Love
5. La-La-La-La
6. Da Dawg Song
7. I Don't Want None
8. Tell It To The Judge (Edited)
9. I'm Searching
10. Same Thang
11. I Just Came Out To Party
**1/2
As usual the man with the soft voice as comfortable as a glove comes up with a novelty hit with "Tell It To The Judge", referring to those "People's Court"-type TV shows. But overall the album feels like a hodgepodge as it re-uses tracks from past records ("I Don't Want None", "I'm Searching", "If Love Was A Snake") and then croons on a couple mellow covers ("The Eagles' "Best Of My Love" & Jeffrey Osborne's "Yes I'm Ready") mixed with a few new tracks like the clever boomerang song "Da Dawg Song".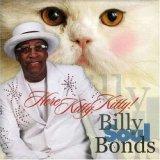 "Here Kitty Kitty" (Waldoxy 2006)
1. Scat Cat, Here Kitty, Kitty
2. Movin' on Again
3. Bedroom Workout
4. It Took Someone Like You
5. Give Them Their Flowers
6. Wedding Song
7. I'm Gonna Do Betta, Baby
8. I Ain't No Gopher Rat
9. I Failed
10. Bedroom (remix)
***1/2 It takes more than an undeniably clever phrase or storyline to have a hit song but that extra hook never hurts. "Scat Cat...Here Kitty Kitty" is an above average gliding, understated Billy Bonds ballad buoyed by a brilliant lyric. "She said the way you treat me/It's a shame and a pity/When you say 'scat cat' another man say 'here kitty kitty'". Have you heard a better way of saying "If you don't love me somebody else will"? This one's on it's way to becoming Mr. Bonds' signature song. Chick Willis has "Stoop Down", Theodis Ealey has 'Stand Up In It", Clarence Carter has "Strokin'" and Billy "Soul" Bonds" has "Here Kitty Kitty". That's saying something because Bonds is also known for "Reverend Joe", "Tell It To The Judge", "Going Public" & more. Even better news is "Kitty" isn't the only good'un found here. Track two, 'Movin' On Again", is a sprite shuffle bumper that owes it's existence to Memphis. Dig the way he weaves in a host of classic melodies near the end. Here's the follow up single for sure. Or maybe the right-headed "Give Them Their Flowers" will get the nod. Bonds name checks many of the greats who've gone to "soul heaven" but reminds us that many greats are still with us (Marvin Sease, Bobby "Blue" Bland, Otis Rush, Latimore, Willie Clayton, etc...) so he implores us to "give them their flowers" while they live" rather than wait to toss 'em on their graves. Methinks this will strike a note with the Soul Blues world since legends seem to be dropping left and right. It's one of 8 Bonds originals on this solid LP sympathetically produced again by Bonds. Tommy Sr. & Tommy Jr. (Couch) still know a good thing when it's presented to them (signing Bonds for this release). The only cover is a bit of a surprise. The booty wigglin' dancer "Bedroom Workout" was recent hit for the Mystery Man. Being that Bonds has better pipes than the mysterious one makes it an acceptable addition. That's not saying Bonds is a knockout singer. Not a singer's singer the man has a soft, pleasant and earnest voice that still goes down smooth and his knack for composing strong melodies and lyrics places him high (or is it it low- I can never remember) on the totem pole of Soul Blues.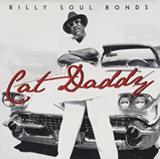 "Cat Daddy" (Waldoxy 2015)
Much Right Man
Cat Daddy
Get Her With My Twitter
Every Time My Neighbor Walks His Dog
Here Puppy Puppy
He Went To Bed With A Woman (But Woke Up With A Man)
Cheaters
She's The Woman I Love (This Is It)
I Owe You One
Whose Foolin' Who
Use It (While You Got It)