Betty Padgett

Betty Padgett was born in New Port, NJ but her family moved to Florida where she began her singing career. Initially she lead a girl group dubbed Betty and The Q's. The quartet also included Shirley Smith, Carolyn Griffen and Mary McCoy. They gigged locally before Betty joined other groups which augmented her performance credits to include overseas treks to Switzerland, Germany, Paris, Mexico and Belize. She released her first record, "Sugar Daddy" in 1976 to little fanfare. A 1981 effort, "Sweet Feeling", fared better garnering some regional airplay. All the while she toured with Latimore and TK Records artists Jimmy Bo Horne, David Hudson, and R.B. Hudman.
In the mid-90s Betty sang with Joey Gilmore and band before finally getting another shot at the studio. Two TT's Records released "30 Second Man" in 1998. To promote the record she teamed up with local "white godfather of the blues and soul" Motel Mel and formed Betty Padgett & the Right Stuff band, which has racked up plenty road mileage throughout the gulf coast. Her fourth release, "Closet Lover", dropped in 2004 but it was in 2006 when she really began to make her mark. Her CD "Never Coming Home" and the single of the same time made an impact in the Southern Soul market. To date she has released two more albums for Brimstone.
Album Discography

"Sugar Daddy" (Ultra Production Corp 1976)
1 It Would Be A Shame
2 My Eyes Adore You
3 Sugar Daddy (part 1)
4 Tonight Is The Night
5 Never Never Never
6 Gypsy Of Love
7 Sugar Daddy (part 2)
8 Rocking Chair
9 Love Me Forever

"Sweet Feeling" (Suntown 1981)
1. Breaking Up Somebody's Home
2. How Can You Say You Love Me
3. Do It In The Name Of LOve
4. I'd Rather Be An Old Man's Sweetheart
5. I Can't Love You No More
6. Sweet Feeling
7. Beat Me Rocking, Have My Chair
8. Victim
9. You Said You Were Mine
*** A product of the times. Discofied Pop R & B/Soul with dated production aesthetics but enjoyable nonetheless. A strong cover of "Breaking Up Somebody's Home", the heartbreak ballad "I Can't Love You No More" and a Down home Blues number, "Sweet Feeling" stand out the most.

"30 Second Man" (Two TT's 1998)
1. 30 Second Man
2 Shut Your Mouth
3 You're Gonna Make Me Cry
4 Dream On
5 He Made My Day
6 I'd Rather Go Blind
7 Funny
8 No Medication
9 30 Second Man (Club Version)
**1/2 In pure Denise LaSalle mode, Betty ain't messin' around on the terrific title cut. "He's got a body like Samson and on the dancefloor he's got all the right moves. But when you get home just to have some fun he pull out a toy gun on you." Ouch! It also appears as a "Club Version". Unfortunately none of the other tracks come close. "No Medication" is charming Jazz/Blues, "Dream On" a serviceable Downhome Blues and "Shut Your Mouth" a decent shuffle bumper but covers of "You're Gonna Make Me Cry" & "I'd Rather Go Blind" suffer from tepid arrangements. Plus there's only 8 songs. Still Betty fans will want to add this to their collection.

"Closet Lover" (Heaven Bound 2004)
1. Get on the Dance Floor
2. Closet Lover
3. I Can't Wait
4. Inthe Middle of Falling in Love
5. Mature
6. Ninety-Nine Pounds- Long Version/Club Mix
7. Why
8. Crazy Over You
9. I'm Getting What I Want
10. When a Woman Loves a Man That's How Strong Medely
11. Picture
***
A slightly funkier effort this time out commencing with the pumping "Get On The Dance Floor", buoyed by a phat underbelly, handclaps and a confident vocal from our heroine. She gives Ann Peebles a run for her money on a modernized version of "99 Lbs" and covers of "Right In The Middle Of Falling In Love", "Crazy Over You" and Jimmy Lewis' "Getting What I Want" have enough disparate touches to make them welcome alongside the originals. Padgett six of the tracks with producer John "Dash" Dixon. Two strong slowies (title track and "Why") give Padgett an opportunity to display her supple voice. Denise LaSalle fans are guaranteed to dig Betty.
"Never Coming Home" (Meia 2006)
1. Sneaking Around
2. Come on Over
3. Best Friend My Lover
4. Never Coming Home
5. Rock Your Boat
6. Hey Boy
7. I Found a Love
8. Bounce
9. Perfect Man
10. Check Yourself
**** I've said and I'll say it again: 2006 is the "Year Of The Woman" when it comes to Southern Soul Blues. The latest evidence comes from veteran Betty Padgett. You'll notice I said "veteran" while the majority of us may have yet to meet her. Padgett formed a girl group in 1974 called Betty & The Q's and recorded two LPs soon after (1976's "Sugar Daddy" & 1981's "Sweet Feelings") but like so many other talented Soul & Blues artists the fickle market didn't give her a break.
She made a quiet comeback early this decade with two CDs, "Closet Lover" & "30 Second Man", but only the underground was hip. That's going to change with the release of "Never Coming Home". Ms. Padgett has an absolutely fantastic voice. I'm talking in the same league as the Queen Denise LaSalle. That in itself could end this review on the upbeat. Why she isn't signed to a bigger label is beguiling indeed. "Never Coming Home" concentrates on the usual Southern Soul themes: Cheating, relationships, partying, female empowerment but that urban perspective born form experience lets you know there's no pretense. She's just telling it how it is. She could be going on about anything and she'd still sound good. The title track is a slice of Southern Soul ecstasy. This shuffle bumper is told from the perspective of an under-appreciated housewife. She cooks, she cleans and he's a womanizing fool. Well, Betty's had enough and "she ain't never coming home". She tells that cad "When you were out there doing your thing I had plenty time to think/You were out there spending your money on Tameka, Tonya and Teetee I was saving for the days my tears would stop...!". It's simply one of the best kiss-offs in recent memory. Every bit as good as Gloria Gayner's "I Will Survive" when it comes to "washing that man right out of my hair" and moving on. It's been done to death but, dangit...you go girl! Everything works from that tasty little guitar lick that keeps insinuating to the pounding bottom to even the tasty synth horns. Other shuffle bumpers include "Rock Your Boat", "Hey Boy", "Check Yourself" and the festive dancer "Bounce". Each as catchy as a thousand burrs stuck to your socks. Padgett can swing on the finger poppin' "Perfect Man" and sell the slowies too ("Best Friend My Lover"). There's not a weak moment to be found. Sure I wish there were real horns and a bigger studio sound but the sheer soulfulness of this masterpiece renders that superfluous. This is an essential purchase for anyone that loves modern Southern Soul Blues!

"The Real Deal" (Brimstone 2009)
1. I Made It
2. Got to Make a Change
3. Old Man Young Man
4. Shook It Off
5. I Love You
6. I'm for Real
7. Paying Bills and Poppin' Pills
8. Let Your Mine Go Back
9. Perfect Man
10. Come on Over
** Ms. Padgett may be the real deal but I wish the backing tracks on this set sounded more "real". Her last effort, "Never Coming Home", though computerized, just had a better sound and better songs. "I Made It" suffers from percussion that sounds like dripping water and absolutely no bass. It's reminiscent of her breakthrough hit "Never Coming Home" but it just falls short. The 60s-styled Country Soul ballad "Got To Make A Change" is a definite bright spot. In fact it's the slower cuts that succeed being they're not let down by the thin production. But only "Got", "Love You" and the terrific "Come On Over" qualify as slowies.
It's a shame 'cuz bumps like "Old Man Young Man", "Shook It Off" and "Paying Bills And Popping Pills" are all good ideas. The latter has Betty lamenting the good life she had when she had her man. "I didn't have to work/I could just lay around all day/If I didn't feel like cooking/My sweet thing would say 'that's okay'...but ever since my man been gone I had to find me a job...paying bills and popping pills". So what happened to her man? Unfortunately, the song doesn't tell us. Fill in the blanks I guess. This is a winner that needs to be re-cut. The Southern Soul market may not mind the low-fi quality but it will have it's critics. If there was less bootlegging going on maybe these folks could afford and/or justify spending more money in the studio.

"I Didn't Take Your Man (You Gave Him To Me)" (Brimstone 2012)
1. Nobody but You
2. I'm Available
3. Sorry (We Couldn't Make It Work)
4. He Do Things Your Money Can't Do
5. I'm Losing a Good Man
6. Do It in the Name of Love
7. I Didn't Take Your Man
8. Feelin Real Good
9. I'm a Brand New Me
10. Your Time to Cry
11. At the Downbeat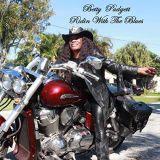 "Riding With The Blues" (Meia 2021)
1 Old School Blues
2 I Don't Want Nobody
3 Call Me
4 Cross Roads
5 He's My Man
6 Everybody Wanna Dance
7 Looking for a Good Man
8 All My Sick Days
9 Let Me Come Back Home
10 Chess Records