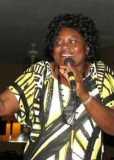 Bertha Payne
Bertha Payne is a Soul Blues singer from Memphis.
Album Discography

"Bedroom Offer" (self 2005)
1. Ain't No Love Lost
2. Bedroom Offer
3. Whatever It's Takes Pt. 1
4. Whatever It's Takes Pt. 2 Featuring Sweet Talk
5. Save Your Breath

"Glamorous" (Fi-Rea 2005)
1. Born to Do This
2. Ain't No Love Lost (Club Version)
3. Bedroom Offer (Club Version)
4. Whatever It Takes
5. Ain't No Love Lost (Radio Version)
6. Knock That Down
7. If It Works
8. Sweet Talk
9. Save Your Breath
10. Bedroom Offer (Radio Version)
*** Bertha begins flexing her chops right from the tough gal Blues "Born To Do This" which opens this healthy dose of Downhome Blues & Southern Soul. She may be glamorous but she'll open up a can of whoop-ass if you trifle with her. "I can bring eyesight to the blind/Bring that darkness to the light/I can show you the kind of colors that you've never known/I was born to do this so it all comes naturally!". It's the kind of tongue-in-cheek braggadocio Koko Taylor excels at. Wouldn't you know it but Payne's the niece of Mz. Taylor. Bertha's voice isn't thunderous like Koko's but powerful in it's own way. Dig that burst of vibrato that finishes her incantations. Don't fret guys because she praises the man on "Whatever It Takes". "He tells me: You are my pride and joy. I'd walk ten miles just to see your smile"/In so many ways I can feel his love". I have to admit I just love sistas that can belt the Blues and then turn around and display that feminine surrender that completes a woman. Like Tyrone said: A woman was made to be loved.
But just because she's soft don't thin you can use her. "Bedroom Offer" is a booty bumpin' shuffle with Payne tellin' ya: "If all you have to offer is your bedroom that won't get it...my life ain't all about a booty call." Surely that will strike a nerve with the same folks that dug the message behind Sheba Potts-Wright's "I Can Hear Your Macaroni" or Denise Lasalle's "A Woman Needs Money". Interesting is the similarity of the phrasing to "I Just Want To Make Love To You" being this song is saying just the opposite. Nice touch. Other notables be the Downhome Blues "Ain't No Love Lost" with it's nifty keyboard roll. The midtempo Soul roller "Whatever It Takes" has a terrific vocal arrangement with Sweet (Carnadia Anderson) and Babi (Nina Moore) weaving their sexy voices around Bertha's. My personal favorite is the funky "Knock That Down" with a phat bassline, blaring synth horns and attitude supreme. Purists may balk at the hybrid of synth and live instruments but they'll be missing out. Bottom line: Get glamorous baby!
"Let's Get This Party Started" (Bertland 2009)
1. UP IN HERE
2. SLIPPERS GOES
3. I CAN'T STAND ANYMORE OF THAT
4. LET THE PARTY GET STARTED
5. HE'S SO SWEET
6. I'M NOT YOUR FOOL ANYMORE
7. NEVER ENDING LOVE
8. MY FRIEND IS MY MAN
9. I'M NOT YOUR FOOL ANYMORE (REMIX)
10. MY FRIEND IS MY MAN (REMIX)
11. BERTHA'S BOOGIE (Instrumental) Bonus Track

"It's The Blues In Me" (Bertland 2013)
1. It's Friday
2. When I Give My Love
3. Southern Soul Party
4. Tennessee Woman
5. Put Up or Shut Up
6. I Know What I Want
7. I'm the Best
8. Some Fun Tonight
9. The Blues in Me (Because of My Family Tree)
10. I'm the Best (Remix) [feat. Da Charmin]
11. Always A Party
12. It's Friday (Remix) [feat. Da Charmin]
13. Let the Party Get Started
14. I'm Not Your Fool Anymore
15. Up in Here