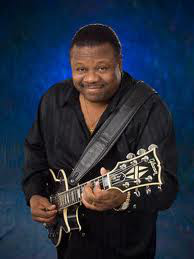 Andrew 'Jr Boy' Jones
Andrew "Jr. Boy" Jones was born Andrew Jones in Dallas, Texas, United States. The son of a big band singer, Jones acquired his moniker from his grandmother. Jones learned to play the guitar at a young age, and he joined Freddie King's backing band, the Thunderbirds, at the age of seventeen and toured with them for a couple of years. In 1967, Jones became part of Bobby Patterson's backing band, the Mustangs, playing on a number of Patterson's single releases. By the early 1970s, Jones had regular work in Dallas backing many musicians, plus he was tutored further in his guitar playing by Cornell Dupree.

In 1973, Jones re-joined King's backing ensemble, and played with him until King died in 1976. The latter part of the decade saw Jones create a soul group known as the Creators, who signed a recording contract with RCA Records. Penned by Jones, their 1979 single, "Blame It on Me", was more successful on the Northern soul circuit in the UK than in his home country. He worked locally in the early 1980s, primarily backing R.L. Griffin and Hal Harris, before finding regular work with Johnnie Taylor until 1985. In late 1987, he went to California joining Bobby Bland's drummer, Tony Coleman, and B.B. King's bassist, Russell Jackson, and played as the Silent Partners, who backed Katie Webster both in concert and on her "Swamp Boogie Queen" (1988) album. The trio became session musicians working with Charlie Musselwhite, with whom Jones remained until 1996. Jones toured the world in this period, and played on three Musselwhite albums; "Ace of Harps" (1990), "Signature" (1991), and "In My Time" (1993).

In 1996, Jones issued his debut solo album, "I Need Time", via JSP Records. This was followed the year after by "Watch What You Say" for Bullseye Blues & Jazz. Buoyed by this latter release Jones was nominated for a Blues Music Award for 'Best New Blues Artist'. A live album, "Jr. Boy Live", was released on Jones' 43rd Big Idea imprint in 2006 and "Gettin' Real" came out on Electro-Fi Records in 2009. His most recent long player, "I Know What I Want" was also released on his own label in 2012.
Album Discography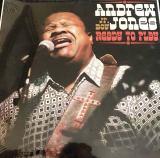 "Ready To Play" (GFT ???)
1. Bang Bang
2. Lonely Times
3. I'll be Around
4. I need Time
5. I've Got To Go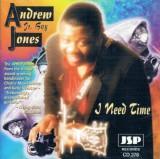 "I Need Time" (JSP 1996)
I Got A Stick
Hoochie Mama
I Need Time
These Bills
Big Leg, Heavy Bottom
Blues Joint
I'm With You
Jr Boy's Jam
You're A Dog
Gotta Be Foolin' You
Tribute To Freddie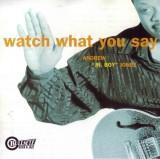 "Watch What You Say" (Bullseye Blues & Jazz 1998)
Watch What You Say 4:25
Party Man 3:23
Fast Woman 4:54
The Memory's Fading 7:16
Shuffle On 2:31
Make Some Changes 3:46
Little By Little 6:11
Time To Move On 3:06
Blues Queen 4:31
Stinky Dink 3:43
Lost Love Blues 4:01
Soul Serenade 5:25
Got To Win The Lottery 3:37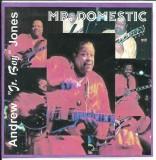 "Mr. Domestic" (Galexc 2001)
My Work 3:33
Baby, I'm Sorry 4:22
Mr. Domestic 5:20
She's Fine 4:09
Blues Belly 3:21
I Got To Go 3:18
Bang Bang 3:08
These Dreams 4:41
I'm The One 3:55
Bad Luck Is On Me 3:24
I Get No Respect 5:43
"Jr. Boy Live" (43rd Big Idea 2006)
1 I Got A Stick 4:32
2 Bang Bang 4:29
3 She's Fine 6:31
4 Lost Love Blues 11:25
5 Blues Belly 5:41
6 Noises In The Backroom 4:02
7 Georgia On My Mind (Instrumental) 5:35
8 Big Legs Heavy Bottom 6:16
9 I Need Time 7:49
10 Fast Woman 8:05
11 No Respect 6:25
12 I Got To Go 5:01
**1/2 I've always enjoyed Andrew "Jr Boy" Jones' fine guitar lickery and there's plenty of that found on "Jr. Boy Live". He's written some sturdy Blues songs found on his two Bullseye Blues outings ("I Need Time" & "Watch What You Say") and his independent release "Mr. Domestic" but didn't/doesn't possess the vocal prowess to match his musicianship. I recall that with each release I picked it up, listened and thought "damn, so close! Great sound, songs but that voice!". Perhaps I'm too persnickety but it doesn't matter how good the backing sounds if you can't do it justice at the microphone you need to let somebody else do the singing.
That said it's smokin' show. "There are a few things hotter than a Texas summer night and you're about to witness one of them" sayeth the MC before Jr. Boy starts cuttin' on the shuffles "I Got A Stick" and "Bang Bang". The intensity ("Texas Heat") doesn't let up throughout the set even on the Soulful instrumental version of "Georgia On My Mind". Fans of guitar Blues will find much to enjoy here but I wish the vocals were better.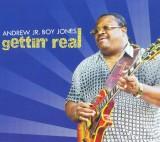 "Gettin' Real" (Electro-Fi 2009)
1 Struggle 4:29
2 People Say I'm Crazy 5:26
3 Negative Talkin' 4:02
4 Lonely Times 4:27
5 Don't Let the Green Grass Fool You 4:09
6 Don't Get It Twisted 4:54
7 Good Lovin' 4:17
8 Just Playin' the Blues 3:45
9 Hell in My House 6:32
10 What's Goin' On 6:00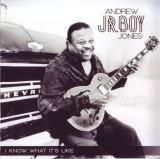 "I Know What I Like" (43rd Big Idea 2012)
1 I Know What Its Like 5:25
2 I've Got You On My Speed Dial 4:15
3 Whiskey Drinkin Blues 4:33
4 G Thang 3:59
5 Let the Child Be Wild 5:01
6 Movin From The Darkside 5:32
7 Ready To Play 3:51
8 You Gotta Be Foolin You 5:25
9 Midnight 4:05
10 Younger Woman 4:21
11 The Party Is Getting Started At Midnight 5:17
12 Mixed Beans 3:44
13 Whiskey Drinkin Blues (Long Version) 8:03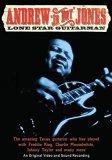 "Lone Star Bluesman" (JSP 2015)
Live performance DVD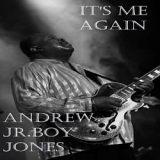 "It's Me Again" (Galexc 2016)
1 Negative Talkin' 3:29
2 I Get No Respect 5:21
3 Blues Joint 5:07
4 Just Playin' the Blues 3:59
5 Mr. Domestic 5:06
6 Blues Belly 4:00
7 Midnight 3:57
8 Lonely Times 4:54
9 I Need Time 7:19
10 Baby I'm Sorry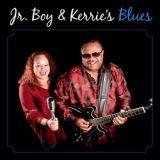 with Kerrie Lapai Jones "Jr. Boy & Kerrie's Blues" (Galexc 2019)
1 Blues Party 3:50
2 She Shed 4:36
3 Mr. Slick 5:08
4 Blues at Sunset 5:32
5 Old Joker 4:40
6 Do You Ever Think About Me 5:40
7 Just Us 3:37
8 Road Doggin' 4:49
9 The World's Gone Crazy 4:14
10 Good Life 4:01
11 Sunday Drive 4:00
12 Blame It on Me 5:10
13 Don't Mess with Me 3:37