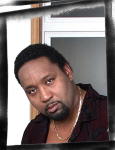 Al Lindsey
Smooth yet smoky-voiced Al Lindsey has been making plenty noise as of late in Southern Soul circles with a satisfyin' new disc and a dynamic live show. Recently he was named as winner of Blues Critic's 2005 "Best New Male Artist" award, as voted by Blues Critic readers/visitors. Lindsey was born in Virginia; raised in Michigan but his Soul extends from the Motor City (Detroit) to the Deep South. His career began while enlisted in the military where he opened for comedian Jimmy Walker, better know as "J.J." of Good Times. Following his tour of duty he headed back to Detroit and befriended Obie Benson and the Four Tops. He formed a group with Roquel Payton, son of the late Lawrence Payton. (Roquel has now replaced the late Obie Benson). In 1989 Al recorded a 12 inch with guitarist David Myles, titled "Always on My Mind". The record didn't hit so Al continued to perform and thrill hometown audiences. He's performed with Latimore, Willie Clayton, the late Little Milton, Rue Davis, J. Blackfoot and Maurice Davis to name a few. He didn't get a chance to record again until 1996 when he released two more songs ("Our Day Will Come" & "Come Share My Love") that got some local airplay but, like many soul greats, he's had to continue honing his craft and paying his dues on the road until he caught a break. In 2004, he went back into the studio and released his first CD entitled "Just Chillin". His remake of the heartfelt ballad "So In Love", by the great Willie Hutch is a favorite of his fans and is requested frequently. He joined ranks with Producer Simeo Overall, formerly of Cameo for the hit CD "Caught" in 2006. Over the next ten years Lindsey & Simeo cut three more albums.
Album Discography

"Just Chillin" (Pulsating Music 2004)

** Six song debut is a demo quality set occasionally hints at his potential (which come letter). "You're The 1" is a nifty Pop ditty but Marvin Gaye-inspired cuts like "Place No 1 Above You" is more his thang. His first version of the classic "So In Love" is the best cut here.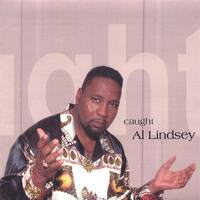 "Caught" (Pulsating Music 2006)
1. Take Me Back
2. Candlelight (A Salute To Marvin)
3. Hollow Point
4. Caught
5. Sorry
6. We're Gonna Party Tonite
7. Sunshine
8. The Grind
9. Ain't Nuthin Wrong
10. Candlelight (A Salute to Marvin) Extended Version
**** The Southern Soul world is teeming with talented artists and producers. It's only a matter of time before this genre explodes into the mainstream. Michigan's Al Lindsey could have a hit on his hands with this independent release, "Caught". It's as good if not better than most of what I've heard this year. Possessing a rich, throaty voice with just enough coarseness to shake your soul (think Charles Wilson meets Carl Sims), Lindsey impresses right away on the slow rolling opener "Take Me Back", which even features some tasty guitar licks from Larry McCray. But I was still skeptical 'cuz too many albums start with the best track and steadily decline. Nope, not here. Track two is a marvelous tribute to Marvin Gaye called "Candlelight"; a smooth, sexy n' slow stepper that's imbued by the spirit of "Sexual Healing" (the song also appears as an extended version to close the disc). Ship this to radio now! And while you're at it toss in the headbobbing dancer "Caught (In The Wind)", which has a sugary refrain and great backing vocals by Simeo Overall, who also produced, did the programming and wrote 6 of the jams. (Overall produced Bill Coday's "Jump Start" cd this year as well). Lindsey himself co-produced and wrote three tracks, including the slow Southern Soul gems "Sorry" and "Sunshine". Both are fitting showcases for some aching vocal throwdowns by Lindsey. The arrangement is flawless and "Sorry" again features McCray. Don't lay one on your honey just yet 'cuz Lindsey gets you back on your feet again with the pumping "We're Gonna Party Tonite" .But that may be to give a standing ovation and not just to shake your groove thang. Lindsey is an artist to watch and Overall is making a name for himself.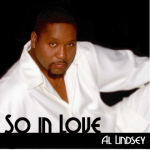 "So In Love" (Pulsating Music 2008)
1. Missin' You
2. So in Love
3. Pop It, Shake It, Work It
4. Call Me
5. Let's Take a Chance
6. Is Anybody Dancin
7. Can't Keep Runnin' Away
8. Charletta's Groove
9. A Song for Mother
10. Steal Away (The Remake)
11. Slide the Cd In
12. Pop It (The Remix)
13. Miss U At X-mas
***1/2 Back in 2005 husky-voiced Al Lindsey appeared out of nowhere with a fresh (and refreshing sound) for the Southern Soul genre with "Caught". Despite being independent and on a shoestring promotional budget Lindsey was still able to attract plenty of attention by virtue of strong material and tight production by Simeo. His Marvin Gaye homage 'Candlelight" was such a charmer I even recommended it to another singer as a cover just to give it another run. It was this and another slow song from that album that convinced Lindsey to focus more on that sultry balladry and "So In Love" does just that.
The tracks are mostly original but the centerpiece of the record is his dynamite cover of Leroy Hutson's "So In Love". Great arrangement. Lindsey sings it like he's been doing it since childhood (actually he has). Another slow jammy, Lindsey's own "Call Me", ain't no punk either. A gentle creeper, synth strings and a sexy vocal to boot. Hey when you're singin' a song about a "Nubian queen wearin' those painted on jeans" you know you're gonna sing it with feelin'! Deserves to be a hit. Would fit on mainstream R & B radio too. On the dancefloor tip comes "Let's Take A Chance" and "Pop It Shake Work It", featuring producer Simeo's knack for bass bottomed bumpers.
Initially Lindsey wished to call the album "Versatility" as he stretches out a bit on the Jazzy "Carletta's Groove" (dedicated to swing Jazz legends like Cab Calloway). He also crafts a fine melodic Pop song with "Can't Keep Running Away". Good job Al.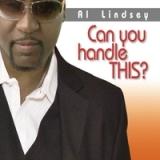 "Can You Handle This?" (Pulsating Music 2011)
1. Can You Handle This
2. Leaving Me
3. Diamonds And Pearls
4. Let It Go
5. Keep On Gettin It On
6. She's Always Right
7. Tick Tock
8. Nothing Greater Than Love
9. Rainin Down On Me
10. A Simple Little Love Song
11. Keep On Gettin It On (Outro)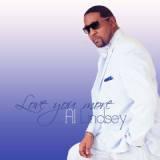 "Love You More" (Pulsating Music 2016)
1. Come As You Are
2. I Give Up
3. Misty Blue
4. If This Is Too Fast
5. Shake You Down
6. Make It With You
7. I See Jesus
8. Love U More
9. Luckiest Man
10.That's How Heartaches Are Made
***1/2 I'm sure there are many of you that remember those Orson Welles TV commercials he did for Paul Masson wine (or am I dating myself?). He usually ended with the slogan that Paul Masson "will sell no wine before it's time". The idea being that regardless of matters of commerce the quality of the beverage was the most important. I always got a chuckle out of the spots because Paul Masson wine is not a particular good wine. It was cheap and mass-marketed and that analogy works for music as well. There are some artists (to remain nameless) that put out product too frequently. They don't appear to wait until they have a full set of quality songs for a new album.
That cannot be said of Mr. Al Lindsey. "Love You More" is his first new album in five years and fifth overall in a recording career that dates back to 2004 (the self-released "Just Chillin'"). The modern day Southern Soul genre is full of ribald humor, good times and nasty propositions in your "side piece", "stand up in it" and "let's get the party started" songs, which are ubiquitous. They certainly have their place and are well-represented out there. Lindsey is more of a romantic, more Adult R&B than what is commonly called "blues" or "soul-blues" (Southern Soul is often called "blues" even if it has little in common with the 12 bars, guitars and harmonica "blues").
The first thing you notice about "Love You More" is the crisp, clear production and background vocals of Simeo. The coasting, danceable "Come As You Are" benefits from a genuine sax line by Bunny Clyde, those drip drip percussion sounds and Lindsey's trademark smoky vocals but what he excels at best is love songs. The title track is an instant classic, reminiscent of Ricky White's very similar "I'll Still Love You". A yearning piano and fuzzy guitar ballad with Lindsey proclaiming "I still love you" even if "the sun fails to shine, the oceans run dry, my blood count runs low, etc". You know you have a good melody when you can sing the refrain after hearing it only once. This song is special and deserves to hit out there. We need more in this vein. The fact that it's the top cut here is saying a lot since the album contains several strong cover songs, such as Dorothy Moore's "Misty Blue" and Gregory Abbott's "Shake You Down". On the former Lindsey unleashes what is perhaps his best vocal on record. It's a gorgeous rendition and may be the best cover version I've heard. That's saying a lot since one of my personal faves Little Milton also waxed a version.
The album isn't shy about talking about faith either. Simeo wrote the lovely Gospel/trip hop number "I See Jesus", a duet between Lindsey and Lynne Calloway. Simeo also penned another album highlight "Luckiest Man" with the sweet refrain "with my baby by my side and the Lord in my life I'm the luckiest man in the world". You'll be lucky too if you pick up a copy of this album. It's a light, breezy, finely-sung and produced feel good record.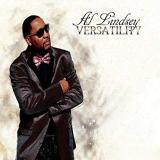 "Versatility" (Pulsating Music 2018)
1 Cotton Candy
2 Versatility (Monologue)
3 Versatility
4 Heavenly Thoughts
5 Don't Worry About Me
6 Midsummer Dream
7 The Blues Is Alright with Me
8 Changed
9 Exponentially
10 Home