Tad Robinson

Born June 24 1956 in New York. In 1976, Tad began attendance at Indiana University in Bloomington, Indiana where he met his wife, Amy, and started his first band, Hesitation Blues Band. Tad moved to Chicago in 1982 where he gigged in the blues happy club scene. His Chicago band with Steve Freund, Marty Binder, and Harlan Terson had a weekly gig as the house band at Rosa's for three years and also played venues like Buddy Guy's Legends, The Chicago Blues Festival, B.L.U.E.S., The Wise Fools Pub, and many others. Variations of this band would play in and around Chicago for years until Tad moved back to Indiana in 1998. Tad also toured Europe several times, played dates in Canada and Israel, and contributed to two major motion pictures. One of them, Under Siege with Tommy Lee Jones, as a member of a fictitious blues band with David Letterman guitarist Hiram Bullock, and other film that featured Tad's music was A Perfect Murder starring Michael Douglas. He took over as vocalist for Dave Spector & The Bluesbords on their 1994 disc "Blueplicity", which included Robinson-penned originals "What's Your Angle," "Dose of Reality," and "On the Outside Looking In." The label, Delmark, gave Tad his own contract and he recorded two records for the label until switching to Severn.
Album Discography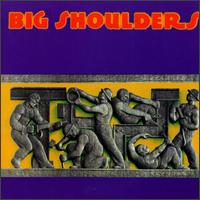 Big Shoulders "Big Shoulders" (Rounder 1989)
1. Plain Folks
2. Certain Amount of Love
3. Boys, Girls and Money
4. Big Shoulders
5. I Got Love
6. I Need Your Help
7. Talk to Me
8. Don't Give Up
9. Shoulder Suite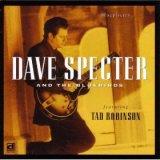 Dave Specter & The Bluebirds (with Tad Robinson) "Blueplicity" (Delmark 1994)
1. Ridin' High
2. Sweet Serenity
3. What Love Did To Me
4. On The Outside Looking In
5. Blueplicity
6. What's Your Angle
7. That's How Strong My Love Is
8. Dose Of Reality
9. Cool Azul
10. What Have I Done Wrong
11. You've Got Bad Intentions
12. Cattin'

Dave Specter & The Bluebirds (with Tad Robinson) "Live In Europe" (Delmark 1995)
1. West Side Stroll
2. Little by Little
3. Bad Boy
4. Bluebird Blues
5. It's Too Late Brother
6. Kidney Stew
7. Wags' Blues
8. Dose of Reality
9. I Die a Little Each Day
10. Sweet Serenity
11. On the Outside Looking In
TAD ROBINSON

"Ode To Infinity" (Delmark 1995)
1. Empty Apartment Bles
2. Coming Home
3. At The End Of The Tunnel
4. Eight Days A Week
5. Trouble In Mind
6. Can't Print It Fast Enough
7. One To Infinity
8. Walking In The Sunshine
9. Lonely Man
10. Raining In New York
11. Little Rascal
12. Give Love A Chance
*** Competent set of harmonica blues shuffles and soulful blues by this vocalist similar to W.C. Clark and Darrell Nulisch. In fact the first time I heard the west coast blueser "Coming Home" I thought it was Clark! The slow soul "At The End Of The Tunnel" shows off Tad's pipes with the legendary Robert Ward peppering the cut with his unique guitar sound. Even better is the title cut. Coming as a surprise Tad transforms the Beatles' "Eight Days A Work" into a soul groover albeit not entirely successfully. A rhumba beat is used on "Can't Print It Fast Enough" and Texas blues swing on "Walking In Sunshine". A promsing solo debut but he done got better.

"Last Go Round" (Delmark 1998)
1. Last Go Round
2. Payback
3. If I Had To Do Again
4. Some Of My Best Friends Are The Blues
5. Have You Heard From My Baby?
6. The Waiting Game
7. Since You've Been Gone
8. I've Got To Go
9. No Exit Blues
10. More And More
11. Another Song, Another Day
12. Shine A Light
**

1/2 Robinson's blues are as good as but too similar to artists like Kim Wilson and Darrell Nulisch to really make him stand out. That's not to say this isn't fine blues shuffling it's just that it doesn't set him apart the way his soul songs do. One of the better cuts, "Payback", sounds so much like Nulisch's material they could be interchangeable. Robinson wrote the majority of songs here and they range from generic ("Have You Heard From My Baby", "The Waiting Game") to dynamic ("Payback", "Since You've Been Gone"). Not surprisingly, it's his soul songs that resonate the loudest. Guitarist Alex Schultz continues to dazzle with his crisp guitar playing throughout the album. Fortunately this wasn't Robinson's "Last Go Round".

"Did You Ever Wonder?" (Severn 2004)
1. They Say
2. Did You Ever Wonder?
3. The Bitter And The Sweet
4. Too Late To Turn Back Now
5. Woman Trouble
6. Your Love Is Amazing
7. Suffering With The Blues
8. Welcome Home
9. Pockets Full Of Nothing
10. My Love Is Real
11. Dying From The Blues
***** Let me start off by saying I'm weary of the cliche' "blue-eyed soul singer" but by looking at this lanky goateed white man you'd never guess what a powerhouse soul voice he has! Of course I guess the same could be said of Daryl Hall & Paul Carrack- anyway, Tad Robinson has put out the best disc of the year so far! Severn Records has fit him with a rich, soulful horn & blues guitar-fueled backdrop for his aching vocals. Backing Robinson is a tight band of Severn regulars, including guitarist Alex Schultz, keyboardists Benjie Porecki and Kevin McKendree, a rhythm section of drummer Marty Binder and bassist Harlan Terson. The horn section was arranged by the great Willie Henderson, who worked for Tyrone Davis (among others). The disc opens with a terrific version of Dan Penn's "They Say" that has a Al Green/Willie Mitchell feel to it.Robinson absolutely sizzles on the original "Did You Ever Wonder?," with mournful, passionate vocals, filled with emotion like only a great soul singer can muster. He can also tone it down for a coasting pop song like the Cornelius Brothers' "Too Late To Turn Back Now" and play some tasty harmonica on the Latin-tinged "The Bitter & The Sweet". Especially noteworthy is Tad's take on Robert Ward's "Your Love Is Amazing", the title track and the slow blues "Suffering With The Blues", which is one of many places guitarist Schultz shines. Further stamping this cd with legitimacy is the fact the legendary Otis Clay sings backup on two tracks ("Too Late To Turn Back Now" & "Welcome Home").

"New Point Of View" (Severn 2007)
1. Long Way Home
2. Ain't That Loving You (For More Reasons Than One)
3. Up And Down World
4. You Get To Keep The Love
5. He's Movin' In (To Her Life)
6. More Good Than Bad
7. Two Of A Kind Blues
8. Broken-Hearted Man
9. When You're Ready
10. Love Is Everything
11. Back For More
**** Tad Robinson is simply one of the best singers in the business. An aching blue-eyed Soul tenor much too strong for generic 12-bar Blues fare (though he does such extremely well) and his latest "New Point Of View" is yet another perfectly produced and arranged Soul/Blues disc from Severn Records. The label also boasts Lou Pride & Darrell Nulisch. Robinson's last opus, "Did You Ever Wonder?", was our pick for Best Blues CD of 2004 and this new one is a delicious followup. With heavy support from Pride (who co-wrote three cuts and is thanked by Robinson in the liners for "inspiration, ideas, encouragement, lyrics and optimism"), the disc marinates in heavy bass, horns and B-3 glory. Key cuts include the opener, "Long Way Home", with it's rumbling bottom, circa 70s strings and sweet horns & the winding slow Blues "He's Movin' In (To Her Life)" with Robinson pushing his elastic voice to his highest register- sounding quite a bit like W.C. Clark- again a brilliantly arranged and conducted piece by David Earl, Steve Gomes, Willie Henderson & Robinson. These are two of nine originals, each with one or multiple co-writers. Robinson says he brought sketches and lyrics by John Bean and he and the band (Alex Schultz, Kevin Anker, Steve Gomes, Robb Stupka) worked up most of the pieces in the studio. "Broken-Hearted Man" is a striking straight-up Blues that gives Schultze a chance to cut and "Love Is Everything" a gorgeous Soul ballad Robinson just devours. The record's not perfect: Swell but superfluous covers of "Ain't That Loving You (For More Than Reasons Than One)" and "Up And Down World" are sequenced too soon on a record with such great originals in my opinion. Plus, a few tracks are rhythmic yet melodically thin ("More Good Than Bad", "Two Of A Kind Blues", "You Get To Keep The Love"), which was also my only gripe against the latest Pride album, but the sound of this record is so sublime I'm nitpicking. This is the stuff!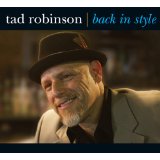 "Back In Style" (Severn 2010)
1. Rained All Night
2. Full Attention Blues
3. You Name It I've Had It
4. On and On
5. I'm in Good
6. Just Out of My Reach
7. Sunday Morning Woman
8. Half Smile
9. Turn to the Music
10. Get Back to Love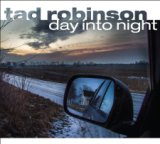 "Day Into Night" (Severn 2015)
1. Soul Lover
2. Call Me (Version 1)
3. Lonely Talking
4. He's Moved On
5. Lead Me On
6. Mellow In Love
7. Love Is a Winner
8. Blue Yesterday
9. While You Were Gone
10. Nightwatch
11. Need Some Better
12. Call Me (Version 2)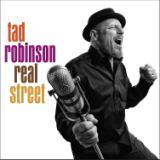 "Real Street" (Severn 2019)
1 Changes
2 Full Grown Woman
3 Search Your Heart
4 Love In The Neighborhood
5 Wishing Well Blues
6 You Got It
7 You Are My Dream
8 Make It With You
9 Real Street
10 Long Way Home