Sheba Potts-Wright
Ms. Sheba Delight Potts was born the 30th day of January and lived her younger days in Chicago, Il, Detroit, MI and Greenwood, MS. She now resides in Memphis, TN. During high school, Sheba joined a singing group named the 21st Century Band under the direction of Mr. Russell Baxter. They traveled all over the Mid-south doing opening acts for various artist. She moved further and started performing with her father, Mr. Robert "Dr. Feelgood" Potts who has been recording since 1970. With him, she opened and shared the stage with artist such as Willie Clayton, Pat Brown, Vickie Baker, Jessie Grahman, Shirley Brown, and Marvin Sease. There after, she started performing with Quinn Golden of Memphis, TN. Sheba can proudly say that she met with Wolf Stevenson in 1987 and was able to do some voice backgrounds with Harrison Calloway at Malaco Studio for the late great Johnnie Taylor. She signed in her contract with Ecko Records and has released three Southern Soul/dance cds thus far with hits like "Slow Roll It", "I Can Bagg It Up" and "I Can Hear Your Macaroni".
Album Discography

"Sheba" (Ecko 2001)
1. Slow Roll It
2. Lover
3. I Caught You
4. Love Fest
5. Don't Give up on Your Woman
6. Do What You Do
7. Leave Me Alone
8. You Were Wrong
9. Lipstick on His Pants
**
1/2
A new diva on the block emerges with the usual sexy come-ons and cheating songs from a woman's perspective. Sheba scored with her answer to The Love Doctor's huge hit "Slow Roll It" and the witty "Lipstick On His Pants", which was also done by Quinn Golden as "Ketchup On My Pants" with Sheba dueting.

"Love Fest" (Ecko 2002)
1. I Can Bagg It Up
2. Cruise Control
3. Love Fest
4. I'll Be the Other Woman
5. Love Merry Go Round
6. She May Be the One You Want
7. Tell Your Wife and Your Woman Too
8. He's Not Your Man
9. I Can Bagg It Up - (Club Mix)
10. Southern Guys
*** Second Southern party soul outing begins with a kickin' dancer "I Can Bagg It Up" (written by Nathaniel Kimble), which also appears as an equally good "club mix". On "Cruise Control" she continues "slow rolling" it as the song is nearly identical as that hit. Most of the material on Ecko Records releases are originals written by the company's team of writers (John Ward, Raymond Moore, Dan Boga, Morris J. Williams, John Cummings, etc...) but here we have a terrific cover of the Soul Children's "I'll Be The Other Woman". Another gliding soul groover "She May Be The One You Want" should have been a hit. Sheba's confident vocals and the delicious melody evoke the memory of 1970s divas like Shirley Brown.

"I Need A Cowboy To Ride My Pony" (Ecko 2004)
1. (Intro) My Name Is Sheba
2. I Need a Cowboy to Ride My Pony
3. I Can Give It Like a Woman
4. Take Your Time
5. I Need Somebody's Lovin Lovin Bad
6. Other Woman Has Got Your Man, The
7. Get Behind Me
8. I Can Hear Your Macaroni
9. Other Woman Has Got Your Man, The - (Remix, remix)
10. We're Gonna Miss You
11. Sheba's Outro
*** In "Sheba's Intro" she tells us her name and her title (Sheba, Queen respectively) and she certainly is a contender for "Queen Of Soul/Blues" world. She's already had big hits with "Slow Roll It", "I Can Bagg It Up" & "Cruise Control" from her previous two discs. But stay-tuned on the question of Queenship as Ecko labelmate and legend Denise LaSalle is supposed to drop a new disc this year too."I Need A Cowboy" is a smash down south as both the galloping, sexually-charged title track and the sassy "I Can Hear Your Macaroni" have hit Top Ten on Southern Soul charts. "Macaroni" with it's rhythmic bass backbone and layered vocals seems to have hit a nerve with the ladies tired of broke players. ("I can hear your macaroni/but I don't see no cheese") Cheese of course being money. The bold "I Can't Give It Like A Woman" continues this self-esteeming bent challenging the men to "take it like a man". In reality there is only 8 actual songs on this 11-track disc..as "Sheba's Intro" & "Sheba's Outro" are not proper songs and there's two versions of "The Other Woman Has Got Your Man", but you don't feel slighted when play the music through as it all seems to fit. Another good year for the folks at Ecko.
"Big Hand Man" (Ecko 2006)
1. I Know You're Missing Me
2. Don't Get Yours Before I Get Mine
3. Just for the Night
4. Private Fishing Hole
5. Knock on Wood
6. Big Hand Man
7. I Don't Wanna Say Yes But I Can't Say No
8. I Just Can't Walk Away
9. If You Don't Want My Love
10. Love Did It
*** Ecko Records already has the Queen Of Soul/Blues Denise LaSalle & the darling Lorraine Turner but let's not forget their other diva, Sheba Potts-Wright. Ms. Thang is back following two hit singles in 2005. The hot "I Can Hear Your Macaroni" & "I Need A Cowboy To Ride My Pony" were both sizable hits. Although there's no song of that caliber "Big Hand Man" serves up more sass and sexy swagger like the bottom-heavy title cut; featuring the customary sexual innuendo and urban legends. You know what they say about men with "big hands". But despite the trite lyrics the pumping groove gets those hips a-wigglin'. Other keepers include the slowies "Don't Wanna Say Yes But I Can't Say No" and the first single, "Don't Get Yours Before I Get Mine". Then there's the midtempo Southern Soul of "Knock On Wood", buoyed by shufflin' percussion and a catchy refrain reminiscent of Lee Shot's "I'm A Nibble Man". Echoes of Barbara Carr crop up on the cheeky blues "Private Fishing Hole". Another nice touch is the heavy Motown influence that graces "Love Did It" but the downright thievery committed on "I Just Can't Walk Away" is risky (they swipe the melody of David Ruffin's "Walk Away With Love") but don't tell the Van McCoy estate!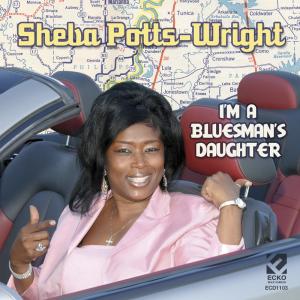 "I'm A Bluesman's Daughter" (Ecko 2008)
1. You've Been Sleeping on the Job
2. I'm a Bluesman's Daughter
3. Why Am I Still Lonely?
4. Where's the Party At?
5. What One Man Won't Do Another Man Will
6. Mississippi Man
7. One Week Moment
8. I'm Not Gonna Chase You
9. Your Loss Is My Gain
10. You've Been Using Me
**** To those in the know the title of Sheba's new disc ("I'm A Bluesman's Daughter") is a reference to Memphis blues man (and himself a former Ecko artist) Dr. Feelgood Potts, father to the Southern Soul chanteuse Sheba. Now, Sheba may be blues pedigree but she's better known for her sassy and sexy shuffle-bumpers like "I Need A Cowboy To Ride My Pony", "Cruise Control" and "I Can Hear Your Macaroni". Her last radio success (from the "Big Hand Man" CD) was, however, a pure downhome blues number ("Private Fishing Hole"). "Daughter" opens with two rather bluesy cuts ("You've Been Sleeping On The Job", title cut) but she hasn't gone to 12-bar land by any means.
Track 3 is a splendid ballad called "Why Am I Still Lonely", featuring a superb arrangement of synth strings, organ, electric piano and bass guitar. This ranks up there with Denise LaSalle's output for the label. As good as it it is, however, I can't help wishing the label had given the song to a more capable singer like Barbara Carr. That's not a dis of Sheba that's just reality. Still, a great track.
The quality holds up throughout (the "party blues dancer" "Where's The Party At?", & rote "Mississippi Man" are cookie-cutter songs for the label). It's obvious more time was spent on songwriting with the label's big pens John Ward, Raymond Moore and Gerald Rayborn collaborating on all the material. Again, for those in the know, Moore and Ward (also Earl Randle) were responsible for most of the classic Ecko era (1995-1999). This may be her best collection in her still new career.

"The Best Of" (Ecko 2010)
1. Slow Roll It
2. I Need A Cowboy To Ride My Pony
3. I Can Bagg It Up
4. Lipstick On His Pants
5. Private Fishing Hole
6. Big Hand Man
7. Cruise Control
8. Love Fest
9. I Can Hear Your Macaroni
10. Leave Me Alone
11. You've Been Sleeping On The Job
12. I Caught You
13. She May Be The One You Want
14. You Were Wrong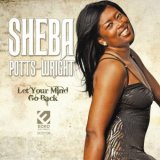 "Let Your Mind Go Back" (Ecko 2011)
1. Lay Hands On Me
2. Put Your Hands Up
3. Boy Toy
4. I've Done All I Can Do
5. Let Your Mind Go Back
6. Mr. Jody You Did Your Job
7. Do Me Like You Did Last Night
8. You Bring Out The Best In Me
9. My Kind Of Man
10. Spare Me
11. The Real Deal
12. Let Your Mind Go Back (crunk-mix)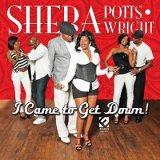 "I Came To Get Down" (Ecko 2014)
1 I Didn't Come to Sit Down
2 Happy Tears
3 We Got the Right Stuff
4 Big Boy Stuff
5 Stay with Your Wife
6 Where's the Party At
7 I've Done All I Can Do (Remix)
8 A Weak Man Can Make a Woman Strong
9 Old School Lovin'
10 I Want Yo' Man
11 I Didn't Come to Sit Down (Remix)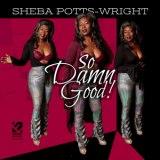 "So Damn Good" (Ecko 2020)
Operate on Me
Nothing But Love
I Don't Give It Away
One Lover to Another
So Damn Good
I'd Rather Go Bling
Lifetime Man
I'm a Cougar
You Did the Right Thing
Just Be Yourself