Joey Gilmore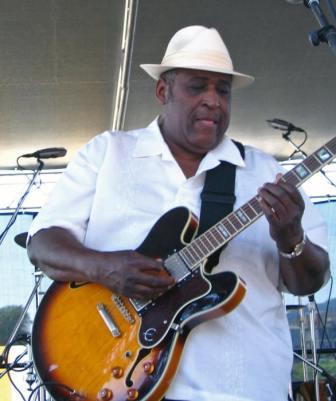 Joshua Gilmore (born July 6, 1944), better known as Joey Gilmore was born in Ocala, Florida Self-taught on the guitar at an early age, from watching a local minister-cum-barber playing his own flat-bodied guitar. Gilmore initially headed a band of youths who appeared in local clubs long before they were legally able to enter such establishments.

In the 1960s, Gilmore relocated to South Florida, and he became a popular local attraction which led to him accompanying many touring blues, R&B and soul musicians. He recorded a number of tracks in the 1970s, including his debut single "Somebody Done Took My Baby And Gone"/"Do It To Me One More Time" (1971). He released several EPs at that time, as well as the "Joey Gilmore" album, released in 1977 on Henry Stone's Blue Candle label. His next album came twelve years later when "So Good to Ne Bad" dropped in 1989. The album reached #80 on the US Billboard R&B album chart.
Ichiban Records signed Gilmore and released "Can't Kill Nothin'" (1993) and "Just Call Me Joey" (1995).
His 2006 album, "When The Gods Of Africa Meets The Ghosts Of Mississippi" was ranked #8 on Blues Critic's "Best Of 2006" list for "Top 10 Retro-Soul/Soul Blues Albums".
"Bluesman" was released in 2008 on Emancipation Media and Gilmore's next two LPs, "Brandon's Blues" (2015) & "Respect The Blues" (2016) were released on his own Mosher St. label.

Album Discography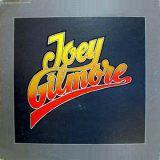 "Self Titled aka Get All You Want" (Blue Candle 1979)
1.Funny Feeling
2.Way Down Baby
3.It's There
4.Let's Boogie On Down
5.Get All You Want
6.Give Me Your Love
7.Rhythm In My Bones, Part 1
8.Rhythm In My Bones, Part 2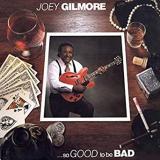 "So Good To Be Bad" (Pandisc 1989)
1. Sooner or Later
2. So Good to Be Bad
3.Tell the World
4.I Can't Let Go
5.I Got the Blues
6.Get It
7.What's On Your Mind
8.911-6969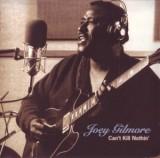 "Can't Kill Nothin'" (Ichiban 1993)
1. Can't Kill Nothin'
2. Breaking up Somebody's Home
3. I Don't Have to See Blood
4. Still Called the Blues
5. Born Under a Bad Sign
6. A Real Mother for Ya
7. Someone Else Is Steppin' In
8. A Lady in the Streets
9. Blues House Party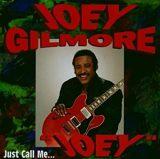 "Just Call Me Joey" (Wilbe/Ichiban 1995)
1. Chip Off The Old Block
2. Letting A Good Thing Go Bad
3. Bit Off More Than I Could Chew
4. Baby You're Cookin'
5. A Hit Dog Will Holler
6. Smidget
7. Hard Pill To Swallow
8. Before The Bullets Fly
9. Last Clean Dress
10. Pin-Up Queen
"Live" (Blue Angel Recordings 2002)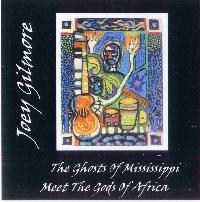 "When The Gods Of Africa Meets The Ghosts Of Mississippi" (Bluzpik 2006)
1. Ghosts of Mississippi
2. All My Love
3. Blues All Over You
4. Love to See You Smile
5. You Put the Rush on Me
6. White Shoes
7. Steal Away
8. The Hawk
9. Time to Get Paid
10. Things Have Not Changed
**** If they gave an award for "Best Album Title" this might have it. Even better- the music contained inside lives up to it. The last I heard from Gilmore was via two mid-90s Ichiban discs produced by William Bell. Both had their moments but were uneven overall. I remember thinking Gilmore could make a dynamite record and he's proved me right with "Ghosts". This potent, Soulful set is an inspired session of modern electric Blues with Soul. Opening with "Ghosts Of Mississippi", a brilliant piece written by Graham Wood Drout, with Gilmore and band hitting thick and muscular ala Albert King's "Born Under A Born Sign". Gilmore's pinched, slightly raspy voice and tart guitar licks get All Star support from Drout on bass, Cam Robb's skins and icy keyboards courtesy of Bob Abernathy. Drout provides two more above average cuts, including the the Rhumba-rhythmic "Blues All Over You" & the humorous "The Hawk" with Gilmore personifying a hawk. Another highlight is the moving ballad "All My Love" featuring some churchy organ and a emotive vocal by the big man. The weathered charm of Gilmore's voice reveals vulnerability and earnestness. The songwriting duo of Gilmore and George Caldwell composed this gem and five others. Four being Soul Blues pounders plus the moody, provocative "Things Have Not Changed", chronicling 48 years of racially-motivated crimes beginning with the lynching of Emmet Till up through the Rodney King episode. "48 years and things have not changed" Gilmore sings as evidence that mankind needs God to solve society's ills. On a lighter note is the now oft-covered "I Love To See You Smile". This version starts routinely before building to a rousing second half. What makes "Ghosts" special beyond superb playing and strong songs is Jim Nestor's warm, organic production. From the opening note throughout the record feels like a whole. Put this one high on your shopping list.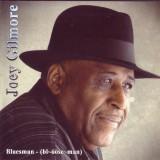 "Bluesman" (Emancipation Media/56 Deluxe 2008)
1. Intro
2. Blues All Over You
3. Bit Off More Than I Could Chew
4. You Put the Rush On Me
5. Things I Used to Do
6. White Shoes
7. Wishing Well
8. Last Two Dollars
9. I Got the Blues
10. How Blue Can You Get
11. Ghosts of Mississippi

"Brandon's Blues" (Mosher St 2015)
1. Letting a Good Thing Go Bad
2. Cheaper to Keep Her
3. Brandon's Blues
4. Somebody Have Mercy
5. You Just Can't Take My Blues
6. You Can't Strike Gold
7. Cold, Cold Feeling
8. Still Called the Blues
9. As the Years Go Passing By
10. You Better Love Her Good
11. That's What Love Will Make You Do
12. Nobody's Fault but Mine
"Respect The Blues" (Mosher St 2016)
1 Man of My Word
2 Can't Kill Nothin'
3 Brownskin Woman
4 Livin' a Lie
5 A Little Love
6 Breakin' up Somebody's Home
7 This Time I'm Gone for Good
8 Chain of Fools
9 Room 244
10 Soul Survivor
11 Night Time Is the Right Time