**ARCHIVED 2007 WRITINGS**

SEPTEMBER 2007 ALBUM REVIEWS

RETURN TO 2007 Album Reviews HERE

BLUES CRITIC'S

Southern Soul Blog

A page for writings. Commentary, news and reviews.

Southern Soul, Rhythm & Blues News And Reviews

The Blues Critic is back! Well, sort of. Many of you may remember that this website began as an album reviews website of new and classic Southern Soul/R&B/Blues albums. We have decided to get back into the opinions game. It's just that...opinion. We actually question the usefulness of reviews so we are just doing it for entertainment purposes. People like to read reviews. Simple as that. We aren't accepting submissions for review. Keep in mind there is no objective way to judge music. You either like it or don't.

In regards to reviews, we will use this grading system:

***** = Excellent. Best Of The Genre
**** = Very Good. Just Shy Of Great
*** = Good. A Solid Effort Though Not Extraordinary
** = Has It's Moments. Mediocre Over All
* = Poor. Not Recommended.

(C) 2018. All written material found on this website is the property of Blues Critic and may only be used with permission and full accreditation (either "Blues Critic" or "Dylann DeAnna of Blues Critic") and link to this website.
---
Listed In Alphabetical Order

Omar Kent Dykes & Jimmie Vaughan "On The Jimmy Reed Highway" (Ruf)
Hope Waits "Hope Waits" (Radarproof)
Nick Moss & The Flip Tops "Play It 'Til Tomorrow" (Blue Bella)
Gerry Hundt "Since Way Back" (Blue Bella)
Omar Kent Dykes & Jimmie Vaughan "On The Jimmy Reed Highway" **** Gruff voiced Omar Kent Dykes (Omar & The Howlers) is sounding more like Wolfman Jack every year. That deep gravel-tone works well with Jimmy Reed templates backed by all all-star blues players and pickers Jimmie Vaughan, Lou Ann Barton, Delbert McClinton, James Cotton, Gary Primach, Kim Wilson and more. The title track is, however, Dyke's attempt to write a Jimmy Reed song and it's rather flawless and, interestingly, one of the most memorable cuts here. In it he references "Big Boss Man", a Reed hit that wasn't even written by Reed (Willie Dixon and Willie Smith wrote it), and of course that track is here. As are "Baby What You Want Me To Do", "Bright Lights, Big City", "Good Lover", etc (thankfully no hoary "Honest I Do") all tight as a drum. Dykes also provides a second original with "You Made Me Laugh" that, again, might as well be Reed's. Better than your typical tribute project by some length.
Hope Waits "Hope Waits" *** Producer Peter Malick recorded an EP on megastar Norah Jones before every MOR zombie fell in love with her. Waits also has a lovely, breathy voice, a folksy-jazzy Dramamine bent but much more sass than Jones. Actually the Malick connection is as far as the similarity goes. She's more along the lines of a Maria Muldaur or Joan Osborne. On her debut she interprets Bob Dylan ("Ring Them Bells"), Jackie Wilson ("I'll Be Satisfied"), Otis Redding ("Cigarettes & Coffee"), Tom Waits ("Get Behind The Mule") and Ray Charles ("Drown In My Own Tears"). If that seems eclectic; it's not, for it's all placed in Waits' comfort zone.
Now I could groan, "Here we go again a white singer stripping out the grit and homogenizing black music" but I won't do so because Waits imbues these classics with her own kind of "soul". Nevertheless, her disparate, dirge-paced take on "Cigarettes & Coffee" is interesting but meandering. Dylan's "Bells" adds absolutely nothing to the original but, in fact, subtracts greatly from it. Even when she tries to play it straight, as on "Mother-In-Law Blues", she doesn't seem so special. But, she is.
This isn't all covers as Malick & Waits collaborated on three originals in addition to the radio friendly Malick tune "You Crossed The Line". Of these, only the unpredictable "The Ballad Of Judith Anne" resonates. Man, I dig Marco Godoy's keyboard work on this arty piece. Elsewhere we have the pretentious almost Fiona Apple-esque (shudder) "Fortune Teller" and "Ignatius". Hit or miss all in all- an imperfect set, but one that hints Waits has a very certain future.
Nick Moss & The Flip Tops "Play It 'Til Tomorrow" **** This two-cd 28-track set is the kind of package fans should rejoice over. All new, studio material from a band in their prime. Disc one is 14 original tracks in the Tops' rollicking Chicago Blues penchant. Not a dud in the pack but some favorite tracks worth noting include the lumbering "Late Night Saint" featuring tongue-in-cheek lyrics like "In the middle of the night you're my play toy/I roll right over for some midnight joy/Give it to me mama/I don't want no complaint/If you'll let yourself go I'll be your late night saint". But Moss ain't all about skirt lyrically as "Mistakes From The Past" is a sobering rumination on generations repeating the same failed policy sending their children to fight pointless wars.
Lots of energy on this record. On the loose limbed "Woman Don't Lie", the Tops play that rhythm like they're working for Stax and Albert King's out front. Vocally, though, Moss is more like Rory Gallagher. Whiskey voiced and dry. "Tend To Your Business" & "Peculiar Feeling" are vintage Windy City shuffles. The latter channels the late Sonny Boy Williamson (Rice Miller) unlike any white boy in history! Fantastic! Where does this former bassist for the Legendary Blues Band get the nerve to evolve to such a dynamic lead guitarist/ lead vocalist/frontman? But Moss' band the Tops are just as praiseworthy for this record's greatness. Willie Oshawny (keys), Gerry Hundt (bass and guitar) and Bob Carter (drums) with guest Eddie Taylor Jr. (guitar on five cuts). Disc 2 features the same personnel sans Taylor Jr. and the addition of Barrelhouse Chuck (1 track) mostly in so-called "unplugged" mode but it's really just the same hard Chicago Blues with Moss playing acoustic guitar on most of the tracks. Nearly as good as the first half and that's saying plenty. They'll be talking about "Play It" well past tomorrow.
Gerry Hundt "Since Way Back" *** Not only is Hundt's guitar chops stamped all over the new Nick Moss & The Flip Tops set but Blue Bella Records is dropping Hundt's own LP as a leader simultaneously. This is Hundt's debut as a solo artist but he does have a record recorded with old college buddy John Alex-Mason out there somewhere. The record, plaintively-titled "Mason & Hundt" was released on Mason's tiny Naked Jaybird imprint. A multi-instrumentalist, Hundt met Moss while playing harmonica on an Easy Bill album. As expected Hundt's Blue Bella disc is another rollicking chunk of Chicago-styled Blues. Basically a Flip Tops record with lots of acoustic madolin tossed in! On the mic Hundt is a shout/speak vocalist succeeding more on phrasing than timbre. Penning 11 of the 13 cuts Hundt plays lots of dirty, dry guitar and the crack band (the Flip Tops "plus") consisting of Nick Moss (bass, acoustic guitar), Bill Lupkin (harmonica), Willie Oshaway (piano), Bob Carter (drums) and Josh Stimmel (guitar) play this stuff as well as anyone. He doesn't improve on the wheel but if you're picking up the new Moss CD you should grab this one too.

Sterling Harrison "South Of The Snooty Fox" (Hacktone)
**** The late Sterling Harrison never got his due as the exceptional Soul singer he was during his life. Other than the obscure 1980 self-titled LP you'll only find two discs out there on the man. KonKord's "Two Way Love Affair" and 2002's Sounds Of Soul release "I'm Just Getting Started". Both are decent LPs but neither live up to his acclaimed live show. Fortunately for us he left a potent collection of tracks aka "South Of The Snooty Fox", that shows Harrison was a cut above the average Soul/Blues journeyman.
The material was recorded beginning in 2001 and completed through the four years prior to his 2005 death thanks to Larry Gorodetsky, writer for the TV series "Dharma and Greg" and it's actor Thomas Gibson. Both gents saw Harrison performing at an L.A. nightclub and were allegedly blown away. A second night Gorodetsky brought along Steve Berlin, sax player for Los Angeles legends Los Lobos to see Harrison throw down on stage. This lead to the sessions here. Gorodetsky had Harrison fitted with songs he'd perfected live ("I Believe In You", "I'll Take care Of You", etc) and other coumpositions music nerds like me want great singers like Harrison to resurrect. Among these being the obscure Bobby Womack recording "Surprise Surprise".
The set opens with a quick run through of the Howard Tate (and B.B. King) hit "Ain't Nobody Home" before a transcendent mid-paced take on O.V. Wright's "A Nickel & A Nail". Al White's icy organ and Larry Johnson's rhythm guitar create a burning backdrop for Harrison to show soulful restraint. I got a kick out of the arrangement in comparing it to the recent sped-up version cut by the Jackie Payne-Steve Edmonson Band. Both sizzle in different ways. As I've often stated, cover songs can be quite the superfluous nuisance unless special in some way. For example, I have many versions of Johnnie Taylor's great "I Believe In You (You Believe In Me)" and didn't think I needed another but the version here is just so undeniably Soulful I just gotta keep it for my collection. That sums up this record. Lots of familiar territory ("You Left The Water Running", "There's A Rat Loose In My House", "The House Nobody Lived In") but special. Bobby Bland's "I'll Take Care Of You" is stretched out to a loungey story song replete with a seemingly improvised dialogue and a long adlibbed fade. Like a live recording it's just one of those moments "in the zone" as we like to describe when we are in the groove, on point, in pitch, synchronized, etc..."Snooty Fox" is the definitive Sterling Harrison moment.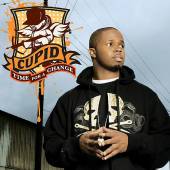 Cupid "Time For A Change" (Atlantic)
**1/2 Good year for Cupid. His ditty "Cupid Shuffle" became a huge hit and started a short-lived dance craze. He broke the song in Southern clubs first and it just took off from there. The lightweight song recently hit #19 on Billboard's Hop 100 Hip Hop/R & B Singles chart. It took some time but the full length is finally here...but maybe too late. (And I swear I almost slid the CD out and frisbeed it out my car window over the number of times he sings the "new Cupid" bit from 'Shuffle" throughout the CD). Hey, why not milk it for all it's worth I guess and the overall CD is just what you expect it to be- innocuous party music. Cuts like "Do Your Dance", "369" & "Spin The Bottle" are transparent attempts to followup that quirky Zydeco-like rhythm (to diminished results). Other dancers, the snap music anthem "Work", the retro-90s "Closer" and "Cupid Shot You" are bottom-heavy, loud and in your face but melodically-thin. But what the heck is going on with the goofy "I Love Me"?
It definitely has the mainstream R & B flava going for it; from the R. Kelly-isms of "The Let Out" and slick slow jams like "Someone Like You". His last CD, "King Of Down South R & B", is better and more in line to Soul that's "Southern".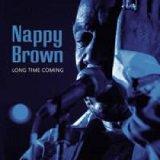 Nappy Brown "Long Time Coming" (Blind Pig)
****1/2 At age 78 Mr. Napoleon Brown Goodson Culp aka "Nappy Brown" remains one of our best living Blues singers. That versatile voice has always jumped easily from croon, to shout, to wail and that ain't not changed no way. In fact, I think it's improved with age. I myself didn't really become a fan until his mid- 80s comeback. His 1950s Jump Blues material is unforgettable but with recording technology so much better these days I prefer his latter career.
This Blind Pig Records debut, his first LP since his obscure 1997 New Moon disc "Who's Been Foolin' You", is a sterling addition to his legacy, featuring some of the finest Blues musicians working today. Some of the notable names include Junior Watson, Bob Margolin, Jim Pugh, Sean Costello and John Nemeth. The full dozen cuts smoke, even the superfluous remakes of Nappy's two biggest numbers "Right Time" and "Don't Be Angry". I call them such being it's the fourth time he's committed them to record. Still, good versions. Better though are the new tracks like "Keep On Pleasing You", a big-bottomed shuffle with swinging licks by the Mighty Lester Horns, Mookie Brill on bass and a cocksure vocal from the Napster. Speaking of vocals you must experience the Deep Soul he exudes on the ballad "Give Me Your Love" (first cut for his little known "I'm A Wild Man" album). Nobody does it like this anymore! I got chills about 1:42 in when that icy B-3 made an appearance. Sold takes on Willie Dixon's "Who", Big Joe Turner's "Cherry Red" and Brown's own "Bye Bye Baby" and the Gospel "Take Care Of Me" are all perfect.
Brown's put out some strong modern day records, such as Black Top's "Something Gonna Jump Out The Bushes" (1987) and Ichiban's "Apples & Lemons" (1990) (both inexplicably out-of-print), but this new disc will have the longest run.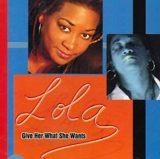 Lola "Give Her What She Wants" (Wilbe)
Monique Ford "Ladies Get Your Own" (Laryan)
Little Kim Stewart "Southern Soul Slide" (Hep Me)
Lola "Give Her What She Wants" ***1/2 Ms. Lola Gulley is the newest find/signee by Stax Records legend William Bell's Wilbe Records. Truth is that Lola was already discovered when she won BET's talent contest back in 1996. She was then signed to Motown Records and recorded an album that has yet to be released due to staff changes at the company.
She has a potent voice reminiscent of Mavis Staples and Bell gives her a sturdy set of Rhythm & Blues and Southern Soul. The first track ("Back Door") is a hoot. Lola warns a gossiping woman talking trash about her that "If you're woman enough to ask me I'm just gonna tell you the truth 'cuz if you come snoopin' around my back door you're gonna find me and yours doin' the do!". So "If you come snoopin' around my back door you're gonna find what you're looking for!". Next is a midtempo headroller called "I Can't See Myself". This disc has a lot of variety that shows her influences from Mavis ("I've Got Feet"), Denise LaSalle ("The Blues Chose Me"), Anita Baker ("Wash You Hands"). Aretha Franklin ("The Sweetest Thing") and so on. The girl's good.
Bell duets with Lola on the slow jam "Shake Hands". Mention must be given to co-writer, co-producer' Reginald "Wizard" Jones. He and Bell continue to "Give Her What She Wants".
Monique Ford "Ladies Get Your Own" *** Album number 3 from Monique Ford has a good mix of bumps and ballads with decent production. You got to love her moxy when she sings (on "Don't Tease Me") "Don't tease me if you can't please me. Don't be in a rush I'm gonna need some foreplay. Start from my head and end at my feet. Make sure you lick that special place right in between! I need a candy licker!". You hear that Marvin Sease? But Monique doesn't need sexy lyrics to sell a song as she can sang as good as most of her peers. Check out her croon on "Love Thing". She's a writer too, composing 8 out of 11 selections on "Ladies Get Your Own".
The CD continues a smart trend of combining Southern Soul sounds with some popular R & B groove ("You Ain't Worth It") but the Southern dance jams (we still call it "Blues") like "Creeping" are where my money goes. There's a lot of Southern Soul ladies out there but this album is definitely one of the better ones I've heard this year.
Little Kim Stewart "Southern Soul Slide" ** We've had plenty "slide" songs lately. In fact there's already been a hit out there called "Southern Soul Slide" (by Team Airplay and the Carolina Connection) but Kim's isn't the same song. This one's (in three versions) a copy of the original Disco "Electric Slide" with slightly different lyrics. It's cute but those rhythm tracks week and demo-like on a otherwise promising set of song ideas. For example "Come On To The Whitehall" has potential but again the rinky dink production is too small for a club. Where's the bass? The beats? It's shame since Kim can sing. "Celebrate Our Love" and "Real Southern Soul Woman" are lovely songs that the background music doesn't ruin. "Phat Cat" is nasty and funkier that ten day old drawers.
"Slide" is the best collection of songs on any of her albums but she deserves better production. I wish somebody would spend some money on this lady and put her up in a real studio.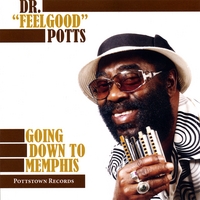 Dr. "Feelgood" Potts "Going Back To Memphis" (Pottstown)
Lil' Brian "Worldwide" (High Rollers Ent.)
Dr "Feelgood" Potts "Going Back To Memphis" **** Those only familiar with Potts' two enjoyable "Southern Soul/Blues" discs for Ecko Records may be stunned by this sizzling set of harmonica blues recorded in the heart of Memphis. Potts had a sizable chitlin' circuit hit or two, most notably his cheeky answer song to Theodis Ealey called "Make It Talk" but "Going Back To Memphis" should catapult the Dr to another plateau. Word on the grapevine was that Potts, who's the father of Ecko recording artist Sheba Potts-Wright, ended his tenure with the label because he wanted to cut "real Blues". He did show off his mouthharp chops on a couple of instrumentals from his last LP (also called "Make It Talk") but that skill is front and center here.
10 originals tunes were completed at Sam Phillips' (of Sun Records fame) Recording Studio with a small unit of session musicians, including bassists James Coleman & Chiemi "the Ice Lady" Fujio, guitarists Coleman & Harrell Otis, drummers James McMullen & Calvin King and piano by "Professor" Ross Fowler. The LP's template is definitely Willie Dixon. Vintage 12-bar Chicago-styled shuffles like "My In-Laws" & "A Dab Of Your Love", slow from-the-bottom blues like "Greenwood Mississippi Town" & "Ramblin' Mind Blues"; plus erstwhile pounders like "I Love You Baby" & "Pistol Packing Mama" that could've fit on a Howlin' Wolf record. This kind of blues isn't offering anything original so the key's how well you sing, play and produce it. All three are superb on this record.
Potts sounds like he's found his true voice on the mic, easing up on the breathless vibrato he uses to end his phrases and resorting to good ol' blues shoutin'. The title track, which has the promise of many a cover, says it all. "I'm going down to Memphis where they're really plain' the Blues... People come from all over the world to hear the blues on Beale Street". Of course they also come to hear Southern Soul/Blues as well and now Potts has conquered both.
Lil' Brian & The Travelers "Worldwide" **1/2 Zydeco is straight up party music and though Brian Kelly calls his version "Z Funk" there's just no gettin' around the sound of the accordion. Cajun music is Lousiana's Polka while Zydeco blends Cajun with Blues, R & B, Soul and in Brian's case Hip-Hop, bringing it into it's own genre. "Worldwide" commences with a couple likable traditional arrangements (title cut, "Bounce") before adding a sort-of proto-rapping on the clumsy "You Talk Too Much" with Brian pretty much talk/singing with rap braggadocio. Not my bag. Brian brings an actual rapper on board (Kurupt from the Dogg Pound) for "Funky Zydeco". It's a synth-upped mess. More filler are the throwaway instrumentals "Popcorn" & "Ducema" inbetween a surprisingly faithful take on Bob Marley's "I Shot The Sheriff" which begs the question, "what's the point?". I'd rather hear it Zydeco-fied or back to Marley's (or maybe even Eric Clapton's) versions.
Unlike most discs this one saves the best for last with a strong four song suite for the final third. First three are the groove-oriented "Good For The Goose", remix "Good For The Gander" & "Funky Feelin'". Here they hit a thirteen minute pocket that gets the fingers snapping and head bobbin'. The set closes with the Soulful "We Need Luv" that combines the ethos and vocal stylings of Marley with a Kingston transported to the modern ghetto.
---
RETURN TO 2007 Album Reviews HERE
(C) 2018. All written material found on this website is the property of Blues Critic and may only be used with permission and full accreditation (either "Blues Critic" or "Dylann DeAnna of Blues Critic") and link to this website.