**ARCHIVED 2007 WRITINGS**

OCTOBER 2007 ALBUM REVIEWS

RETURN TO 2007 Album Reviews HERE

BLUES CRITIC'S

Southern Soul Blog

A page for writings. Commentary, news and reviews.

Southern Soul, Rhythm & Blues News And Reviews

The Blues Critic is back! Well, sort of. Many of you may remember that this website began as an album reviews website of new and classic Southern Soul/R&B/Blues albums. We have decided to get back into the opinions game. It's just that...opinion. We actually question the usefulness of reviews so we are just doing it for entertainment purposes. People like to read reviews. Simple as that. We aren't accepting submissions for review. Keep in mind there is no objective way to judge music. You either like it or don't.

In regards to reviews, we will use this grading system:

***** = Excellent. Best Of The Genre
**** = Very Good. Just Shy Of Great
*** = Good. A Solid Effort Though Not Extraordinary
** = Has It's Moments. Mediocre Over All
* = Poor. Not Recommended.

(C) 2018. All written material found on this website is the property of Blues Critic and may only be used with permission and full accreditation (either "Blues Critic" or "Dylann DeAnna of Blues Critic") and link to this website.
---
Listed In Alphabetical Order

Thorbjørn Risager "Here I Am" (Cope)
**** I'm still digging on Thorbjørn Risager's last disc, "From The Heart" when in my mailbox materialized a brand new album this week. Needless to say I'm thrilled as I consider Risager to be the artist most deserving of crossover success of any Blues newcomer. "Here I Am" delivers 9 more hard Rhythm & Blues jams plus a re-arranged version of their power soul ballad "Heart Of The Night".
As anybody who's read more than a few of my reviews I'm partial to singers. In the first review I wrote on this vocal dynamo I compared his voice to luminaries like Ray Charles, Bob Seger and Joe Cocker (with no hyperbole), but now I'm adding the late Freddie King to that list after hearing the potent title cut here. He sounds like King in his early 70s prime, bellowing from deep in his throat over a "Pack It Up"-type pounder. Kasper Wagner and Peter Kehl provide a memorable horn lick and Svein Erik Martinsen squeezes his guitar quite rightly. The record only stumbles a bit on the rote "All I Want" with the banal lyrics "All I want is you/girl you know it's true. I'm ready to do what you want me to" but that's easy to forgive when he evokes vintage Cocker on "From Now On" and swings ala 60s Ray Charles for "You Better Pay Attention". Other bright spots include "Johnny Called The Whole Thing Off", which quotes Willie Dixon ("way past 21") and the somber, sparse "I Won't Back Down". It's the kind of piece Nick Cave has been trying to write for years.
It's only a matter of time before the secret's out on this guy. He's already garnering raves overseas but his music has mass appeal. Bottom line: He's dynamite. Don't sleep on this one. To learn more visit the website www.risager.info.
Lurrie Bell "Let's Talk About Love" (Aria B.G.)
**** Son of the late Blues harp legend Carey Bell has been a blessing and a hurdle for Lurrie as pops casts a long shadow. It's really apples and oranges to compare. Both play Chicago Blues but one played harmonica while Lurrie's a stringer.
On his own Lurrie had yet to catch my ear on his own albums but that all changes with this lean, crisp electric blues set on a new label, Aria B.G (his first "solo" album since Delmark's 1998 set "Blues Had A Baby"). Straight blues with a soulful feeling that is graced with a sympathetic mix and smart song selection. 12 covers but those most from the road less traveled. For example you get your Willie Dixon fix but instead of the usual retreads ("Mannish Boy", "Hoochie Coochie") Lurrie and cohorts roll out "Earthquake And Hurricane" (from the soundtrack to an obscure movie "Ginger Ale Afternoon") and the slow sizzle "Chicago Is Loaded With The Blues". The latter, a clever observation that points out "New York is loaded with people/L.A. Is loaded with movie stars but Chicago is loaded with the Blues". It's also one of the best vocal takes of his career. Methinks it's his best LP overall and this has occurred in spite of two major heartbreaks for the man. Both his father and his child's mother Susan Greenberg have passed this year. With Carey Bell now gone perhaps the torch has finally been officially passed to the song and Lurrie mans up on "Let's talk About Love".

Bigg Robb Presents "Blues Soul & Old School" (Over 25 Sound)
El Willie "Dance With Me" (Hep Me)
BIGG ROBB Presents "Blues Soul & Old School" (****1/2) It seems that everything Bigg Robb touches turns to gold. Midas touch? I'm dating myself here. He's also one of the hardest working Southern Soul producers. This is the third release this year. First, "8 Tracks & 45s", then "Best Of Da Problem Solvas" have already hit the street. "Old School" gives a home to Pat Cooley's "Younger Man, Older Woman". It's in there. (like Ragu). Robb's new version of Carl Marshall "Good Lovin' Will Make You Cry". It's in there. "Grown And Sexy", the one with Sir Charles? Yep in there. But that's not all! If you order now you also get the Zappified slow jam "Old School Lovin" by Sure 2 B. Wait! That's not all. We'll also throw in new tracks by Napoleon ("Party Like The Rich Folks"), Special ("Put Your Hands On Me"), Da Problem Solvas ("Pot Liquor N' Cornbread") remixes Bigg Robb on Bigg Robb ("Keep On Swingin", "I'm Ready To Party") and...sound like a commercial. Sorry Bigg Robb does that to me. Buy this CD. Period. No bad tracks.
El Willie "Dance With Me" (***) The E to the L to the Willie is now with Senator Jones' label Hep Me Records. El's bag is the easy, lean back, nod yo' head and get your sip on groove and here it is again on "Dance With Me". While this isn't a club record there's more mid-tempo tracks than normal like "I'm So Blessed", "Dance With Me", "Crazy Kind Of Mind", "Hello Sunshine". Still El's strength is romantic, seductive slow jams. Listen to him intone on "Sugar I'm Tryin' To Get To Know You". So smooth. I can't help but picture Tyrone Davis covering this song. I don't think El ever wrote for Tyrone like he did for Theodis (Ealey) and Willie Hill but they would've made one amazing baby making record. Smokey Robinson should cover "Hello Sunshine"!
The only thing I have against the record is being that El is a great sax player he doesn't play on most of the tracks. Instead he uses keyboards for horns. Nothing against keyboards but when El dons his sax like on "Springtime At The Old Havana" it just makes me hope for an album's worth.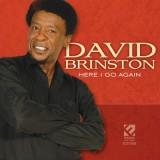 David Brinston "Here I Go Again" (Ecko)
***1/2 Brinston's debut LP "Hit & Run" is a classic of modern soul and a benchmark for the Southern Soul genre. Brinston hasn't hit those heights since but came close with"Fly Right", which featured the same producer as that record, Marshall Jones. Also his independent 2006 release "Mississippi Boy" played to his strengths- bumpers and ballads rather than Contemporary R & B. I mention "Hit & Run" because his latest disc captures some of that magic.
Now on his fifth record label, Ecko, Brinston delivers the goods with simple melodic bumps, ballads and beach. Though it's heavily synthetic music a singer like Brinston can still make it sound soulful. The set opens with the title track, a sweet dancer nearly ruined by obnoxious background vocals (that goofy "here I go here I go" bit). It sounds like an outtake from the "Hit & Run" sessions! The likely radio cuts though are the bump "Baby Let Me Hit It One More Time" and midtempo "You Took That Dog In Me" & "Too Many Women", which have the strongest refrains on the LP. The latter also features a bona fide B-3 Organ part by John Ward, who this time gives co-production credited to frequent collaborator Morris J Williams. After a mediocre stretch Morris J has written some strong songs ("Love's Always Gonna Be Around", "After Party" with Big John Cummings, "You Took That Dog In Me" as well as the aforementioned cuts) and cut out that gurgling "bucka bucka bucka" percussion programming.. Also noteworthy is a superior take on the dancer "Work That Thang", which was rather lazy on Bill Coday's final Ecko CD "Take Me". Interestingly another cut from that album, "Back It Up And Put It There", is also here and is one for the Carolina shaggers.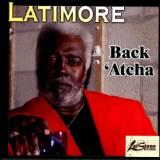 Latimore "Back 'Atcha" (LatStone)
***1/2 Latimore is a household name by the time he released "Back Atcha". A major player in the 1970s on Glade Records then Malaco Records in the 80s, 90s and 00s. Although he never fell out of favor this project represents a serious comeback. He's working with legendary producer/mogul/gangsta Henry Stone again (Latimore began his career on Stone's Dade label where he notched his first hit, a remake of the now standard Blues "Stormy Monday"). After a recording drought of six years (and after a now obscure, one-off album with Mel Waiters' Brittney) Latimore has returned on a new specialty label formed with Stone (unimaginatively called LatStone) and released this dynamo of an album.
"Back 'Atcha" is the maiden release on the label, LatStone, co-owned by Latimore . Nevertheless, it's 100% a Lat-helmed record, playing most of the parts (on Motif keyboards) and writing all ten of the songs (including three co-authored by Roach Thompson). The fed up and fatigued "My Give A Damn Gave Out (A Long Time Ago)" is already a great success for Latimore.
The LP kicks off right with the charming "Edna Mae", a sentimental ode to mama on top of a loping drum pattern, noodlin' guitar and electric piano only to give way to the pedestrian, faux reggae "Ghetto Girl". A relic of the 80s for sure. Despite the plastic backing "'Nanna Puddin'" scores again on sentiment (props to a woman who's like sweet ole' grandma's pudding). That drum track though nearly ruins the track. Same goes for the soaring ballad " I See Love", which proves Lat can sing as well as ever. Sexy Latimore lets that baritone purr on the trance-like "Honeymoon" and testifies on the anti-war "Wake Up America". We buy Latimore discs for that voice but it sounds even better with an organic sound. That said, it's still a pleasure to have a new record.
Julie Black "Call Me Angel For The Blues" (BOYA)
**** Right from her first few notes I thought to myself big-voiced Julie Black was star material. After the first listen I was ready to place her in the upper echelon of Caucasian female blues singers, you know Janiva Magness, Susan Tedeschi, et al. Is It too soon? Has she paid her dues? It doesn't matter all I know is this is a dynamite record by a talented young lady. Twelve originals all written by Black. The gal even painted the darn album cover!
The forceful, grinding "Bigger Fool For You" features a Delta Blues guitar lick and Janis Joplinesque vocal, followed by a Jazzy finger snapper with a Beatles flair for melody. Here she praises a man who's got game: "You know how to treat a lady/The way she oughtta be/You just keep your game on smooth/I might take you home with me." Just as soon as that ends she turns into Sarah McLachlin on the acoustic guitar, organ and piano Folk/Rock of "Call The Cards". It's one of those songs you swear you heard on the radio because it belongs there. "Hurt My Baby" is an dark tale of jealousy and rage. "Well it started one night. I'd been drinkin' I'd been up a couple of days when this fine thing started lookin' at my man". Black then explains she had a gun in her purse and proceeded to shoot her husband while "that fine thing ran for the door...and my true love fell to the floor". Yikes! Perhaps the cad in "Go & Get Her" is the same guy that got that bullet. Here she describes her man leaving her for someone blonder, younger and thinner. Her man says: "Babe I appreciate all the things you done and how you stood by me through years of strife. You should be happy for me... My ship's come in. She's a real sweet girl. Her name is Darlene. She's young. She's blonde. She's thin." Suffice it to say Mz. Black then plans to teach his "lyin' ass a lesson" and "when I see Darlene I'll snap her neck!"
Another "killer" is the smoky slow blues "Love This Mama", which finally adds some of that sexy swagger you'd expect "Devil's Child" is a stone masterpiece. A commanding, emotive vocal, piercing guitar and dramatic piano that simmers to a boil. "Angel For the Blues" has to be the debut of the year. I know it'll be on my year-end list.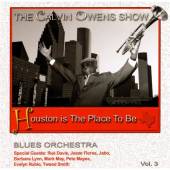 Root Doctor "Change Our Ways" (Big-O)
The Calvin Owens Show "Houston Is The Place To Be" (Sawdust Alley)
Root Doctor "Change Our Ways" (***) A majority of original tunes makes this sophomore effort by Root Doctor preferred over their otherwise competent debut of last year. Organist/Producer Jim Alfredson with either vocalist Freddie Cunningham or guitarist Greg Nagy composed a six pack of Urban Blues around his Hammond B-3 and Cunnnigham's earthy voice. Ching-ga-lang guitar, icy B-3, and a funky rhythm grace the terrific "Blues Will Take Good Care Of You"- their best song so far and one I expect to get covered frequently in the near future. "Keep Our Business Off The Streets" contains a familiar rhythmic pulse I associate with the Robert Cray Band (cira 1988) before hitting a brassy chorus about a gal that needs to button her lip about what goes on in the home. The Motor City Horns (Mark Byerly, Keith Kaminski, John Rutherford, Bob Jensen) put the icing on this cake.
Cunningham gets to stretch out those vocal chords on the classic-styled soul ballad "Lucky One". Their second best song so far, this stirring performance lifts them to another level. W.C. Handy folks should take note. Cunningham's strong take on "Soul Shine" shows it was no fluke. Of the other covers their namesake, Roy Hytower's "Root Doctor", stands out. (Though nearly identical to both the original and Buddy Ace's great version). The umpteenth cover of the Temp's "I Wish It Would Rain" has a fresh skank to it- just piano and vocals until a cello and violin join in for the final third. This is the way to do a song that everybody already knows about. Make it seem original and with different lyrics it could be a new song. I often complain about ubiquitous tributes and karaokes so a disparate arrangement is appreciated. If you're going to cover a classic on your album add something to it Save the carbon copies for the local pub. But, this is no average bar band
The Calvin Owens Show "Houston Is the Place To Be" (****). Hot on the heels of two 2006 discs featuring The Calvin Owens Blues Orchestra (Trudy Lynn's "I'm Still Here" and Owens' own "Ain't Gonna Be Yo' Dog No Mo'") comes another set of Big Band Blues with mucho guests. The set is sub-titled "Blues Orchestra Vol. 3", it being the third of similar projects.
Frequent collaborators Rue Davis and Barbara Lynn each supply lead vocals on two tracks apiece. Davis, who wrote most of the songs on Trudy Lynn's recent LP, lends his Bobby Bland-like chops to the swingin' "Oh I Wish" and "You Are My Babydoll". Man, this cat can sing anything (and like anybody)! Lynn croons well on her self-penned "Lose A Good Thing" and digs deep for the slow rolling blues "The Highway Is My Way". To my ears her voice has aged marvelously. Tweed Smith usually sings backup on Owens records but she gets two starring roles here. First a duet with the curmudgeon himself ("Houston is The Place To Be") and by her lonesome on "Somebody Tell Me". Now I wanna hear more of this voice, which reminds me of Peggy Scott-Adams. New addition to the fold, Evelyn Rubio wails on Trudy Lynn's (who's conspicuously missing on this LP) "Everybody's Got A Blues Song To Sing" , as well has blowing some mighty fine alto sax.
As always this is Owens' party and he adds some new gems to his catalog including "Sawdust Alley", named after his record label. Longtime listeners know what to expect and will get it here. Conversely, those who claim to not like Big Band change their mind on records like this.s must sound better when inebriated in the studio. The trick is to get sober before you put it on record. Interesting record but...pass.
---
RETURN TO 2007 Album Reviews HERE
(C) 2018. All written material found on this website is the property of Blues Critic and may only be used with permission and full accreditation (either "Blues Critic" or "Dylann DeAnna of Blues Critic") and link to this website.