**ARCHIVED 2007 WRITINGS**

JUNE 2007 ALBUM REVIEWS

RETURN TO 2007 Album Reviews HERE

BLUES CRITIC'S

Southern Soul Blog

A page for writings. Commentary, news and reviews.

Southern Soul, Rhythm & Blues News And Reviews

The Blues Critic is back! Well, sort of. Many of you may remember that this website began as an album reviews website of new and classic Southern Soul/R&B/Blues albums. We have decided to get back into the opinions game. It's just that...opinion. We actually question the usefulness of reviews so we are just doing it for entertainment purposes. People like to read reviews. Simple as that. We aren't accepting submissions for review. Keep in mind there is no objective way to judge music. You either like it or don't.

In regards to reviews, we will use this grading system:

***** = Excellent. Best Of The Genre
**** = Very Good. Just Shy Of Great
*** = Good. A Solid Effort Though Not Extraordinary
** = Has It's Moments. Mediocre Over All
* = Poor. Not Recommended.

(C) 2018. All written material found on this website is the property of Blues Critic and may only be used with permission and full accreditation (either "Blues Critic" or "Dylann DeAnna of Blues Critic") and link to this website.
---
Listed In Alphabetical Order

T.K. Soul "Undisputed" (Soulful)
**** T.K. Soul is currently the "king of Southern Soul". The first single, "Party Like Back In The Day", is sitting in the Top 5 on Southern Soul charts. It's interesting how things has come full circle for T.K. He once was in the background, playing keys for Willie Clayton on the road who scored a hit with a T.K. Soul original song called "Party Like We Used To"...but now that T.K. has risen to the upper echelon of the Southern Soul world (in popularity) he's hit with a similar but different song about partying like they used to!
"Undisputed" (the album) is a crowd pandering/pleasing set capitalizing on the momentum T.K. has built up over the years. Very much a "Pop Southern Soul" album similar to those released this past year by peers Wilson Meadows, Kenne' Wayne, Steve Perry and Sir Charles Jones- that's one foot in the South and one in mainstream R & B. This is both good and not so good news. The good news is he's bringing more much deserved attention to the Southern Soul world by creating commercial product. The not so great news is that he's capable of much more.
The disc is almost TKO'd early with a superfluous appearance by Bigg Robb on the overlong intro "Undisputed" (the song), which may be a replacement for an uncleared sample of boxing referee Michael Buffer's "Let's Get Ready To Rumble" (copywritten!). This is followed by the self indulgent lyrics of "Love T.K. Soul" where T.K., over a delicious bedroom groove, complains the ladies don't love the real him but rather love his "T.K. Soul" persona. My heart breaks for you man...not. But the ladies sure do love the man! One of T.K.'s biggest hits was "Cheating & Lying" from his CD "Love Games" so what's a modern Southern Soul album without a cheating song? (a rare one). "It Ain't Cheating 'Til You Get Caught" fills that role. It itself has already charted in the Top 5 on Southern Soul charts. It's followed by a couple of generic slowies (it's time to retire the vocoder) before we get to another standout track, "#1 Fan". It's super silky and TK has his croon on despite the unctuous message- thanking his fans for "making me who I am" cuz' you see he's "having much fun 'cuz you made me number one". This one has as much braggadocio as a Hip Hop joint! At the same time those in the know say he's actually humble and really means it. T.K. headlines an annual cruise where hundreds of his fans join ihim for the vacation. Another strong, slow creeper is "You're So Special" and the ode to moms, "Flowers", is truly gorgeous. Overall this has less for the clubs and more for the bedroom but it's easy on the ears for sure. Expect it to dominate Southern Soul for the rest of the year.

T.J. Hooker-Taylor "The Total Package" (Hooked Up)
Jewel J "That's My Shugga Daddy" (QT)
T.J. Hooker Taylor "The Total Package" (**1/2) The Johnnie Taylor legacy continues (sorta) with a third son of the great one releasing his own take on Soul Blues (other than Floyd Taylor and Johnnie Taylor Jr.). And yes you can definitely hear a 'lil papa in T.J. Hooker Taylor's voice, especially on the "Disco Lady" pastiche "Take My Blues To The Dance Floor", "Heaven's Baby" and the best cut here, "Player Haters". The disc doesn't quite get a "good" rating due to a few bum tracks like the "Soul Heaven"-rip "Keep On Rockin Johnnie Taylor", thinly-produced "Player Call" and "Made A Wrong Turn" and the one minute a capella "Love Is The Answer", which also shows the warts in T.J.'s phrasing. With these among a mere 9 selections makes this unsatisfying. Still methinks we'll hear from T.J. again. The point: 3 good tracks.
Jewel J "That's My Shugga Daddy" (**). The Ecko-distributed Q.T. Records introduces another pretty Southern Soul gal on this 9-track set of programmed bumpers and slowies. Though sweet sounding, Jewel J(ones) doesn't have the 'oomph' in her voice the likes of Barbara Carr, Denise LaSalle, Lacee' and many many other divas of the Southern Soul world but she still has a likable tone.
Big John Cummings, who's written hits for Tyrone Davis, Jean Knight, Carl Sims, Sheba Potts-Wright and more, is credited with 6 of the nine numbers here. The best being the Peggy Scott-Adams-like title track, "I Ain't Jealous" and "Situation Has Changed". Fans of Ecko Records' artist Ms. Jody we'll like this the most.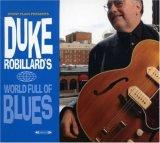 Duke Robillard's "World Full Of Blues" (Stony Plain)
**** One of the founding members of Roomful Of Blues, temporary guitarist for the Legendary Blues Band and onetime replacement for Jimmie Vaughan in the Fabulous Thunderbirds, Robillard has nonetheless transcended his profile as a band member to a commercially viable (for Blues) solo act.
"World" is quite the bargain for Robillard fans as it comes with a second 11-song "bonus CD" while maintaining single disc price. The impetus behind "World" was Duke's desire to "record a set of music that touched upon nearly all the areas of the Blues...that make up my sound". That should be easy enough so you got Swing Blues (the plaintively titled "Jump The Blues For You"), actual Jump ( "Bounce For Billy"), Funky Blues ("Six Inch Heels", "Look Out"), Booker T ("Slim Jenkin's Place"), T-Bone Blues ("Treat Me So Lowdown"), Jazz ("Stoned") and you get the picture. What could be seen as a self-indulgent toss off actually comes across cohesive- mainly because Duke has an unexceptional but warm, affable voice and recognizable guitar repertoire.
New compositions and covers abound like the waycool take on Bob Dylan's "Everything is Broken". Here Robillard transforms it into a Delta-fied hip shaker. Muy bueno! Robillard's originals fit snugly alongside the cuts that "made up his sound" and thus the Duke is justified in the disc's premise. The "bonus disc" is really the other half of the record as it was Robillard's intention to "record a double album". More originals like the B.B. King tribute "Gonna Get You Told", the melodic, funny "Monkey Arms". Of the covers I was pleasantly surprised by Duke's disparate arrangement on "Who Do You Love" and the Bluesy dirge "Low Side Of The Road" (Tom Waits).

Stacy Mitchhart "Gotta Get The Feeling Back Again" (White Chocolate)
***1/2 One of the finer cuts on Mitchhart's last LP (the Southern Soul-heavy "I'm A Good Man") was the title track to this all Blues release. It's also the best track here, a swaggering horn-backed gem. Not far behind is the loose n' funky "I Can't Get Enough Of Your Lovin'", which borrows it's refrain from Steve Wonder's "Living For The City" (great female backups too). Real cool. He funks it up again on "Better Off Without You".
Though Mitchhart is limited as a singer he manages to turn Led Zeppelin's "Black Dog" and "Whole Lotta Love" into a terrific Delta-styled Blues medley replete with acoustic slide. He slides again on the locomotive "Blow On 'Em Baby", one of six originals. Always versatile in style and tastes, Mitchhart moves from gin soaked lounge Blues ("The Blues Has Got You Bad") to Doc Pomus aspirations ("Givin' Me Reasons") to foot stompin' African boogie ("Doghouse Blues") and on to more familiar Soul Blues (Albert King's signature "I'll Play The Blues For You"). Though this is now his eighth full length "Feeling" should be your first on Mitchhart. Also include is twelve minutes of "Interactive" CD-Rom material.
The Beat Daddy's "5 Moons" (self released)
** The Beat Daddy's have the distinction of being one of the few Caucasian acts once signed to Malaco (Waldoxy) Records, one of the key labels of modern Soul & Soul/Blues music. That in itself is a feather in their cap and the three LPs they cut for the label were a rollicking' hybrid of Blues & Southern rock lead by Grisham's cocksure Texas twang (ala Stevie Ray Vaughan) and Meacham's rock guitar aesthetic. Back from a five year break with the independently-released "5 Moons" . Singer Larry Grisham & guitarist Britt Meacham are joined by Barry Bays on bass and two drummers (Paul Scott, David Parks) with 12 fresh songs.
Things begin auspiciously with "Pale White Circle", a bass heavy thumper with dry icy guitar fills. It's six minutes of midtempo thunder followed by the steady rollin' groover "Common Ground" and the rockin' Blues shuffle "Been There, Liked That" featuring a strong harmonica solo from Grisham. Three for three then things get bumpy with a noticeable dip in quality. The pedestrian "Bad Streak" is a decent acoustic rocker, "Big Thighs" is a likable piano boogie (featuring Johnny Neel) but the insipid "She Goes Down" suffers from a dunderheaded lyrical idea. "She goes down without hesitation/She goes down turning up the heat/She goes down her daddy's favorite plaything/She goes down a one-way street". Perhaps it has sympathetic intent? Meanwhile, "Everybody Needs Some" is as stiff and generic as a slow Blues can be. Six minutes that feels like an hour. Same goes for the tedious "Call Me Back" and the cliché' soaked "Lonely Road". Even the hacks from Bon Jovi would cringe over this one. Now, mind you, one can't demand Shakespearean poetry or innovation from the Blues and Rock genres but when the mediocrity is obvious familiarity breeds contempt.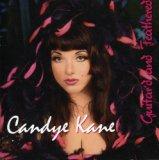 Candye Kane "Guitar'd And Feathered" (Ruf)
Sue Foley Deborah Coleman Roxanne Potvin "Time Bomb" (Ruf)
Lady Bianca "Through A Woman's Eyes" (Magic-O)
Candye Kane "Guitar'd And Feathered" (****). At first Kane, a former model and stripper, was a bit of a novelty with her porn star name (she even allegedly did a few movies) and overtly sexual stance. In pop music you can sustain a career merely on image with little discernible musical talent (Madonna) but not in the Blues! If you can't sang you won't last. I freely admit before I'd heard Candye bellow a single note I was already drooling to shred her up in a review but damn!, Kane is a heckuva singer! Yes she's an A-lister in the Blues world -no longer known for her x-rated past (though it helps fill up my review) but instead for her records and bawdy performances.
"Feathered" is a duets album, albeit not with a co-vocalists but with a different guitarist on each track. Popa Chubby, Sue Foley, Dave Alvin, Kid Ramos, Junior Watson, Ana Popovic, producer Bob Margolin and others lend their skills behind big-voiced Kane on a varied collection ranging from West Coast Swing ("My Country Man"), Rockabilly ("Crazy Little Thing"), Pop/Soul ("I'm My Own Worst Enemy"), lean Electric Blues "("I'm Lucky"), Houserockin' ("When I Put My Blues On You"), neo-cabaret ("Back With My own Friends"), torchiness ("Goodbye My Heart") even a Gospel-tinged cut with steel guitarist Bob Brozman ("Jesus And Mohammed"). She's in command on every cut and every style and an ace rhythm section (Bill Stuve, Evan Caleb) don't hurt none either. Kane is also credited with seven co-writes with often personal lyrics ("Goodbye My Heart") proving she's no mere sex bomb (although she's that too).
Sue Foley Deborah Coleman Roxanne Potvin "Time Bomb" (***). This one's top-heavy with three superb explosions coming first (the slammin' instrumental "Time Bomb", Potvins' Staxy "Hittin' On Nothing" and Foley's Dylanesque "So Far") before fizzling on Coleman's mundane version of "Talking' Loud And Sayin' Nothing". It's a hit and miss collection seemingly cobbled together after the fact. After a great start the disc then proceeds to ignite briefly here and there before extinguishing short of the target.
Coleman, who sounds strikingly similar to Joan Armatrading, fares better on the rockin' "Don't Start The Car". Potvin steals this disc overall with the aforementioned "Hittin'" and the 60s-styled "Strong Enough To Hold You". Foley's "Mystery Train"-inspired "Two Moons Gone" and "Show Me" are filler. These and the majority of the tracks are actually performed individually by the women with only the title cut and the routine closer "In The Basement" featuring all three. A cute diversion but less thrilling than a full album on each or a true collaboration of all three.
Lady Bianca "Through A Woman's Eyes" (***1/2). The infectious piano stomper "When We Go Dancin'" gets the toes-a-tappin. Though here and on "Women Need Money Too" the rhythm could've been punchier (same goes for "Can Your Body Shake Like Mine" and "Baby's Boogie") or perhaps a better mix. Bianca makes up for the merely adequate backing but the Lady really sings the Blues on the poignant "Welcome To The Momma's Club", accurately describing the bad breaks of being tied down to a "husband who's out in the street". She says when you get married "Life becomes one big bore/The things you used to do you can't do no more". This pessimistic epistle will be an anthem for "Desperate Housewives". It's from a woman's POV as is the title track, it being a gorgeous, torchy Soul burner. It's also a sequel to "Momma's Club" in theme (trouble in the homefront?). It's the best thing Aretha Franklin hasn't done in decades! Simply great. The similar "Kiss And A Rose" is another superb performance but next comes a rote run through of "Don't Be Cruel" (yep, Elvis Presley's). Truly a headscratcher considering the other eleven cuts are originals co-authored by Bianca with Stanley Lippitt. All is forgiven next on the moving "Wanted", another singer's showcase and the Lady is up to it.
I wonder how Oprah Winfrey would feel about "Oprah Winfrey Show", a Country (!) flavored tune unabashedly praising the talk show host with Bianca wishing she could get booked. "I wrote to her a many many times/And I know she'll answer this letter of mine/Oh Lord how I pray for that fateful day/I Can be on the Oprah Winfrey Show". Good luck, she'd be a better pick than many of the shlubs who do get showcased. C'mon Oprah reach out tot he Blues. That said I could've done without this number. Two more decent boogies and then the set closes with another outstanding "slow" tune- "I Need Someone To Love Me". These slower to midtempo numbers are where Bianca knocks you out. Recommended.
John Dee Holeman & The Waif's Band "self titled" (Music Maker)
*** You got to give the Music Maker Organization credit for continuing to put out music light years from mainstream Blues, with little commercial potential. Granted often it's the story rather than the music that's most interesting about these "lost blues singers". Not the case with Holeman. He has the feel of the Blues that you can't learn in a cushy L.A. studio but rather on dusty porches and sparse juke joints. Born on a farm in 1929, John grew up in the hills of Orange County (not the "O.C."!), North Carolina. He learned how to pick the guitar from his uncle and his cousin, both Blues musicians favoring the "Piedmont style", a country-flavored acoustic version of the Blues imbued with spirituals and folk (think more laid back Delta Blues).

Some 8 years ago Holeman had his first release on the Music Maker label with "Bull Durham Blues", which featured a cache of covers via Robert Johnson, John Lee Hooker and Jimmy Reed. On this new all covers set he is joined by the Folk group The Waifs, though their presence is hardly noticeable. This is a relaxed disc of seemingly off-the-cuff recordings like the ubiquitous traditional "John Henry", "Dust My Broom", 'Baby Please Don't Go". Now this might evoke feelings of deja vu but Holeman just has the touch and tone that keeps you locked in. Visit musicmaker.org to learn about Holeman and a army of other "discovered" treasures.
Kenny Hamber "The Best Of" (It's Soul Time!)
*** Hamber is one of those gutsy, notable Soul singers that's survived in the business for decades without hitting the charts so much as once. That will come as a surprise though when you sample this 18-song collection, spanning his forty year recording stint (1961-2000s). How the Gamble/Huff gem "Anything You Want" didn't hit in the USA back in 1967 is truly beguiling. An earnest Soul bumper with a terrific melody that had all the right ingredients for the era. It must have been frustrating for Hamber as a series of singles beginning with 1961's "Tears In My Ears" to 1964's "Time" to his 1967 Arctic Records debut "Ain't Gonna Cry" (inexplicably omitted here) sound like they could've charted with a lil' luck.
Not succeeding as a solo artist Hamber then became the lead singer for The Hitch Hikers in the late 70s, who recorded one album for ABC (including the single "You're Making A Big Mistake"). Though continuing to perform by himself and with others his recording career stalled with only a minor resurgence in 1986 on a percolating version of Eddie Floyd's "Never Found Me A Girl".
Finally, in 1996 the first full length Hamber LP came out on the independent MCK label. The album, "This is R & B" included a stirring version of the David Ruffin hit "Walk Away With Love" and Bobby Bland's "Members Only" (both included here). In the early 2000s Hamber self-released a smooth set of bedroom balladry called "In A Romantic Mood" that showed Hamber has developed into a smooth, rich crooner somewhere between Peabo Bryson and Barry White. "Paradise" drips like Tyrone Davis' "In The Mood" while "Twelve Midnight" charts Adult Contemporary territory. Despite the somewhat awkward blending of recordings decades apart it's always a pleasure to hear a good singer at his best.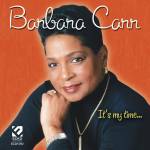 Barbara Carr "It's My Time" (Ecko)
**1/2 Last year I was glad to see Carr returning to a more established label after her foray into independent waters. This "comeback" resulted in the consistent "Down Low Brother", which did well commercially without having the breakout hit. One of the better songs, the uplifting, affirming "I'm Not Going Down With The Fight", managed to rise above the rest and it's telling that the track is repeated on "It's My Time". Likely for two reasons; one the song is still airing on Southern radio stations and, two, this new set is anemic on worthy material.
"Time" opens with another chapter in the genre's "Jody" saga. Originally, the name was military slang first recorded in the Assyrian army about 2,500 years BC. "Jody" was the draft-dodging wimp who was dating your girlfriend, eating your mama's home cooking and petting your dog while you were in Vietnam. These days "he" or "she" basically refers to one who "services the improperly serviced" in the bedroom. Well, Carr hips her lover that "While You Was Out Playing Jody" she was a playing a Jodette. The cut is a retread of "Y'all Know How To Party" from her last record that could hit if folks aren't tired of the cheating theme (not likely). "A Woman can Take And She Can Dish It Out" is another repeat from a past Ecko album while "This Is The Party" (Rick Lawson) and the gender-switched "I'm Just A Lucky Girl" (Quinn Golden) were already mastered by others for the label.
Of the tracks that you do need: Billy "Soul" Bonds mega-hit "Scat Cat, Here Kitty Kitty" is having an extended run thanks to Carr's "answer" version here, although the song is nearly identical. The juke joint jumpin Soul Blues "It Sho Was Me At The Hole In The Wall" is a definite keeper while Carr's vocal on "Love Triangle" has some grit. A tepid take on Ann Peebles' "I Can't Stand The Rain" rounds out this middling disc. Hoping for better next time.
---
RETURN TO 2007 Album Reviews HERE
(C) 2018. All written material found on this website is the property of Blues Critic and may only be used with permission and full accreditation (either "Blues Critic" or "Dylann DeAnna of Blues Critic") and link to this website.