**ARCHIVED 2007 WRITINGS**

JULY 2007 ALBUM REVIEWS

RETURN TO 2007 Album Reviews HERE

BLUES CRITIC'S

Southern Soul Blog

A page for writings. Commentary, news and reviews.

Southern Soul, Rhythm & Blues News And Reviews

The Blues Critic is back! Well, sort of. Many of you may remember that this website began as an album reviews website of new and classic Southern Soul/R&B/Blues albums. We have decided to get back into the opinions game. It's just that...opinion. We actually question the usefulness of reviews so we are just doing it for entertainment purposes. People like to read reviews. Simple as that. We aren't accepting submissions for review. Keep in mind there is no objective way to judge music. You either like it or don't.

In regards to reviews, we will use this grading system:

***** = Excellent. Best Of The Genre
**** = Very Good. Just Shy Of Great
*** = Good. A Solid Effort Though Not Extraordinary
** = Has It's Moments. Mediocre Over All
* = Poor. Not Recommended.

(C) 2018. All written material found on this website is the property of Blues Critic and may only be used with permission and full accreditation (either "Blues Critic" or "Dylann DeAnna of Blues Critic") and link to this website.
---
Listed In Alphabetical Order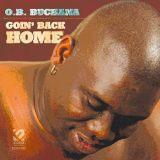 O.B. Buchana "Goin' Back Home" (Ecko)
**** This is now the fourth new CD on O.B. Buchana in less than three years and in my book it's his best since his Ecko debut ("Shake What You Got!"). Why? A higher percentage of good hooks and better rhythm tracks. His last couple discs had but a few good cuts and featured too much of that "bucka bucka bucka" percussion sound Morris J was putting on everything he touched. But "Goin' Back Home" has the bass upfront like on the propulsive "Booty Mover" (2 versions), perhaps the label's best dancer since the irresistible "Booty Scoot". It's naturally very similar and has a celebratory shake-what-you-got feel that could be OB's biggest hit yet.
Other good'uns include the bumper "I'm About To Lose My Wife To My Woman", the beachy "Mississippi Swing" and Big John Cumming's "I'm Goin' Back Home". How can you not agree with these lyrics: "I made a trip up North to visit some of my friends/They said 'OB you oughta move up here 'cuz the good times never end...but I came to the conclusion this I just cannot do...there's just one thing wrong/Y'all don't have no Southern Soul music when I turn on my radio". Amen! But speaking of lyrics, the otherwise snappy "Come And Get It While He's Gone" includes the unctuous refrain "She said: 'come and get while he's gone/I'm soaking wet and I ain't wearing no drawers". Puh- Lease. Ruins a decent booty mover. His inferior cover of Chuck Roberson's "Lollipop Man" is also a nuisance to me but the lovely "Everything Sweet Reminds Me Of You" hits the mark. As said before this one's got the goods overall. It'll be interesting to see if folks suffer from O.B. burnout though.

John Nemeth "Magic Touch" (Blind Pig)
Dave Hole "Rough Diamond" (Blind Pig)
John Nemeth "Magic Touch" (***1/2). I was skeptical about all the praise Nemeth was getting prior to receiving the CD. I couldn't help think "here we go, another Blues harmonica guy getting all the hype when so many other talented folk get ignored". Well, John Nemeth is a sangin' & playin' mofo to be reckoned with! After a solid but typical Junior Wells cover ("Blues Hit Big Town"), Nemeth floored me with that Soulful pinch to his voice on the bluesy R & B "Blue Broadway", a horn and organ based original. This song instantly places Nemeth in the small but elite group of white singers who can sing Soul with the best of them. I only wish there were a couple more like this.
The album doesn't stick to any particular style very long as the Texas stomp of the title cut is followed by the Van Morrison-like "My Future" and the Wilson Pickett nod, "She's Lookin' Good". The brightest spots are his six originals like the Sonny Boy-inspired "She Did Not Show" and the understated ballad "Up To No Good". The set was produced by Texas favorite Anson Funderburgh, who gave Nemeth his first big break by having him fill in for the late Sam Myers in Funderburgh's Rockets. Nemeth had released two independent LPs prior to this Blind Pig debut and one can predict greatness soon.
Dave Hole "Rough Diamond" (***) After a fifteen year 7-LP stint with Alligator Records Hole joins the Blind Pig farm for more of the same Rock-infested slide guitar blues he's known for. The Rory Gallagher-like title track (actually "Rough Diamond Child") contains a nice hook and restrained guitar licks, making it a friendly radio choice. But the rote "Can't Stop Loving You" and "Vintage Wine", two of six Hole originals, trip the disc up until the slow burning "Yours For A Song", which reveals why he's no mere noisemaker. A soulful guitar leadline and disparate vocal phrasing create a moving, almost ethereal moody blues here. The highpoint indeed. But, house-rockin' fans don't fret (pun intended), mostly you get loud, rough jams like the roadhouse boogie "White Trash Girl" and the retro-60s British blues styled "I'll Get To You"- plenty of molten steel and unpolished stone. "Diamonds" eleven cuts don't break new ground but other than "I'm A King Bee" and the ubiquitous Robert Johnson cover ("Rambling On My Mind") Hole wisely picks a few less hoary numbers to fill out the record. Buddy Holly's "Think It Over" and the late Little Jimmy King's "Something Inside Of Me" give the disc legs. The latter is transformed into a straight up Elmore James slidefest.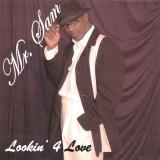 Mr. Sam "Lookin' 4 Love" (Milaja)
Da' Twinky Man (Willie C) "I'm In Love With A Crackhead" (5th Ward City)
Earl Duke "Somebody's Gettin' It" (Mardi Gras)
Z.Z. Hill Jr. "Goin' To Mississippi" (Delta Roots)
Mr. Sam "Lookin' 4 Love" (****). The terrific title cut preceded the full length CD by several months and made it's mark on dozens of Southern Soul playlists, only missing the big charts due to lack of concentrated airplay (stations reporting it same week). "Sam" is no stranger to the charts, being part of the Bar Kays' writing staff and also author of the following hits: J. Blackfoot's "It Ain't Over 'Til It's Over", "I'm Just A Fool", Archie Love's "Should've Been There For You" & "Same Woman", Lacee's "U Gon Make Me Clown", Theodis Ealey's "Move With The Motion" and Jerry L's current hit, "Girls In Da Hood". Quite a track record over the last three years!
Now Mr. Sam is steppin' up front with hook-filled set of modern Soul music, possessing a yearning tenor of his own and a sense of melody. "12 Steps 4 Cheaters" is a stone cold gem. Playing off Alcoholics Anonymous and other self help programs Sam confesses his addiction to "slippin' around". But he "don't want to lose his wife" so he's "workin' day and night to get it right". If this doesn't conquer the Southern Soul charts there must be a conspiracy. The silky "I'm Coming Home" and "Work Yo Body", an irresistible dancer, featuring Archie Love, could be singles three and four. Other than the lightweight "Dirty South Steppin" there really isn't a bum track. Even "album tracks" like "Back In The Day", "Since You've Been Gone" and the autobiographical "Who's Mr Sam?" are as good as what's out there right now. Sam Fallie is a triple threat: Artist/Producer/Writer.
Da' Twinky Man (aka Willie C) "I'm In Love With A Crackhead" (**). Don't ask me what his name means. I doubt it's a mere predilection for the preservative-rich cream cakes. Anyway, this low budget affair has it's moments but suffers from demo quality sound. Albums like this succeed more on urban wit than production values anyway and that said the Tyrone Davis-kissed "You Used Me For A Young Man", Rue Davis-cloned "Stand Up Ladies" and funny title track are worth a listen. Also the message behind the two-part "Child Support" is right on.
Earl Duke "Somebody's Gettin' It" (**1/2). Limited-range singer Earl Duke (think Nathaniel Kimble) returns with a typical set of programmed Southern Soul tracks. Duke had a couple hits in 2004 with "Mr. Fix It" & "I'm Down For You" for the same Mardi Gras label and could scoop one or two off this record as well. The celebratory "Southern Soul" has a memorable groove (similar to 'Mr Fix It") and message, "Drop It Like It's Hot" could get 'em dancing but the better cut are the bumpers "Welfare Lane" & "Truck Driver", which are really modernized Clarence Carter-isms circa mid 60s. The slinky title cut, a definite rip of the Johnnie Taylor/Ted Taylor hit of the same name, features real sax and an expert arrangement.
Z.Z. Hill Jr. "Goin' To Mississippi" (**1/2). Yes you can occasionally hear a little Z.Z. Hill (original) in the voice of this apparently pretend spawn of the Down Home Blues king. Unfortunately, that's when he's straining to imitate that growling rasp ZZ was known for. While Hill Sr. did it with control and pitch Hill Jr. just sounds unnatural. This superfluous habit detracts from an otherwise fine Southern Soul Blues release. "Lean On Me" is a Sax-lead bumper with Hill doing his Hill Sr. back-of-the-throat growl that just falls short because Jr. just can't sing like that for more than a line or two. But he can sing as evidenced by the laidback Bill Withers-like "It Ain't Me" where Jr. warbles in his "normal" voice, revealing a mellow Soul croon. The contrast is obvious on the lovely Deep Soul ballad "Now That I've Come" where he oscillates bewtween his "good" voice and "bad" voice. Frustrating. He can go from sounding real Soulful to just plain awful. Granted this may just be me being harsh. (you decide). Nice sax by Skinny Williams
10 of the 12 cuts were penned by Twist Turner, who's written for several Chicago Blues artists like Shirley Johnson, Robert Plankett, etc.. Turner also produced the cuts, recorded over a twelve year period. Perhaps the best are the Soul Blues boiler "Caught In The Trap", 12-bar slow blues "Late Night Deposit" and Down Home Blueser "Down Home Girl" where, again, Hill Jr. sings with his natural voice and enjoys sympathetic accompaniment. All in all had Jr. left out the poor attempts to sound like Hill Sr, this would garner a higher rating but it's hard to hide those huge pimples.
The Matt Schofield Trio "Ear To The Ground" (Nugene)
*** The trio's previous record leaned heavy into Blues/Jazz but "Ear To The Ground" rolls on more greasy organ and Rock-based terrain, meaning a more mainstream seat-filling style. After a rather mundane run through of Freddie King's "Pack It Up", the Trio lights a fire on the slippery organ shuffle "Troublemaker" and and don't miss a step. Jonny Henderson on Hammond C-3, Evan Jenkins on skins and Matt Schofield's the singer/guitarist. Next up is a lumbering, British Blues/Rocker (title cut) that artists like Michael Burks or Michael Hill are so skilled at, albeit with less guitar pyrotechnics. Again it's Henderson's icy C-3 that's out front. The promo material states it was Schofield's girlfriend that penned lyrics to this one. In fact 5 of the 9 originals appear to have this mysterious Ms. Dorothy Whittick's help. Dude, put a ring on this gal's finger 'cuz these are some high caliber songs here. Schofield co-write all five with her and two by his lonesome including the moody, midpaced "Searchin' (Give Me A Sign)".
A surefire radio single should be the heavy Blues pounder "Someone" featuring harp by "Big Pete" Van Der Pluym. Interestingly the only other clunker is the second cover, 'When It All Comes Down" (B.B. King), but nine out of eleven ain't too shabby. British Blues lives on.
Roman Carter "Never Slow Down" (Bong Load)
*** Don't confuse Roman Carter as a "new artist". The man had a #21 Billboard R & B hit back in 1965 as a member of the Carter Brothers. That trio, Roman Carter (lead vocals, bass), Albert Carter (guitar), and Jerry Carter (vocals, piano), hailed from Garland, Alabama and began recording in 1964 on a local label before Jewel Records licensed a couple singles including the aforementioned hit. After a mere dozen or so singles the trio disbanded in 1967 with Roman continuing as a solo act but my research unearthed very little about the singer for the next 40 years! In fact, 'Never Slow Down", is his first LP and it's an eclectic, modernized Contemporary Blues outing showing Carter has plenty gas left in the tank.
The opening "It's All Rite" combines a Delta Blues guitar hook, loping drums and Fred Wesley-style horn fills with Carter's throaty shout. It's a true butt wiggler that fans of late R.L. Burnside should go wild for. Next he and band storm the barn on the Rolling Stones-like "Just A Little Too Fast", featuring Jimmy Wood on harmonica and heavy percussion courtesy of producer Tom Rothrock, who incidentally had intended this material for his own debut as a recording artist. He says in the liners, "When it came to the point of writing lyrics and singing I invited over Roman Carter...well as soon as we finished that first session...I knew this was going to become HIS debut as a solo artist!". Rothrock's trademark sound as previously heard on Beck's "Loser" and music by James Blunt, R.L. Burnside and others is stamped all over this record and works on most. A few underwritten songs like the title cut and "You'd Better Listen" cause the record to drag in spots and the modern drum licks get old but the first half of the record would be worth the purchase alone.

Craig King "The Breakthrough" (Bonedog)
***1/2 This fine release from Bonedog Records once again hits the right chords for Soul music like real Memphis-styled horns, Staxy-rhythm, greasy organ, soulful vocals. Folks, it never gets old and the formula works for newcomer Craig King who reminds me of the underappreciated Earl Thomas. King's a yearning singer who doesn't oversing- proven on the fabulous 60s-style ballad "So Much In Love", a cut that has that lift-up-your-lighter and sway your arms feel. The bluesy "How Deep Does This Go" gives you more of the same.
A great horn arrangement pushes the loose n' funky title cut, detailing a man's inability to connect with his woman. King sings "Next to me/In this bed where we lay/Sometimes it seems a million miles away/Tell me where do you go to?". Ah yes, the mercurial nature of relationships. The moody "This Wasn't Right" accurately describes the lure and ache of forbidden fruit. Horns once again propel "A Love Like This", moving in Staxy style, same goes for the gritty "Feelin' Like A New 45" and the JB-inspired "What's Right". Widening out and perhaps revealing a Van Morrison influence (at least by the writer) "The Blues Come A Knock'in", a Jazzy number in "Moondance" mode. You could even say there's a little Elton John heard in the bouncy "Leave Your Love On", then again where did Sir Elton get his influence? Am I stretching it? Perhaps but all good music today stems from Southern Soul & Blues and Bonedog Records is a label that uncompromisingly keeps the classic period alive.

Mem Shannon "Live: A Night At Tipitina's" (Northern Blues)
***1/2 It's been a dozen years since Shannon's dazzling debut "Cab Driver's Blues", a witty, idiosyncratic mini-masterpiece that drew inspiration from his actual stint as a cab driver. A critic's darling since then, Shannon has continued to deliver exceptionally well-written Blues/R&B/New Orleans Funk/Pop confections like "Wrong People In Charge", "Who Are They", the hilarious "SUV" and the like. He's moved closer to R & B (as in real Rhythm & Blues) than his Contemporary Blues debut. Shannon was never a 12-bar Blues simpleton but a literate and musically eclectic singer who used Blues as a base. There's enough Blues on this live set, but the Funk is indomitable.
The set opens with one of his biggest "hits", "Paying My Dues", which the big man has for sure. Lots of prime guitar noodling here, perhaps better than anything heard on his studio records. This is no surprise as I saw Shannon live in San Diego a couple years ago and wished I had a record of that night! A nose curling bassline and tart horn blasts push "Smell Something" beyond it's studio counterpart (from "Memphis In The Morning"). "No Religion" is another stunner with a passionate vocal ("Ain't got no religion/I'm getting scared to sleep at night...I'm way past twenty-one but I need some help from Jesus, Allah, Jehovah, somebody/Don't think I can make it much more on my own!") and tightly-squeezed guitar licks. The guy can play as clean as anybody. Further Shannon staples like "Who Are They" and the recent "Phunkville" are here as well as a couple new additions to his canon. Most notably, the touching, soulful "All I Have", a song about losing everything in Hurricane Katrina. A gorgeous Sax solo by Tim Green sends this one right through the heart.
The only misstep on the 10-song 72-minute set is the odd and tepid reading of Tom Petty's "I Won't Back Down". This is the only time Mem Shannon & The Membership sound like a typical bard band at your local dive. Oh how I wish they'd have done instead their live version of "Eleanor Rigby" (that night in San Diego). The other newbie is the epically arrangement version of the Neville Brothers' "Voodoo". To date, Shannon's profile has been at a career lull but this set should change all that.

Charlie Wood & The New Memphis Underground "S/T" (Daddy-O)
*** Hot on the heels of his well received 2006 release ("Lucky"), Wood storms back with a nearly equal disc. I instantly got the impression the cat's confidence has risen following strong placings on various Blues airplay charts last year. His vocals are fired up on the appropriately titled "Let It Rip", one of 10 originals (out of 14). Though recorded too dry (nary a hint of reverb), Wood rips through the piano boogie like he has something to prove (perhaps: "yeah I know you dig my piano but I can sang too brother"). Praise aside, he can't really do justice to classic ballads like "Please Send Me Someone To Love" and "Drown In My Own tears". I consider these intermission segments on the record- time to get and get a glass of Brandy (or whatever your poison may be).
The undeniable whiff of Muscle Shoals permeates the set like the greasy "Brand New Feelin'", slippery "Keep It Comin'" and the Freddy King-like "I Almost Forgot About The Blues". Perhaps moreso the skank of Stax on Booker T & The MGs "Boot-Leg", too faithful of a cover though? On the record, being that Wood also handles bass and drums, the New Memphis Underground consists of guitarist Joe Restivo, Kirk Smothers (sax), Marc Franklin (trumpet), Tamara Jones (backing vocals) and frequent compadre Billy Gibson on harmonica (though he's scarcely heard).
Overall the set feels like an off-the-cuff date in a small club with a sparse audience but some of the best Blues moments happen at those times. It's not a knockout LP but it again shows the longtime sideman Wood is a frontman for sure.
---
RETURN TO 2007 Album Reviews HERE
(C) 2018. All written material found on this website is the property of Blues Critic and may only be used with permission and full accreditation (either "Blues Critic" or "Dylann DeAnna of Blues Critic") and link to this website.