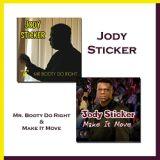 Jody Sticker "2 On 1: Mr. Booty Do Right + Make It Move"

2 Out Of Print Albums On 1 CD 22 Songs!
In Stock
1. Booty Do Right
2. I Can't Show My Hand
3. Roll That Thang (with Sir Charles Jones)
4. Kitty Missing, Kitty Loose
5. Sugar Daddy, Love Daddy
6. Sex Release
7. I'm Movin' in (with Mel Waiters)
8. Mama's Love
9. Party Starter
10. Sacrifice for Love (with Sir Charles Jones)
11. Where I Come From
12. Make It Move
13 You Make My House A Home
14 Cheating Game
15 The Little Things
16 I Know How To Treat My Lady
17 Step On My Own Heart
18 Give That Money Up
19 Brother Buck Naked
20 Place Taker
21 Blues Southern Soul Haunted House
22 Scoop It (bonus track)
CDS
8.88

Jody Sticker ""I've Got The Motor For The Boat"
In Stock
1. Make That Tooty Talk
2. Do You Think About Me
3. In The Room With Fissy Mae
4. Them People Be Lying On Me
5. You Going To Candy Lickin' School
6. Make That Tooty Talk (Club Mix)
7. I'm Ready To Love Someone
8. Fly Away Marvin
9. I've Got The Motor For The Boat
10.Do You Think About Me (Remix)
Silent M
12.99