**ARCHIVED 2007 WRITINGS**

JANUARY 2007 ALBUM REVIEWS

RETURN TO 2007 Album Reviews HERE

BLUES CRITIC'S

Southern Soul Blog

A page for writings. Commentary, news and reviews.

Southern Soul, Rhythm & Blues News And Reviews

The Blues Critic is back! Well, sort of. Many of you may remember that this website began as an album reviews website of new and classic Southern Soul/R&B/Blues albums. We have decided to get back into the opinions game. It's just that...opinion. We actually question the usefulness of reviews so we are just doing it for entertainment purposes. People like to read reviews. Simple as that. We aren't accepting submissions for review. Keep in mind there is no objective way to judge music. You either like it or don't.

In regards to reviews, we will use this grading system:

***** = Excellent. Best Of The Genre
**** = Very Good. Just Shy Of Great
*** = Good. A Solid Effort Though Not Extraordinary
** = Has It's Moments. Mediocre Over All
* = Poor. Not Recommended.

(C) 2018. All written material found on this website is the property of Blues Critic and may only be used with permission and full accreditation (either "Blues Critic" or "Dylann DeAnna of Blues Critic") and link to this website.
---
Listed In Alphabetical Order

Jimmy "Preacher" Ellis "Red, Hot & Blues" (Consolidated Prod.)
Frank "Paris Slim" Goldwasser "Bluju" (Delta Groove Prod.)
Jimmy "Preacher" Ellis has a voice not far removed from Bobby Bland. That's enough to sell this record right there. With the aid of producer Mel Alexander he's dropped a fine Downhome Blues/Soul CD that's mostly organic in instrumentation. "Red, Hot & Blues" (***) opens with a big, sanguine coaster called "You" with a metronomic cowbell at midtempo, fat bassline and a little sax for frosting. Written by Alexander who also penned the shuffle "Sweet Dreams" (harmonica by Scotty Varneau) and the serpentine slow Blues "Everyday Is A Holiday With The Blues". A great start. Things taper a smidge with overly familiar covers of "Hoochie Coochie Man", "Got My Mojo Working" & "Mean Husband Blues" but Ellis also provides two sturdy originals, "Hard Times" and "You Can Count Me Out". The latter sounds like it's made use of a harpsichord! His take on the chestnut "Rainy Night In Georgia" is dynamite as well. Ellis' warm, scratchy voice has been charming the Chitlin' Circuit for years so it's a wonder why we're only at CD number two. Kudos to Consolidated Productions for putting him back in the studio (Ellis' first LP "That's Why We All Have The Blues" appeared in 2000).
He's been attuned to sunny California's West Coast Blues sound for a couple decades now so it only makes sense France's "Paris Slim" Frank Goldwasser would hook up with the redhot West Coast label Delta Groove Productions for "Bluju" (***1/2). Well, that opening sentence was just too smooth not to write but truth is...this record this was already a hit overseas (since 2003) before us snobby yanks got hip. Okay that's not true either for it was in fact produced by Delta Groove's Randy Chortkoff and features an All Star team of Blues pickers and players Stateside. Kirk "Eli" Fletcher, Phillip Walker, Alex Schultze, J.J. Malone, etc. Goldwasser may be merely middling vocally ("I Can't Stand It") but he's a terrific, fast-fingered guitarist ("Twelve Year Old Boy"). Listen to him shred on "Melba's Bump"!. "Paris Slim" released released his first single in 1984 on the Bay Area label Backtrack. He followed this up with two two acclaimed records (the W.C. Handy-nominated "Blues For Esther" and then "Bleedin' Heart") before becoming a part of the Mannish Boys. The domestic release of "Bluju" adds two bonus cuts ("She's Gone", "55th Street Boogie") and packs a sonic wallop as do all records from this label.



Simone De "A Definitive Collection" (Premier Music Ent.)
Robert "The Juice" Lenoir "The Superman Lover" (Heart N' Soul)
Stan Mosley "Steppin' Out" (Double Duo)
Bigg Robb "8 Tracks & 45s" (Over 25 Sound)
2007 is off to a great start with this superb collection by Simone De. First I'd like to mention, I once got an email from a reader stating I should have an indicator or simply mention in my reviews whether a disc features real instruments rather than programming. Though I'm not opposed to a good programmed sound I will point out "A Definitive Collection" (****1/2) does contain a full studio band and that means it'll appeal to everybody. Better yet this isn't your formulaic "i wanna-do-you/let's dance" Hip/Hop/R & B but it's instead richly Old School Soul, which is always timeless to folks with good taste. Despite the title "A Definitive Collection" isn't a "hits" compilation (Though it sounds like it!). All new material sans new improved versions of "I Can't Take It No More" & "Ooh My Love", the two best songs from his first record ("I Can't Take It No More"). Of the remaining 8 equally strong songs two are already contending for the first radio smash. The Staxy "Blues Soul Funk & A Little Rock & Roll" hits hard with horns, slippery organ and a vocal reminiscent of one Howard Tate. Or it could be the melodic, mid-paced "Since I Lost My Baby" which would pass for a hit by Simply Red. De's mellifluous croon is a great example of restraint. The cut was exquisitely produced by Kent Wells and features a sweet sax solo by Sam Levine. It should be an across the board hit. Not far behind are the churchy ballad "Tonight Is The Night" (De is a well known organist on the Gospel circuit), moody "You're The Best Woman" and the pulsating "I Wanna Be Your Lover". The latter track was produced by Roger Ryan. He and Wells split production chores while De wrote or co-wrote all ten 10 slices of modern Soul. An essential purchase.
Smokey-voiced Robert "The Juice" Lenoir calls himself the "King of the New Funky Soul Blues" (in true James Brown fashion) and is out to prove it with his independently-released "The Superman Lover" (**). 16 doses of "party Blues" from the Beachy "You Can Walk" the bumpin' "The Grease In The Skillet" to a funky revamping of Ben E. King's "Stand By Me". Initially Lenoir was a football player (like another infamous "Juice") that tried out with several NFL teams before a knee-injury ended that dream. Now this Mississippi native is hitting the Chitlin' Circuit. A mix of live and programmed instruments that sounds as good as anything coming from, say, Hep Me Records or others.
I've said repeatedly that Stan Mosley is one of the artists to watch in the new era of Southern Soul & Blues. Now that legends like Tyrone Davis, Johnnie Taylor & Little Milton have left us the genre needs some artists to grab the baton and run. Since Bobby Womack seems content to make sporadic appearances and collect fat checks, I'm starting to believe we may not need him. Why? Because we got Stan Mosley. Blessed with a gritty soul voice reminiscent of Wilson Pickett and Mr. Womack himself, Mosley has already released some of the finest soul sides of the last decade with Malaco Records ("Why Can't You Love Me", "Anybody Seen My Boo", "Kiss And Tell"), but various circumstances not to be discussed here have stunted the growth of his career. Well, phase two has begun and Mosley is poised to lead the pack. The 10-track opus "Steppin' Out" (****) is a befitting showcase for his skills. Earl Powell (Public Announcement) is on board to produce 7 tracks like the sublime "Let's Fall In Love", featuring a laidback flow as smooth as fifty year-old scotch. To Stan's credit, he doesn't overpower the melody despite his potent tone. Instead he shows tasteful restraint that guarantees radio play in various formats. Meanwhile, the brooding " I Want You" is gracing radio with it's insidious creepin' groove and Stan's rasping roar. Powell's arrangement is immaculate. Piano, organ, percussion and sharp backing vocals (Theresa Davis & Diane Madison). A masterpiece. Powell is also responsible for the sexy "This Love Has Power" (definitely make-out music), the lovely "Can We Work It Out", plus two dancers, "Dance Floor" and Floyd Hamberlin's "You Gonna Make Me Cheat". The latter features Hamberlin's unmistakable programming. Mosley, who co-wrote 7 cuts on "Steppin' Out", is also credited with turning the knobs on three tracks. Most notable is the contemporary R & B "Together 4 Ever" featuring a terrific sax solo by Jerry Winston. This track, along with "Give me A Chance" and "Thank U" date back to Mosley's first album, the obscure "Standing Tall". After 9 tracks of silky soul serenades I'm already satisfied. But then comes the stunning gospel-inflected "God Is Alive". Stan is a Soul Man, folks.
Bigg Robb is in the hizzy and that can only mean one thing- party time for "grown folks"! On "8-Tracks & 45's" (***1/2) the madcap producer brings a cast of characters including Charlie Wilson, Blowfly, Henry "Big Woo" King (of Da Problem Solvas), Shirley Murdock, Karen Graves, Sure 2 B, Special & others to a straight up party record. Robert "Bigg Robb" Smith started as an in demand and revered DJ before joining Zapp & Roger, pioneers of that distinct synth & vocoder sound. Robb's carried the torch since Roger Troutman's passing. His songs are anthems to booty wigglin' and feeling good and you'd have to be comatose not to get your fun on when playing this record. The one-two punch of "I'm Ready To Party" & "Keep On Swinging" should blow up in the clubs. The interlude "Record Shoppin" and "Tha Good Ole Dayz" explain this record is an ode to"back in the days" of cornrows and bell bottoms, 8-tracks and 45's but Robb's got his finger on the pulse of the "grown and sexy" spirit in the Chitlin' Circuit. Dig the nasty bottom of "Itz Still Ruff Out There" featuring Sugarfoot & Sure 2B, the slow creepin' "I Thought She Was At Home With The Kids" (featuring a bassline inspired by Johnnie Taylor's "Running Out Of Lies") or the "Ride Ya Pony/White Horse (Medley)". Pure booty candy.

Nick Moss & The Flip Tops "Live At Chan's" (Blue Bella)
Buddy Guy Otis Rush Junior Wells Little Walter "Chicago Blues Festival" (Music Ave.)
Sizzlin' hot Chicago Blues by a quartet that's tighter than Lilith Frazier's hair bun, Nick Moss & The Flip Tops have cut a live record like you should. "Live At Chan's" (****) is urgent, hungry Blues-with studio quality sound- played in front of an enthusiastic crowd. Recorded at Chan's Eggroll & Jazz club in Rhode Island, Nick & the Flops open with the tributary instrumental "Eggroll Stroll" and proceed to burn the joint down with a set of mostly originals like the meaty 'Check My Pulse" and booty wigglin' "Just Like That". The July 14 2005 date also included guest "Monster" Mike Welch & labelmate Bill Lupkin. Wish I'd been there! (Footnote: "Live At Chan's" has been voted "Best Compilation Or Live Album Of 2006" by Blues Critic Online readers in our annual "Contemporary Blues Awards Poll").
Some live recordings should stay in the vault and some of the material taped in 1964 and 1967 at the "Chicago Blues Festival" (**) is proof. The bootleg quality is a disappointment. The first four selections feature a histrionic Buddy Guy but his vocals are muffled and barely audible at times. His 6 song set with Junior Wells is slightly better. Unfortunately, Guy's performance of the Stones' "Satisfaction" only includes the refrain. Wells is in great voice but he too is distorted and buried. It's a shame because you can tell these were riveting takes. The second half of the record (from 1967) should've been released on it's own. Otis Rush was great as usual on four cuts including a "It's Hard For Me To Believe Baby" and a honkin' instrumental "Otis' Blues". The set closes with four cuts by Rush & Wells. Great performances that would give this disc a higher rating if not for the audio quality.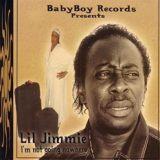 Chick Willis "Cookin The Blues: Tribute To Albert King" (Old School Prod)
Lil Margie "At Last" (Old School Prod)
Eugene Smiley Sr. "Legends" (KCity)
Lil Jimmie "I'm Not Going Nowhere" (Baby Boy)
Because Chick Willis is known as the "Stoop Down Man" (due to his hit "Stoop Down Baby") it's hard for many to take him serious as a Bluesman. He's made a career of similar ribald Blues ditties so a straight Blues record still takes some by surprise. But he's actually released several "serious" records and to critical acclaim for that matter (his "From The Heart And Soul" was picked as Blues record of the year). "Cookin' The Blues" (***) is a collaboration with Jacques "Saxman" Johnson & Dr. Bill Clark who along with the DC Horns have produced a very Staxy Soul/Blues record with a dollop of Jazz. Willis runs through Albert King classics like "I'll Play The Blues", "Angel Of Mercy", "What The Blues Is All About" & "Laundromat Blues" like he's performed them hundreds of times. Nothing revelatory but solid. Although not a King song he also takes on "I Wouldn't Treat A Dog The Way You Treated Me". Johnson and Hammond B-3 man Clark actually provide the highlights with three swingin' instrumentals ("Be Right Back", "Smooth Blues" & "The Hucklebuck"), which give the disc the right variety.
Sweet voiced Lil Margie simply charms you into a good mood on "At Last" (***), a collection of disparate versions of standards, R & B and Jazz. If you're going to cover a song you should do it your way as Margie does on the title cut. Instead of the usual torchy treatment she gives you a finger snappin' Jazzy performance with savvy phrasing. She even makes Wilson Pickett's "Mustang Sally" sound like a brand new song. Jacques "Saxman" Johnson, who produced the record, contributes three originals from the Downhome Blues of "Burning Desire" to the mad funky "Dance" to the Soul/Blues "U Can't Turn Love Off" (aduet with Johnson). Perhaps the centerpiece of "At Last" are the two Latin-tinged versions of George Gershwin's "Summertime". An inspired 8 minute live version and a shorter studio cut give Margie the best opportunity to show off her chops. She's a forty year veteran of the stage and this record catches her at her best. Get this disc before it goes out of print.
Eugene Smiley Sr's career stretches back to 1968 as a member of Dakar recording artists The Visitors, who had a minor hit with "Until You Came Along". After the group disbanded Smiley began an on and off again stint as a road musician for three decades before starting his own label KCity Records. "Legends" (****) is the kind of Soul/Blues record critics such as myself love to discover. All original songs and real instruments, which in itself is a selling point. Memphis movers like "I'm The Only Man", "You're Gonna Miss Me" & "Holdin On" plus Downhome Bluesers "Straighten Up, Woman" & "Voodoo Woman". Horns, Bluesy guitar and organ Soul music never gets old. The stunner her is the dramatic Deep Soul ballad "The Dream". It's a heartbreaking lament all lovers have when they come to grips with their own mortality. Smiley Sr has a dream his lover passes away and now each night he's afraid to close his eyes and wonders what he can do to keep it from happening. Brilliant and supremely Soulful.
Lil Jimmie's "I'm Not Going Nowhere" (**1/2) is another one of those independent Southern Soul records that manages to succeed despite budgetary limitations. Shuffle bumpers like "My Baby Be Dropping It Like It's Hot", "Southern Soul Slide" & "I'm Ready To Party" are as good as any in the genre and the Tyrone Davis-blessed "I'm Not Going Nowhere" is a fine slowie. My pick is the organ propelled bumper "Stepping Out On Faith". So dang catchy and one of the reasons I love this music. Produced by Charles Jackson.
---
RETURN TO 2007 Album Reviews HERE
(C) 2018. All written material found on this website is the property of Blues Critic and may only be used with permission and full accreditation (either "Blues Critic" or "Dylann DeAnna of Blues Critic") and link to this website.