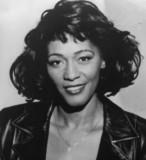 Gwen McCrae
Gwen McCrae (Mosley) was born, December 21, 1943, in Pensacola, Florida and was the youngest of five children. She began performing in local clubs as a teenager, and singing with local groups like the Lafayettes and the Independents. In 1963, she met a young sailor named George McCrae, whom she married within a week.

From 1963, she recorded as a duo with her husband George; the couple received a recording contract, with Henry Stone's TK Records.

Signed to TK subsidiary, Cat as a solo artist, she found success on the U.S. R&B charts with her cover version of Bobby Bland's "Lead Me On" (#32 R&B) in 1970, followed by "For Your Love" (#17 R&B). Following husband George's huge success with "Rock Your Baby", Gwen went on to have a major hit of her own in March 1975 with "Rockin' Chair" (#1 R&B/#9 Pop). The follow-up "Love Insurance" also made the R&B chart (#16).

In 1972 she recorded the original version of "Always on My Mind", a song which was later covered by many artists, including Elvis Presley and Willie Nelson.

After TK Records collapsed, McCrae moved to New Jersey and signed with Atlantic Records, recording two albums and having another hit with "Funky Sensation" in 1981 (#22 R&B). She continued to record and the success of some of her earlier recordings on the UK's Northern Soul scene maintained her popularity as a live act in Europe. McCrae moved back to Florida, recorded a one-off single for the small Black Jack label in 1984 called "Do You Know What I Mean", and then temporarily retired from the music industry.

She traveled to the UK to record a couple of singles for Rhythm King in 1987. McCrae recorded an entire album for the UK Homegrown Records label in 1996, titled "Girlfriend's Boyfriend". Upon returning to the U.S., she signed with the revived Goldwax label, distributed by Ichiban Records, and recorded another album later that year, "Psychic Hot Line".
He joined Frank-O Johnson's Phat Sound imprint for "Still Rock'in" in 1999.

In 2004 McCrae released her first gospel album, "I'm Not Worried". In 2005, McCrae teamed up with the Soulpower organization, which is also responsible for the comebacks of Marva Whitney, Lyn Collins, Martha High, Bobby Byrd and RAMP. Her two-year collaboration with Soulpower resulted in more than five dozen live performances with The Soulpower Allstars all over Europe, and the 2005 release of her album "Live in Paris" on Hi & Fly Records.
In 2006 McCrae returned with a new album on Henry Stone's Henry Stone Music label. The album, "Gwen McCrae Sings TK", became a hit in the Southern Soul circuit despite being a covers of hits recorded for Stone's TK Records. The album ranked #4 on Blues Critic's "Best Of 2006" list for "Southern Soul, Rhythm & Blues Albums" list.
In 2010 she released a single, "Now I Found Love", through Plain Truth Entertainment.

On 2 June 2012, after performing on stage, Gwen McRae had a stroke in her hotel room in England, which resulted in paralysis on the left side of her body and the inability to walk. It's uncertain whether she'll record or perform again.
Album Discography
"Gwen McCrae" (Cat 1974)
Move Me Baby 4:55
Your Love Is Worse Than A Cold Love 2:44
He Keeps Something Groovy Goin' On 3:02
Let Them Talk 2:55
For Your Love 2:58
It's Worth The Hurt 2:21
90% Of Me Is You 2:52
It Keeps On Raining 3:09
He Don't Ever Lose His Groove 2:58
George & Gwen McCrae "Together" (Cat 1975)
I'll Do The Rockin' 3:42
You And I Were Made For Each Other 3:08
Mechanical Body 3:01
I'm Comin' At You 3:12
Let's Dance, Dance, Dance 3:36
Winners Together Or Losers Apart 4:05
Home Sick, Love Sick 3:42
The Rub 3:36
Let Your Love Do The Talkin' 3:36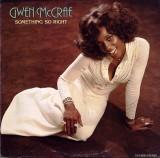 "Something So Right" (Cat 1976)
Something So Right 5:24
Tears On My Pillow 4:00
Love Without Sex 4:50
Mr. Everything 3:42
Iron Woman 4:12
Damn Right It's Good 4:00
Let Nature Take It's Course 3:30
I've Got Nothing To Lose But The Blues 4:42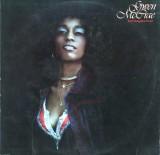 "Let's Straighten It Out" (Cat 1978)
Early Morning Love 3:24
Starting All Over Again 3:51
Tonight's The Night 4:18
Signed Sealed Delivered 4:13
Lets Straighten It Out 4:46
Love Insurance 4:21
Cradle Of Love 3:22
At Bedtime 3:51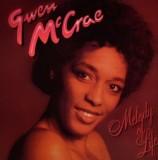 "Melody Of Life" (Cat 1979)
All This Love That I'm Givin' 4:08
I Can Only Think Of You 5:34
Maybe I'll Find Somebody New 3:36
I Found A Love 4:36
The Joy 4:38
Ease The Pain 3:34
The Melody Of Life 6:07
"Gwen McCrae" (Atlantic 1981)
Funky Sensation 6:35
Poyson 5:07
Feel So Good 5:38
All My Love 5:00
Stood The Test 3:42
Do You Wanna Be Mine 5:49
No Deposit/No Return 4:18
Have A Good Time 4:14
Movement 1:54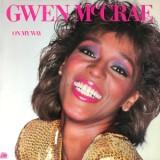 "On My Way" (Atlantic 1982)
Hang In 4:19
Make Believe 5:03
Keep The Fire Burning 5:37
I Need To Be With You 3:53
Be For Real 4:32
Hey World 4:25
I Didn't Take Your Man 4:42
Doin' It 4:48
"The Best Of" (Sequel 1992)
–Gwen McCrae Rockin' Chair 3:15
–Gwen McCrae For Your Love 2:57
–Gwen McCrae It's Worth The Hurt 2:21
–Gwen McCrae 90% Of Me Is You 2:55
–Gwen McCrae It Keeps On Raining 3:15
–Gwen McCrae He Don't Ever Lose His Groove 2:48
–George McCrae & Gwen McCrae Winners Together Or Losers Apart 3:50
–George McCrae & Gwen McCrae Let Your Love Do The Talkin' 3:36
–George McCrae & Gwen McCrae You And I Were Made For Each Other 3:08
–Gwen McCrae Damn Right It's Good 4:00
–Gwen McCrae Love Without Sex 4:50
–Gwen McCrae Starting All Over Again 3:51
–Gwen McCrae Tonight's The Night 4:18
–Gwen McCrae Let's Straighten It Out 4:46
–Gwen McCrae Love Insurance 4:21
–Gwen McCrae Cradle Of Love 3:22
–Gwen McCrae Maybe I'll Find Somebody New 3:36
–Gwen McCrae The Melody Of Life 6:07
–Gwen McCrae All This Love I'm Giving 3:54
George & Gwen McCrae "Their Golden Classics" (Collectibles 1993)
1. Rock Your Baby
2. I Get Lifted
3. I Can't Leave You Alone
4. Honey I Do
5. Kiss Me (The Way I Like It)
6. Love In Motion
7. Rockin' Chair
8. It's Worth The Hurt
9. For Your Love
10. Damn Right It's Good
11. Love Insurance
12. Winners Together Or Losers Apart (George & Gwen)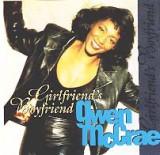 "Girlfriend's Boyfriend" (Home Grown 1996/Ichiban 1998)
1 Funky Sensation (Remix) 5:08
2 We've Got The Power 4:26
3 Only Takes One Touch 4:16
4 Does It Matter 5:57
5 Girlfriend's Boyfriend 4:57
6 I'm Sorry 5:26
7 Pass It On 4:02
8 All This Love That I'm Givin 4:00
9 (You Make Me Feel Like A) Natural Woman 5:07
10 Treat Me Like A Queen 4:42
11 Funky Sensation (Original) 5:29
12 Gotta Get Tough 3:20
13 Keep The Fire Burning 5:45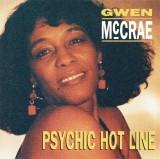 "Psychic Hot Line" (Goldwax 1996)
1 Cry To Me 3:33
2 Loving Peter To Pay Back Paul 4:12
3 Standing Room Only 3:33
4 Do That To Me One More Time 3:12
5 Rocking Chair 4:05
6 Psychic Hot Line 3:57
7 Your Love Keeps Turning Me Around 3:40
8 The Soul Of A Man 4:04
9 Today I Sing The Blues 2:53
10 Your Kinda Loving Ain't Good Enough 4:26
11 The Snake That Hisses 3:53
12 Love And Affection 3:38
"Still Rock'in" (Phat Sound 1999)
1 Still Rock'in 3:44
2 Show Me The Sun 4:20
3 Long Way Home [Duet With Frank-O] 4:15
4 Don't Wanna Lose Your Love 4:29
5 Hurts Too Much To Talk About It 3:41
6 Loving Peter To Pay Back Paul 3:50
7 Psychic Hot Line 3:55
8 Your Love Keeps Turning Around 3:30
9 Your Kinda Loving Ain't Good Enough 4:15
10 Heal The Land 4:26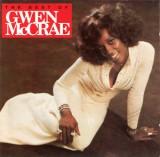 "The Best Of" (EMI 2004)
1. Rockin' Chair
2. For Your Love
3. It's Worth The Hurt
4. 90% Of Me Is You
5. It Keeps On Raining
6. He Don't Ever Lose His Groove
7. Winners Together Or Losers Apart
8. Let Your Love Do The Talkin'
9. You And I Were Made For Each Other
10. Damn Right It's Good
11. Love Without Sex
12. Starting All Over Again
13. Tonight's The Night
14. Let's Straighten It Out
15. Love Insurance
16. Cradle Of Love
17. Maybe I'll Find Somebody New
18. The Melody Of Life
19. All This Love That I'm Giving
"I'm Not Worried" (Lewmar 2004)
1 Waiting On You Lord 4:52
2 I'm Not Worried 5:16
3 Back to Church 5:47
4 At The River 3:38
5 Will You Meet Me 3:06
6 Last days 6:19
7 Move On Up 3:52
8 Highest Praise 4:37
9 We Need Him 3:33
10 Walk Around Heaven 4:27
11 Hold My Hand 6:26
Gwen McCrae & The Soulpower Allstars ‎"Live In Paris At New Morning" (Hi & Fly 2005)
1 90's Of Me Is You 8:05
2 It's Been Raining 7:11
3 Cradle Of Love 4:21
4 All This Love That I'm Giving 5:28
5 For Your Love 7:27
6 Lead Me On 3:33
7 Keep The Fire Burning 10:22
8 Make Me Yours 6:34
9 Funky Sensation 5:22
10 Rockin' Chair / Rock Your Baby 9:40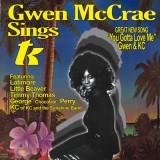 "Sings TK" (Henry Stone 2006)

1. Rockin' Chair (with a little taste of Latimore)
2. Rock Your Baby
3. What You Won't Do For Love
4. Jazz Freak
5. Please Don't Go
6. Let's Straighten It Out (performed with Latimore)
7. Keep It Comin' Love (performed with KC)
8. Why Can't We Live Together (performed with Timmy Thomas)
9. 90% Of Me Is You
10. Clean Up Woman
11. Party Down
12. Misty Blue
13. Honey Honey (performed with David Hudson)
14. You Gotta Love Me Like I Love Me (performed with KC)
15. Rockin' Chair
"Lay It On Me: The Columbia Years" (Reel Music/Sony 2010)
Ain't Nothing You Can Do
Goin' Down The Road Feelin' Bad
He's Not You
Leave The Driving To Us
You Were Always On My Mind
Been So Long
I'm Losing The Feeling
Lay It On Me
Lead Me On
Like Yesterday Our Love Is Gone
Lovin' In The Lay-A-Way
"Henry Stone's The Best Of" (Henry Stone 2014)
01 He Keeps Something Groovy Goin' On
02 Move Me Baby
03 Tears On My Pillow
04 Rockin' Chair
05 For Your Love
06 Your Love is Worse Than A Cold Love
07 90% Of Me Is You
08 It's Worth The Hurt
09 He Don't Ever Lose His Groove
10 Love Insurance
11 Please Don't Go
12 Cradle Of Love
13 It Keeps On Raining
14 Let's Straighten It Out 1
15 Tonight's The Night
16 Jazz Freak 1
17 Rockin' Chair (With A Taste Of Latimore)