**ARCHIVED 2007 WRITINGS**

DECEMBER 2007 ALBUM REVIEWS

RETURN TO 2007 Album Reviews HERE

BLUES CRITIC'S

Southern Soul Blog

A page for writings. Commentary, news and reviews.

Southern Soul, Rhythm & Blues News And Reviews

The Blues Critic is back! Well, sort of. Many of you may remember that this website began as an album reviews website of new and classic Southern Soul/R&B/Blues albums. We have decided to get back into the opinions game. It's just that...opinion. We actually question the usefulness of reviews so we are just doing it for entertainment purposes. People like to read reviews. Simple as that. We aren't accepting submissions for review. Keep in mind there is no objective way to judge music. You either like it or don't.

In regards to reviews, we will use this grading system:

***** = Excellent. Best Of The Genre
**** = Very Good. Just Shy Of Great
*** = Good. A Solid Effort Though Not Extraordinary
** = Has It's Moments. Mediocre Over All
* = Poor. Not Recommended.

(C) 2018. All written material found on this website is the property of Blues Critic and may only be used with permission and full accreditation (either "Blues Critic" or "Dylann DeAnna of Blues Critic") and link to this website.
---
Listed In Alphabetical Order


Travis "Moonchild" Haddix "Daylight At Midnight" (Wann-Sonn)
Phantom Blues Band "Footprints" (Delta Groove Prod.)
Sharrie Williams "I'm Here To Stay" (Electro-Fi)
Travis "Moonchild" Haddix "Daylight At Midnight" ***1/2 You gotta love it when one of your favorite artists puts out an album every single year and one of my faves, Travis Haddix, does just that. "Daylight" is his 17th full length and he's yet to disappoint. Ten original raw blues cuts in vintage B.B. King style. Ever the clever lyricist, Haddix writes to the beat of his own tune. In the title track he hits a town where "strange things are happening soon as you hit that town. You'll see daylight at midnight seems like the sun never goes down". Note to all vampires: Steer clear of this town. On "Backward Baby" Travis seems to confess he truly likes living the Blues: "I'm excited when it's raining/The sun is shining I'm sad/What makes other people happy/Always makes me mad...so come on and break my heart in little pieces/Go on and make my day".There's a saying that goes "with friends like these who needs enemies?". That would fit the antagonist on "Good Buddy Blues". He sings: "Friend of mine. My pal. You spend the night and try to hit on my gal. That's one thing I won't let you do/Spend my money and take my woman too."
The lyrics wouldn't matter much if the music didn't match up. Haddix is a triple threat: writer/singer/guitar picker. That back-of-the-throat vocal is instantly recognizable and he seems to improve as a guitarist with each album. Kudos to the band as well, featuring (in addition to various session players) his "Cleveland Band" Greg Nicholson on bass, Gil Zachery on keys, Jeremy Sullivan on drums and the four piece horns (Jeff Hager, David Ruffin, Gus Hawkins and T.J. Fortunado). To quote Travis himself: "I am the best that I can be, and since no one else can be me, there's none better!". So true and the classic Soul ballad "Who Could I Be?" affirms this self esteeming wit: "If I could be anybody else but me, who would I be?". The answer? "I'd rather be me!" Why? Because his woman loves him.
Phantom Blues Band "Footprints" **** On their debut set, I downplayed the vocal abilities of lead singers Mike Finnegan, Larry Fulcher and Johnny Lee Schell. Not that they couldn't sing, but just they were no Jackie Payne. Well, I don't know if I was just in a crummy mood that day or what, but all three sound fine and/or dandy on this new set. Finnegan absolutely dazzles on "Cottage For Sale" (and elsewhere). Fulcher shows he can do that blue-eyed soul/pop ala Huey Lewis & The News on the effective "Your Heartaches Are Over". Schell
In fact, everything sounds great on this big brassy Rhythm & Blues, Soul & Funk & etc..record. In fact, I'm setting aside my reservations about covers projects because the 3 punch combo that opens the set (Howard Tate's "Look At Granny Run", Freddie King's "See See baby", and one time Hi Records staff writer Earl Randle's "Leave Home Girl") all sizzle. Plus there are a few originals thrown in for good measure. Fulcher and Finnegan provide the pounding shuffle "Barnyard Blues", Fulcher co-wrote the acoustic slide number "When Malinda Sings" and the Jimmy Cliff-like Ska "When The Music Changes". Trumpeter Darrell Leanord shared writing chores with Schell on "Very Blue Day". Needless to say there will be no more "former Taj Mahal backing band" comments necessary from this point on when one speaks of the Phantom Blues Band.
Sharrie Williams "I'm Here To Stay" *** "I got fire in my veins and I'm ready to rock n' roll" sings Williams on the stomping opener "Fire". She continues "I was born to sing the Gospel/got the Blues down deep in my soul". It's one of 15 (!) new cuts Williams co-write with band members Marco Franco (bass)Lars Kutschike (guitar) and others. Her label is dubbing her "the Princess of Rockin' Gospel Blues" and that fairly sums up her style. A churchy voice, lots of organ and aggressive blues guitar grace a good portion of the performances. But though she can belt it out with peers like Shemekiah Copeland ("Power", 'I'm A Real Woman") she also has a softer side. I couldn't help but think of Edie Brickell on the bittersweet folk pop of "Seeking" & "It's Getting Late". She also shows fine restraint of the simmering slow Blues "Gotta Go Thru Hell". That's a singer for ya. Being true to the Gospel tag she delivers the moving "Rhythm Of Life". Could Sharrie Williams be the next Mavis Staples? This disc is bound to rake in the raves. If it wern't her second disc (her debut "Hard Drivin' Woman" came out on Crosscut Records in 2004) she'd be a shoe in for "Best New Artist". More potential good news for label, Electro-Fi Records, Williams has that certain something that may mean crossover success, ala Etta James. 'Nuff said.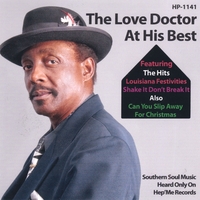 The Patterson Twins "Take Us Higher" (Kon-Kord)
The Love Doctor "At His Best" (Hep' Me)
Booker Brown "A New Beginning" (Steel Groove)
Earnest Stanberry Jr "Hurry Please Bring Your Sweet Loving On Home" (Centurion)
The Patterson Twins "Take Us Higher" *** Twin brother record label moguls The Patterson Twins surprised me big time with this delightful set of joyous contemporary Gospel music. I'm surprised because all I've known about Estus & Lester Patterson is that they run a classy California label called Kon-Kord (actually only Estus runs things now). I didn't know they were singers but both have expressive voices, full of soul (or more accurately: "spirit").
"Take Us Higher" mixes originals with a couple staples. Estus, along with co-producer Hense Powell, penned the sing-along "Lord I Just Can't Live Without You", which compares worldy "fun" with a superior relationship with Jesus. The second coming is celebrated by "Jesus Is Coming" and "Jesus I Love You So" has a retro 70s feel. Brother Lester shares writing credit with Estus and Powell on the slightly funky "Call Jesus Up", which also happens to be the most programmable cut for crossover endeavors. It's like Johnny "Guitar" Watson doing Gospel. 'Nuff said! But, hey, traditionalists needn't worry because sentimental AC pieces like "Footsteps" & "I Know Who Holds Tomorrow" dominate the set.
Though featuring the ubiquitous rhythm programming guest musicians include Motown alumni David Williams, James Jamerson Jr & Fred Ramirez. Help yourself to a genuine feel good record.
The Love Doctor "At His Best" *** Dr. Slow Roll It rebounds from "Stupid", his awful previous record, with ten better (all new, despite the title) tracks. Don't fret. The disc may kick off with the Zydeco dancer "Louisiana Festivities", but the remainder are the kind of material his fans dig him for. Bumps like "You Got Me Yearning For Your Love" and "Can You Slip Away From Christmas" hit their mark. In fact, the latter might have been his long overdue next hit had it not been a Christmas tune. You know the man needs a hit when he records a song called "Roll It Slow", that's similar to his signature song (yup, "Slow Roll It") in more than just name. My pick is the midtempo roller "Make It Do What It Do" with it's catchy refrain and familiar groove. Two tributes to the booty, "Rump Roast" & "Shake It Don't Break It", are humorous. On "Rump" he sings "Girl I know your rump roast is marinated to the bone/Spiced with Worchester sauce and cayenne pepper too". That's a sure way to get a rash! The Love Doctor's chocked warble of a voice is an acquired taste and slowies like "Sweety Pie" and "Let's Stay Together" reveal it's warts...but also it's charm. It's hard not to crack a smile when you put on a Love Doctor album.
Booker Brown "A New Beginning" **1/2 This is the maiden release for Pernell Garrison's new label, Steel Groove Records, and he's got one hecka-talented singer for the launch. It's good but a bit frustrating for me. Well-written Downhome Bluesers like "Love Is Blind (But The Neighbors Ain't)" and "Don't Get Your Meat Where You Bake Your Bread" are Grade A songs, but (dangit!) suffer from poor sound. Distortion obscures Booker Brown's mighty voice, but these independent, demo-like recordings will still resonate with longtime fans of the genre (who don't care how slick the sound is). Hitman songwriter John Cummings (who's written hits for O.B. Buchana and other Ecko Records artists lately) contributes typically strong bumpers like "Ladies Night", "Fishin' At The Hole In The Wall" & "Soul Train Dancer". That cheeky, Chitlin' Circuit wit appears in spades. For example on "Fishin" Brown boasts "I got a pole. It's so long. I got a hook. It's so damn strong. I got a line. It just won't break".
One of the best cuts is "Tyrone Lives On". Who says it's ever too late for a tribute to the late Southern Soul legend? Brown delivers a throaty homage here. Two of the cleaner-produced tracks, "Lookin' For A Freak" and "Stir It Up", have the best chance at radio. Just good headbobbin' shuffle bumpers. Again, wish it had a bigger sound. Same goes for the Soulful ballad "Match Made In Heaven". That's my only complaint. Good songs. Great singer. Small, brittle sound. Buy this record anyway so these talented folks can put out a bigger production. We'll all be grateful.
Earnest Stanberry Jr "Hurry Please Bring Your Sweet Loving On Home" ***1/2 Previously released as "Dance With The Ladies", this "remixed" version of the album offers some good harmonica Blues and a slab of Funk. "Dance With The Ladies" (produced by Carl "Good Lovin' Will Make You Cry" Marshall) is a Bobby Rush-like Funk/Dance jam replete with electric piano and mouth harp fills. Shoulda been a hit. On the 12-bar Blues side Stanberry is in commanding vocal form on "Packin' My Suitcase" and the 2-part "Honest I Do", playing some fluid harp. A review of the liner notes reveals Stanberry also plays saxophone. He shines on the sweeping Soul ballad "All My Love" and has Maceo Parker-esque leads on the straight up JB's-inspired "Everybody Doin' That Funk" and "Got To Have That Funk Part 2" are in the pocket.
Stanberry nearly got his big break thanks to the Godfather Of Soul (Funk) himself, James Brown. In the early 70s he stumbled about Brown while playing regularly at ABE's Five-O-Six club. At one rehearsal Stanberry took the mic while Brown played the organ- impressing Brown enough to have him introduce Stanberry to his manager. Although nothing came of this meeting it's a cool story, ain't it?. He did get a break, however, when approached by Howard Grimes, a member of Al Green's band in 1977 at the Five-O-Six club. Stanberry was introduced to Willie Mitchell who signed Stanberry and recorded him in his Memphis studio. Unfortunately a family tragedy sidelined Stanberry and he never returned to Memphis to fulfill the contract. My research reveals this material has yet to see the light of day. I'd love to hear it. Meanwhile, this recent CD is definitely worth checking out.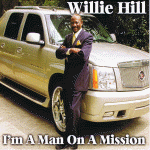 Willie Hill "I'm A Man On A Mission" (Ifgam)
***1/2 The phrase "long awaited new album" is an overused cliché that actually fits the new Willie Hill quite rightly. See, it was all the way back in 2005 when the first single off this LP was released. That track, "Man On A Mission", was a moderate Southern Soul hit that portended a good Theodis Ealey-like batch of tunes. But the album never came. Instead you could find the track on the compilation Theodis Ealey & Friends "Let Me Put The Head In It". Then throughout 2006 and early 2007 another Hill song cropped up on many-a-playlist, the lovely, sentimental "Friendly Reunion". But this track was from Hill's out-of-print Ichiban set "Leavin' Won't Be Easy".
Well here we are in late 2007 and the truly long-awaited new CD by Willie Hill has dropped...and it lives up to the promise. It leads off with the above-mentioned title track, includes the terrific "Friendly Reunion" and a slew of good 'uns. Mr Theodis Ealey has produced and presented an album on Hill not unlike his own output: Keyboard-driven, upbeat bumpers and Blues- not too polished but with a bouncy bottom.
The official first single, though commercially risky considering it's snail pace, is a true Soul ballad with lilting organ and Ealey's bluesy guitar noodlings. Hill's not a powerful singer but his choked phrasing is full of character and emotion. It's simply a great song that I hope radio embraces. Perhaps an easier choice for radio would've been the Tyrone Davis-inspired "Treat Her Right" or the shoulder rollin', toe tappin' bumps "One Way Or Another" and "I'm Your Man". Again, if you like that Theodis style like I do you'll be down for these in a big way. Two more midpaced Memphis movers, "Slippin' And Hidin" and "Ain't Your Fool No More", another Soulful slowie ("When Will I Stop Loving You") and the slow Blues "Take Off Your Shoes" (formerly cut by Bobby Bland) round out this fine release. And to use another cliché'... it's worth the wait.
---
RETURN TO 2007 Album Reviews HERE
(C) 2018. All written material found on this website is the property of Blues Critic and may only be used with permission and full accreditation (either "Blues Critic" or "Dylann DeAnna of Blues Critic") and link to this website.