1.
Mel Waiters "A Nite Out" (Waldoxy)
This is my pick for best overall Mel Waiters album. Cut after cut sounds like it could have been a single. The hits were "Smaller The Club", "Whiskey & Blues" and "Girls Nite Out".
2.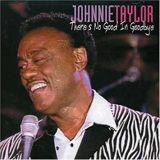 Johnnie Taylor "There's No Good In Goodbye" (Malaco)
This posthumous release gathers 16 outtakes recorded between 1984-1999 for the Malaco label. You'd never guess these were the ones left on the cutting room floor as it's nearly as good as any album released during those 15 years. The first single "This is The Night For Making Up" is another JT Philly-soul gem that should have been released sooner. There's also a duet with son Floyd on Paul Simon's "Take Me To The Mardis Gras", originally recorded in 1988. "Crazy About My Baby" is a poppin' Soul number better than many that were released. "Baby Sittin'" was also a hit.
3.

Swamp Dogg "If I Ever Kiss It He Can Kiss It Goodbye" (SDEG Records)
Swamp's most earnest effort to infiltrate the modern Southern Soul market. The title cut attempts to one-up all the other candy lickers, Larry Lickers and nibble men.
4.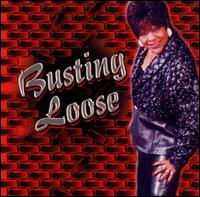 Peggy Scott-Adams "Busting Loose" (Miss Butch)
Better songs from Lewis this time like "Your Divorce Has Been Denied", "If I'm Still Not Married","She's Getting Into My Pants" and "If You Wanna Hear Me Holler (Lick Me Ups Some Dollars" all delivered in typical confident, sassy soul singin'.
5.

Omar Cunningham "Hell At The House" (On Top)
An impressive debut by Cunningham features a cache of Contemporary R & B and a little Southern Soul. The first singe, "Check To Check", is an absolute gem. A shoulder rollin', booty wiggler about living paycheck to paycheck.
6.

Tyrone Davis "Come To Daddy" (Future)
I've come to accept it's unfair to continue comparing his often programmed latter day work with his organic Dakar period so it's wiser to measure his work with what's out there now in the Southern Soul world. With that said...this is very consistent, undeniably catchy programmed soul mostly written by Floyd Hamberlin & Paul Richmond. Top 10 southern soul chart hits are "Bangin' The Headboard" & "Come To Daddy". Other radio hits include "Tease" & "Slide On Over". His highest charting album since 1991 (#43 R & B).
7.
Roy-C "Slippin & Slidin" (Three Gems)
Another Southern Soul treasure features 10 new Roy C gems beginning with the swaying sing-a-long soul of the title track, where he says you can't even trust the preacher in your church when it comes to cheating! He revisits this theme later with the funky "Everybody Is Cheating" featuring a fat bassline and greasy organ fills. He gives the warning: "Watch out for the one that calls you a brother/What he really means is you're a mutha!". The comical album cover says it all. Roy does his own version of the now classic "Slow Roll It" (a hit for The Love Doctor & Sheba Potts-Wright).
8.

Pat Brown "New Tricks" (Tapna)
Brown's best album to date features the smash "Two Week Notice", a slow soul diamond with great lyrics. "The Brown co-write "My Old Man And Mrs Jones" is a clever allusion to Billy Paul's classic "Me And Mrs. Jones" now from the wife's point of view. But then on "U-Me And She" Pat is Mrs. Jones. Although "New Tricks" is mostly sweet Southern Soul there's still one blues. "I'm In Love With Your Man" is a lowdown blues by Brown (co-written with Rue Davis).
9.
Lee Shot Williams "
Get Down Tonight
" (Ecko)
He's back where he found his most success (Ecko Records) and delivers the best disc of his career. 10 songs- 10 winners. Two big hits, "Get Down Tonight" & "Juke Joint Slide" get you dancing (or toe-tappin' n' head-bobbin' if you don't dance). A couple fine slowies in "Who's Your Daddy" & "Give Me All Your Love" & a bona fide blues with "Back Door Lover".
10
.
Bobby Rush "Undercover Lover" (Deep Rush)

Bobby plays to all his strengths on this solid release on his own Deep Rush imprint- everything from grinding 12-bar blues, Southern Soul, soul/blues dance-workouts and even a pop-soul ballad, "Love Is A Gamble". The smash "Dirty Dog" is Southern Soul melody on top of some bottom-heavy drums and sweet keyboard swatches. That urban wit shines on the slow grinding folkfunk/blues "Tough Titty"

Blues Critic's

Top 10 Soul/Soul Blues Albums Of 2003

1.

Charles Walker "Number By Heart" (Zane)

Producer Fred James had asked: "How do you feel about making a deep soul album Charles, you know, songs with passion and fire and with a feel of the classic era when the sounds of Memphis and Muscles Shoals ruled". Mr. Charles Walker agreed and that is exactly what they did! This is deep southern soul with organ, horns, gutsy singing- the works; transporting you back to the days of Otis Redding, Sam & Dave, Percy Sledge and even James Carr in their prime. No that's not hyperbole. Who says they don't make'em like they used to?

2.

Al Green "I Can't Stop" (Blue Note)
Green made a dramatic comeback when he teamed up with Willie Mitchell, producer of Green's many Hi Records hits of the 70s. "I Can't Stop" was remarkable for Mitchell managed to recreate that very 70s Hi sound on a new batch of songs.
3.
Robert Cray "Time Will Tell" (Sanctuary)

Simply the greatest Soul Blues artist of our times delivers the goods again, branching out to the political ("Survivor", "Distant Shore"), Triple A leaning pop ("Up In The Sky") and back to his wheel house of sure-footed midtempos ("Back Door Slam", "Spare Some Love?") and meditative balladry ("Time Makes Two", "Lotta Lovin'").

4.
Roy Roberts "Daylight With A Flashlight" (Rock House)
Roy Roberts has earned much acclaim in blues and deep soul circles mainly from his production work on albums by Chick Willis, Lou Pride, Priscilla Price, Sonny Rhodes, etc.., but he should get his due respect for his own recordings like this new masterpiece "Daylight With A Flashlight". With a songwriting and guitar sound like Robert Cray, Roy produces another flawless disc. Every cut is a winner from the party blues "Raise A Little Hell", Memphis soul of "Touched By An Angel" & "I Slipped" to the soulful blues " I Want To Love You".
5.

Bettye Lavette "Woman Like Me" (Blues Express)

This was her first step (not to mention her riveting cover of Van Morrison's "Real Real Gone" from the various artist tribute album "Vanthology") towards the heartening comeback she enjoys today. This one is straight ahead Soulful Blues absolutely sold by the weathered, emotive voice. Of the many highlights we have

6.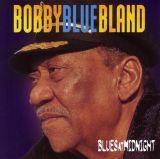 Bobby "Blue" Bland "Blues At Midnight" (Malaco)
This turned out to be the final studio album from the Soul Blues kingpin and it's a fitting finale. Originals and covers backed by that Malaco horn-filled magnificence. "The Only Thing Missing Is You" is one of the best cuts he ever recorded. Gorgeous.
7.
Michael Burks "I Smell Smoke" (Alligator)
Third LP from this Albert King disciple maintains the quality of the previous "Make It Rain". Thick, pinched vocals and and Kingly licks throughout. For me the stunners are the slowies, the deeply soulful "Lie To Me" and "Time I Came Out Of The Rain".
8.

Burton Gaar "
Home Of The Blues
" (Sound Venture)
Who said "white boys can't sing the blues with soul?". That fool never heard cats like Tad Robinson, Darrell Nullisch and Mr. Burton Gaar, singer on this terrific blues CD called "Home Of The Blues". Louisiana native Gaar formerly played bass and sang with Percy Sledge and Zydeco Legend Rocking Sidney. He even jammed with Slim Harpo when he was only 14. "Home" displays his powerful, hearty vocals on 12 tracks of hard electric blues blessed by the spirit of Baton Rouge. There's not a throwaway song or performance anywhere, and that's remarkable considering these are mostly originals written by Gaar and George Hollingshead. Gaar also produced this high fidelity gem.
9.
Darrell Nulisch "Times Like These" (Severn)
Memphis soul & Texas blues- two styles Nulisch does extremely well. Nulisch's voice is deeply expressive- plaintive yet aching and he's a great harp player. This record is tightly arranged with conducted horn charts, muted B-3 organ, rounded-off lead guitar solos, and in-the-pocket drums. Most impressive is his soul tunes, both his originals and his cover of Smokey Robinson's "Don't Look Back."
10.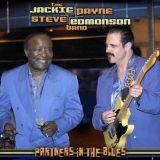 Jackie Payne Steve Edmonson Band "Partners In The Blues" (Burnside)
This was first of three excellent albums by this "duo".
(C) 2018. All written material found on this website is the property of Blues Critic and may only be used with permission and full accreditation (either "Blues Critic" or "Dylann DeAnna of Blues Critic") given plus a link to this website.