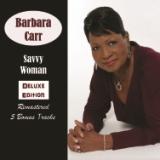 Newly Remastered sound with 5 Bonus Tracks (3 previously unreleased)!
1 It's Only You
2 Number 2
3 Savvy Woman
4 After She's Gone
5 Don't Put The Cart Before The Horse
6 Don't Let Our Love Slip Away
7 How Long
8 The Heart You Break
9 No Getting Over Me
10 Tonight My Love Belongs To You
11 Shaggin' Down In Carolina
12 Blue Collar Man
13 A Woman Can Feel
14 Relight The Fire
15 Cuttin' Up Sideways

Barbara Carr "The Best Of"
1. Bone Me Like You Own Me
2. If You Can't Cut the Mustard
3. Hoochie Dance
4. Right Kind of Love
5. Bo Hawg Grind
6. I've Been Partying at the Hole in the Wall
7. Let a Real Woman Try
8. Best Woman Won, The
9. Juke Joint Jumpin'
10. Good Looks Can Get Him But It Takes Good Lovin' to Keep Him Home
11. Make Me Feel Like You Feel It Too
12. As Long as You Were Cheating
13. If the Lord Keeps the Thought of You Out of My Head, I'll Keep ...
14. Footprints on the Ceiling

Barbara Carr "Best Of Vol. 2"
1. We're Gonna Boogie
2. I Just Wanna Make Love To You
3. Good Looks Can Get Him But It Takes Good Lovin' To Keep Him Home (remix)
4. Stroke It
5. Slow Down, Lowdown Kind Of Love
6. The Man Knows How To Love
7. I'm Not Going Down Without A Fight
8. Scat Cat Here Kitty Kitty
9. Private Fishing Hole
10. I Love Him With A Feeling
11. Long On Talk Short On Love
12. Anybody's Man Tonight
13. Ya'll Know How To Party
14. Show Me No Mercy