BLUES CRITIC'S
2015-2017 Album Reviews
Southern Soul, Rhythm & Blues News And Reviews
The Blues Critic is back! Well, sort of. Many of you may remember that this website began as an album reviews website of new and classic Southern Soul/R&B/Blues albums. We have decided to get back into the opinions game. It's just that...opinion. We actually question the usefulness of reviews so we are just doing it for entertainment purposes. People like to read reviews. Simple as that. We aren't accepting submissions for review. Keep in mind there is no objective way to judge music. You either like it or don't.
In regards to reviews, we will use this grading system:
***** = Excellent. Best Of The Genre
**** = Very Good. Just Shy Of Great
*** = Good. A Solid Effort Though Not Extraordinary
** = Has It's Moments. Mediocre Over All
* = Poor. Not Recommended.
(C) 2018. All written material found on this website is the property of Blues Critic and may only be used with permission and full accreditation (either "Blues Critic" or "Dylann DeAnna of Blues Critic") and link to this website.
---
8-16-16
Album Review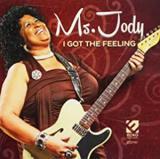 Ms. Jody "I Got The Feeling" (Ecko)
***1/2 At this point in time it's safe to say Ms. Jody is the "Queen Of Southern Soul Blues". She hasn't reinvented the wheel but she has borrowed from her predecessors in style and image and has risen to become the top female artist in the genre. The formula is familiar- a tough talkin', risque', sassy, in your face, take-no-mess women. Going back in recent time you have Denise LaSalle, Barbara Carr, Sheba Potts-Wright, Lynn White, Trudy Lynn, Koko Taylor and countless others who used this formula/persona. But the stereotype dates all the way back to the Ma Rainey and Bessie Smith days (1920s). Ms. Jody has her very similar peers in Nellie Tiger Travis, Lacee', Karen Wolfe, Big Cynthia, Sweet Angel, Val McKnight, Stephanie Pickett, Stephanie McDee- just about every single female Soul Blues artist working today. In a sense it's the role the business has demanded of a female Soul Blues singer. At least a black female. On one hand one could give mad props for the female empowerment but on the other hand one could reasonably worry about the stereotypes placed on black women in the Blues. Do they all have to be sex-crazed, materialistic, baby mamas with attitude? No. Sure, there's a lot of that. Thankfully that's not always the case. Even if it starts to feel that way. Besides they say "If a man does it he is a stud but if a women does she's a whore". Nonsense. Perhaps it's just a natural push back to macho posturing of male Blues singers. Of course the subject matter of modern day Soul Blues is one of repetition and cliche' anyway. Cheating, partying, dancing, cheating, sexing, celebrating, lost love, searching for a love, cheating. It's part and parcel and what's good for the goose is good for the gander. Time and time again women have had to "man up" (yes, irony intended) and compete in a male-dominated fields. It's a bit like what President Obama said of Hillary Clinton: "(Like Ginger Rogers) She's had to do everything I do but backwards and in high heels". That's about women in general regardless of color. Modern Soul Blues is what it is and women can dish it out just as well as they take it. And boy are women good at it! More than ever women are a vital part of the Southern Soul Blues scene.
Ms. Jody currently plays the role better than everyone else. And she transcends the stereotypes with a healthy dose of savvy observation. It's that whiff of maturity that connects with a larger audience I believe. Now a distinguished veteran, "I Got The Feeling" is her 11th all new studio album in just over a decade. That fact alone makes it remarkable that the quality of her albums still hold up. Naturally, much credit must be given to the seemingly endless well of musical ideas bubbling up at Ecko Records, which as been the dominate Southern Soul Blues label for over two decades now (Malaco/Waldoxy is/are the king of the 70s/80s/early 90s).
The formula still delivers. Sexy songs? You have your "Don't Back Up Off It". Jukin'? I present you with "This Place Is Hot" and "There's A Party Goin' On"? Cheating? "I'm Tired Of Being A Secret", "It's Too Late To Do Right Now". Relationship wisdom? "Making Love is Always Better When The Bills Are Paid". Dance? "Zydeco Rodeo". Cat and dog metaphors? "Dogettes".
As usual the Ecko production excels at shuffle bumps and ballads with Deep Soul arrangements. Plenty of bells and whistles (no, not literally) that fill out each track. Mini-hooks between the large ones. It's an Ecko trait to add plenty of keyboard, percolating synth and horn fills throughout the track. And of course Ms. Jody sings with her usual earthy charm. It's the quality and standard you've come to expect. The hits just keep on coming over at Ecko Records. If you enjoyed Ms. Jody's other 10(!) albums this one is a sure thing. BUY CD
---
8-15-16
Album Review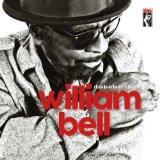 William Bell "This Is Where I Live" (Stax)
**** Who says you can't go home again? Soul legend William Bell made a name for himself via Stax Records from 1961-1974 with R&B hits like "You Don't Miss Your Water", "Everybody Love A Winner", "I Forgot To Be Your Lover", "Private Number" & "Loving On Borrowed Time". He also helped pen Albert King's timeless classic "Born Under A Bad Sign". While Bell enjoyed his biggest hit during a short stint on Mercury Records ("Tryin' To Love Two", a number 1 R&B smash and his only Top 40 Pop hit, #10) his most beloved work remains the Stax years. 32 years after he parted ways with the label he reunites with a terrific new album featuring that vintage Stax Records sound of horn-powered southern soul & funky rhythm & blues.
Bell has his own label, Wilbe Records, where he recorded himself (his last album, 2005's "New Lease On Life" being the most notable) and introduced Jeff Floyd and Lola to the world. So it came as a pleasant surprise to many that he had recorded one of those high profile "comeback" records with the legendary Stax, who were the pinnacle of Southern Soul, Rhythm & Blues during the civil rights era and beyond.
Bell, now 76, hasn't lost more than a pinch of his Gospel-influenced voice. He still sounds warm, aching, ie "soulful" just as he did decades ago. Although the album was recorded in New York City and producer John Leventhal is better known in the alternative-Country realm (his wife is none other than Rosanne Cash) the sound of Memphis dominates the album. Leventhal co-wrote 9 of the cuts with Bell and he and his wife Rosanne wrote together ("Walking On A Tightrope"). Marc Cohn of "Walking In Memphis" fame also co-authored five songs, including the first single, "The Three Of Me". A reflective deep soul ballad where Bell looks back at his life. "Last night I had a dream/And there were three of me/There was the man I was, the man I am and the man I want to be". Bell himself adds some lovely harmony vocals but the cut gets one demerit for some obvious auto-tuning on the lead vocal. So unnecessary. Even better is track 2 "The House Always Wins", another wistful, mournful waltzing ballad. In fact "This Is Where I Live" is a ballad-heavy album. But "Poison In The Well" is a steady midtempo pounder with a swampy guitar line, the newly updated "Born On A Bad Sign" begins stripped down (hand claps, acoustic guitar) before riding a horn and organ wave on the way out. The title track is classic William Bell. One of those toe-tapping, head-bobbers with an irresistible refrain. Again, those glorious horns!
I also want to take a moment to highlight the funky "Mississippi-Arkansas Bridge", which, even sonically, sounds like a "bridge" that belongs in the Bayou with it's swampy guitar and rhythmic underbelly. It's a simple tale about an interstate tryst set in the backdrop of a "club across the river/across the bridge to Arkansas" where people there "didn't care about the law". Bell met a girl that made him "shiver". Cute little vignette. You just trust that Bell was there and the story is authentic. Authentic is the word that best describes this effort. Bell is the real deal after all and at the very least "This Is Where I Live" is a strong reminder....of where he lives. BUY CD
---
8-9-16
Album Review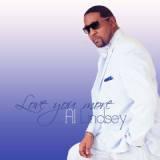 Al Lindsey "Love You More" (Pulsating Music)
***1/2 I'm sure there are many of you that remember those Orson Welles TV commercials he did for Paul Masson wine (or am I dating myself?). He usually ended with the slogan that Paul Masson "will sell no wine before it's time". The idea being that regardless of matters of commerce the quality of the beverage was the most important. I always got a chuckle out of the spots because Paul Masson wine is not a particular good wine. It was cheap and mass-marketed and that analogy works for music as well. There are some artists (to remain nameless) that put out product too frequently. They don't appear to wait until they have a full set of quality songs for a new album.
That cannot be said of Mr. Al Lindsey. "Love You More" is his first new album in five years and fifth overall in a recording career that dates back to 2004 (the self-released "Just Chillin'"). The modern day Southern Soul genre is full of ribald humor, good times and nasty propositions in your "side piece", "stand up in it" and "let's get the party started" songs, which are ubiquitous. They certainly have their place and are well-represented out there. Lindsey is more of a romantic, more Adult R&B than what is commonly called "blues" or "soul-blues" (Southern Soul is often called "blues" even if it has little in common with the 12 bars, guitars and harmonica "blues").
The first thing you notice about "Love You More" is the crisp, clear production and background vocals of Simeo. The coasting, danceable "Come As You Are" benefits from a genuine sax line by Bunny Clyde, those drip drip percussion sounds and Lindsey's trademark smokey vocals but what he excels at best is love songs. The title track is an instant classic, reminiscent of Ricky White's very similar "I'll Still Love You". A yearning piano and fuzzy guitar ballad with Lindsey proclaiming "I still love you" even if "the sun fails to shine, the oceans run dry, my blood count runs low, etc". You know you have a good melody when you can sing the refrain after hearing it only once. This song is special and deserves to hit out there. We need more in this vein. The fact that it's the top cut here is saying a lot since the album contains several strong cover songs, such as Dorothy Moore's "Misty Blue" and Gregory Abbott's "Shake You Down". On the former Lindsey unleashes what is perhaps his best vocal on record. It's a gorgeous rendition and may be the best cover version I've heard. That's saying a lot since one of my personal faves Little Milton also waxed a version.
The album isn't shy about talking about faith either. Simeo wrote the lovely Gospel/trip hop number "I See Jesus", a duet between Lindsey and Lynne Calloway. Simeo also penned another album highlight "Luckiest Man" with the sweet refrain "with my baby by my side and the Lord in my life I'm the luckiest man in the world". You'll be lucky too if you pick up a copy of this album. It's a light, breezy, finely-sung and produced feel good record. BUY CD
---
8-4-16
Album Review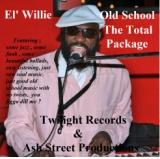 El' Willie "Old School: The Total Package" (Twilight)
**** On the cover of El' Willie's new album there's a blurb that reads "Featuring some Jazz, some Funk, some beautiful ballads, easy listening, just raw Soul music. Just good old school music with no twists...". That's a pretty fair description of what's here. It's the El' Willie style at it's best. While he often uses minimalistic keyboard arrangements that emphasize the melody and the vocals over the groove it doesn't mean he can't work up a groove evidenced by one of the standout tracks, "Check Me Out Babe", a smooth midtempo grinder that (as does all the tracks) reminds me of Marvin Gaye. He namechecks the great one on "The Countdown", another laid back-funk headbobber. It's El's "Inner City Blues" mixed with "A Funky Space Reincarnation". He sings of space travel to a celestial summit where "The time has come with us as a people to sit down and straighten this out/So let's designate a place get together there and I'm sure we can work it out". Considering the disturbing number of police shootings and gang-related violence the past few years the message is especially pertinent.
One of those "beautiful ballads" is "Never Knew Love Like This Before", a reminder of what an accomplished songwriter the man is. Then there's the lovely "It's True It's You". One day some big name R&B singer is going to discover El's catalog and record some classics. In the meantime El' deserves some hits of his own in the Southern Soul market (by the way he co-wrote Theodis Ealey's "Stand Up In It"). He's written hundreds of songs and released eight previous albums by my count but there's a freshness and fullness to this album that is quite infectious. The production is fuller- doing away with any previous criticisms that his recordings are too bare bones.
An accomplished sax player, El' jazz's up the slinky "Raining In My Heart". A terrific quiet storm record. "It's nice outside but it's raining in my heart". His chops are then highlighted on the sax instrumental "Maybe This Time". It was at this point in the album , which is 15 tracks deep, when it occurred to me how much care is taken to create an album. Again, being a zealous Marvin Gaye fan, I can appreciate the importance of the album as an overall statement or piece of art rather than just a collection of tracks. To create a vibe and/or a mood is an art in itself. El's albums are best taken as a whole. That's deliberate and not too common in this singles-driven genre.
As a bonus the album ends with a new take of one of his best songs, "The Anthem (Get Your Sh** And Go) Club Uncut Mix", a simmering funky boiler and the ultimate kiss off. Whether you're new to El' Willie or just need to catch up "Old School: The Total Package" is an ideal way to get hip to the El'. He's our dare-I-say modern day Marvin Gaye in this Southern Soul universe. As track 1 proclaims "El' Willie Done It Again". BUY CD
---
7-20-16
Album Review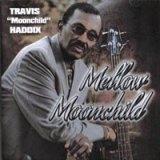 Travis "Moonchild" Haddix "Mellow Moonchild" (Wann-Sonn)
**** Last year the first comprehensive "greatest hits" album was released on longtime Blues veteran Travis "Moonchild" Haddix. We, as Blues Critic Records, released the compilation, entitled "It's My Time Now: The Best Of", which contained 4 new tracks and 14 of the Moonchild's best (18 total tracks). It was maddeningly difficult to create a single disc (80 minutes maximum on a CD) representative of his distinguished career. You see, not only is he a master of B.B. King-like guitar-based electric blues but he's also a creator of gorgeous (Deep) Southern Soul ballads. We only included one on "It's My Time" ("Winners Never Quit") but this new collection, "Mellow Moonchild", rectifies the problem by gathering other key ballads, Blues and 4 new tracks. This makes for the perfect companion to our release (shameless plug alert) or just a great stand-alone album. The noteworthy ballads include "Through With Love" from his third Ichiban Records release "What I Know Right Now", "Penny For Your Thoughts" from "I Got A Sure Thing" and "Wasting Tears" extracted from "Dance To The Blues", a 1995 album released on Haddix's own Wann-Sonn imprint.
As far as the new tracks "50-50 Relationship" is a sprite jump blues with horns, "Mr. Riley B. King", a slow Blues jam in praise of the late King Of The Blues B.B. King, "If You Know Better" benefits from a greasy, funky groove and tight horn fills and the grinding "Dog Biscuits" includes some of that famous Moonchild wit via use of the trusty men as dogs metaphor: "I like my coffee real hot/I like my women big and fat/Nothing but a dog that loves a bone/Most of the times he buries that".
Although this is technically a "best of" type release with some new tracks added it's one of the best overall portraits available from the unheralded genius of the Blues. Whether you have no Haddix in your collection (shame on you!) or have all his albums you will find yourself playing this one more often than nearly all the others. Essential. BUY CD
---
8/29/2015
Album Review
David Brinston "Back Seat Rider" (Delta Down)
*** David Brinston is one of the most essential and representative artists of this modern day "southern soul/blues" style. That voice, a gruffer, nasally Al Green, is instantly recognizable and comfortable like thick warm socks on a chilly day. "Back Seat Rider" is album number 14 for Brinston who began his career auspiciously in 1996 with the classic album "Hit And Run" (later reissued with one new track as "Slow Down" a year later) on the now defunct Jomar Records. A journeyman, who has appeared on quite the number of record labels (Jomar, METT, Susie Q, Waldoxy, Ecko and his own R&B and Delta Down imprints), has settled into a reliable one album per year routine on his Delta Down label just like he enjoyed with Ecko Records. Despite the slight decline post-Ecko in production values he's always able to salvage the typically clunky, toy keyboard- sounding production so ubiquitous in the genre. This is his third album in a row released independently but the sound is full enough to get the job done. More importantly, the record has well-written songs, albeit stingy on quantity (only 8 cuts).
Fans will find plenty to like here, the Chicago soul of "Just Like Your Mama" praises a chip off the old block lady and bumpers "Back Seat Rider", "Running On Empty" are sweet, smooth and sure to illicit toe-tapping. Meanwhile, "Damn Near Hate Each Other" has the most noteworthy lyrics about relationships that turn from infatuation to barely tolerable contempt ("I was talking with a friend of mine/just out of curiosity/I asked him how you and your woman been together so long/'Cuz it seems like you never agree/He said 'now one day you will learn as the years turn/You better try to get what you need/There's no need to change/just go on and do your thing...we downright, straight up damn near hate each other')". The song also features a terrific Motown-styled bridge.
What would a David Brinston album be without a aching, deep soul slow jam? Well, "I Want To Thank You Baby" fulfills the need. In summary, "Back Seat Rider" delivers a healthy dose of the David Brinston formula and that's what we want. BUY CD
**Second opinions about this album review? Email us at bluescritic@yahoo.com**
---
8/28/2015
Album Review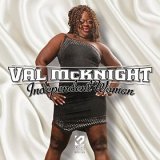 Val McKnight "Independent Woman" (Ecko)
***1/2 John Ward's Ecko Records has gotten a ton of mileage out of bold, brash, bawdy, bodacious "independent women". They began with Barbara Carr and carried on with Sheba Potts-Wright, Denise LaSalle, Sweet Angel and most notably, Ms. Jody. The label's habit of star-making of these tough gal artists is undeniable. "Vivacious" Val McKnight is first and foremost a songwriter. In fact it's unusual to receive a CD from Ecko where the artist has written the majority of the material. On "Independent Woman" McKnight wrote nine of the thirteen cuts. It's your typical shuffle-bumping, down-home blues, mid-paced southern soul (think Clarence Carter "Slip Away") with themes like partying/dancing ("It's Party Time", "Juke Joint Party", "Move Your Body"), sex ("Make Me Shout Ooh Ooh Ooh", "You Put It Over The Fence", "I'm A Love Starved Woman"), relationships ("I'll Be Seeing You Around") and female empowerment ("Independent Woman", "Whoo Doo Woman"). A successful formula indeed and McKnight's attitude-filled voice and phrasing suits this material to a T.
Some of the highlights include the brutally honest, in your face message of "I'm A Love Starved Woman". A lumpy Blues head bobber with lyrics like "I'm a loved starved woman/The kind that can't be trusted/Some of the things I do/ You might be disgusted/I'm a love starved woman/Ain't No man off limit/Before the night is over/ I got to get a man off in it/Girls you better hide your man if you see me coming!". Yes indeed, this is much less, er, subtle than other man stealing songs ("I Intend To Take Your Place" by Peggy Scott-Adams for example). The use of the word "bitch" in a prideful bent had it's start in Blues way before it became the kitsch thing to do in pop with pop artists like one-hit wonder Meridith Brooks ("Bitch"), Britney Spears ("It's Britney, bitch"), Rihanna ("Bitch Better Have My Money") and Madonna ("Bitch I'm Madonna") all proudly announcing their bitchosity. Well, McKnight issues a warning to other gals who have dalliances with her man. They may get with him but she's the "Head Bitch In Charge". Granted it is surprising that McKnight seems okay with her man's cheating ways but every relationship is different I suppose. But maybe it's that same man that breaks it off with her on "I'll Be Seeing You Around". She sarcastically wishes him the best with the caveat "Someone out there might do the same thing to you". Val McKnight is not to be trifled with. BUY CD
---
RETURN TO NEW ALBUM REVIEWS HERE
ALBUM REVIEWS ARCHIVED
2018 ALBUM REVIEWS here
2015-2017 ALBUM REVIEWS here
2008 ALBUM REVIEWS here
2007 ALBUM REVIEWS here
2006 ALBUM REVIEWS here
2005 ALBUM REVIEWS here
---
(C) 2018. All written material found on this website is the property of Blues Critic and may only be used with permission and full accreditation (either "Blues Critic" or "Dylann DeAnna of Blues Critic") and link to this website.