Travis "Moonchild" Haddix
Haddix has quietly become one of the most lauded electric bluesmen of our modern era. Without the push of a major label he has nevertheless built up a loyal following the hard way- with terrific music and live shows.
Blues guitarist Travis Haddix was born on November 26, 1938 and began playing the piano at the age of seven in his home town of Walnut, Mississippi, located thirty miles south of Memphis, Tennessee. His father Chalmus was a Delta blues artist similar to Robert Johnson in style. The Haddix family moved to Milwaukee, Wisconsin where Travis continued to refine his craft by singing and playing throughout the North. The turning point came when he was eight. His brother Hal took him to see the legendary B.B. King, who came to Memphis and began playing daily at the studios of WDIA. Travis was inspired by King's guitar virtuosity and he hung around the radio station every day to learn all he could. Soon, Travis' piano playing fell by the wayside and was replaced by the guitar, which he plays on stage and in the studio.
In 1959, after serving time in the army, Travis moved to Cleveland, Ohio where he joined the D.L. Rocco Band and achieved regional notoriety that led to a prominent spot with the Little Johnny Taylor group. In the mid-60s he put out a few singles on the Cleveland-based Del Nita label. Later Haddix fronted his own band called the Now Sound followed by the Travis Haddix Band. One of the acts they opened for was Mr. Clarence Carter, who helped get Travis signed to Atlanta's Ichiban Records, which was also Dr. C.C.'s label home. Haddix went on to record five discs for the label before going the independent route. Travis also contributed material to five albums by Artie "Bluesboy" White, who was concurrently on Ichiban. Since starting his own publishing company, Haddix Publishing, and label, Wann Sonn Records, Haddix has been putting out the best music of his career.
From 2008 through present he's allowed labels like Earwig and Benevolent Blues to distribute his albums. His 2009 CD "If I'm One, You're One Too" reached #7 on Living Blues' Top 25 Chart.
Album Discography

"Wrong Side Out" (Ichiban 1988)
1. Caught in the Middle
2. Nobody Wants You When You're Old and Gray
3. Old Time Music
4. Two Heads Are Better Than One
5. Wrong Side Out
6. Time to Take Charge
7. Old Cliche
8. Don't Take Everything Away From Me
"Winners Never Quit" (Ichiban 1991)
1. Homeslice
2. Bag Lady
3. She's Not the Kind of Girl
4. Better Than Nothing
5. Winners Never Quit
6. Something in the Milk Ain't Clean
7. Beggin' Business
8. Abused
9. Someone to Love
10. I'm Mean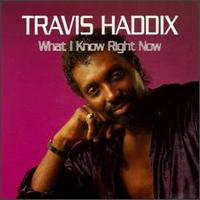 "What I Know Right Now" (Ichiban 1992)
1. No, No, No
2. Enough Is Enough
3. Getting By With A Lie
4. Jawbreaker
5. Through With Love
6. Strange
7. What I Know Right Now
8. A Big Difference
9. Ugly Rumors
"I Got A Sure Thing" (Ichiban 1993)
1. (I Got A) Sure Thing
2. If It Wasn't For Me
3. Penny For Your Thoughts
4. Can't Last Long
5. Day Late and Dollar Short
6. Funny Bone
7. Fool
8. Matter of Time
9. Shit List
10. Caught in the Middle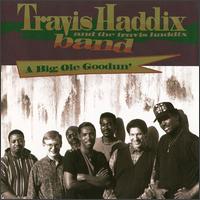 "A Big Ole' Goodun'" (Ichiban 1994)
1. Big Ole Goodun'
2. Make Me Say Please
3. Texas Toothpick
4. Little Sister
5. Katlin
6. Bad to Worse
7. My Dessert
8. Don't Take My Word for It
9. You Can't Have Your Cake and Eat It Too
10. (She Called Me) Knucklehead

"Dance To The Blues" (Wann-Sonn 1995)
live cd
1. Dance To The Blues
2. Time To Take Charge
3. Too Many Irons In The Fire
4. Man Of The House
5. Everything Is Everything
6. Looking Haughty
7. Wasting Tears
8. Two Heads Are Better Than One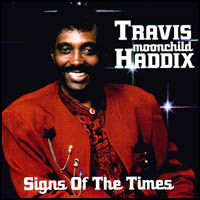 "Signs Of The Times" (Wann-Sonn 1998)
1.Before you laugh
2.You've got another thing coming
3.My wife my woman my girlfriend
4.They call me the moon child
5.signs of the times
6.two of nothing
7.Enough is enough
8.Getting by with a lie.
9.Jawbreaker
10.Through with love.
The Harlem Ramblers (with Travis Haddix) "Knee Deep In The Blues" (Wann Sonn 1999)
1.Someone to love
2.Homeslice
3.Knee deep in the blues
4.Blues in the air
5.precious lord
6.Don't push it
7.Nobody knows you
8.St. Louis Blues
9.Begging Business
10.Everyday I have the Blues
11.Texas Moaner

"Shootum Up" (Wann-Sonn 1999)
live cd + 1 new studio cut
1. Highway 15 And 72
2. Mustang Sally
3. The Dip
4. Shootum Up
5. Made To Order
6. Knock On Wood
7. Hey, Hey, The Blues Is All Right
8. Second Hand Blues
9. Green Thumb
10.Wood Burning Fireplace
"Old & Easy" (Wann-Sonn 2000)
1. Woman With Clout
2. Touch Her Heart
3. Job Close To Home
4. Beggin' Or Not
5. Too Much of A Good Thing
6. Big Surprise, Surprise
7. My Secret
8. I Am Really Through
9. Nasty November
10. Old & Easy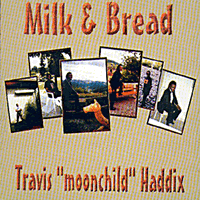 "Milk And Bread" (Wann-Sonn 2001)
1. Problem With That!
2. Milk & Bread
3. Your Finger Prints
4. Why Wait
5. Getting Together Again
6. Do Wrong Right
7. Catch You In The Truth
8. Bread, Butter & Blues
9. Hazeleyes
10. Ode To The Bag Lady
11. Same Old View
12. Count This Up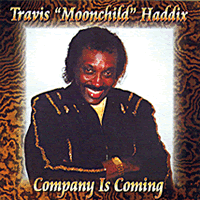 "Company Is Coming" (Wann-Sonn 2002)
1. Rough Side Drag
2. Tuesday Morning
3. Grandsons Are Fun
4. We Spell OX
5. My Pet Peeve
6. Bad News Woman
7. Let It Show
8. Darkness Around My Heart
9. The Time Is Now
10. All I Can Do Is Sit And Cry
11. Loneliness
12. Company Is Coming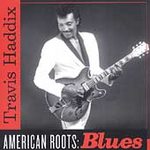 "American Roots: Blues" (Ichiban 2002)
1. Through With Love
2. Getting by With a Lie
3. Strange
4. Big Difference
5. Ugly Rumors
6. Big Ole Goodun'
7. Texas Toothpick
8. You Can't Have Your Cake (And Eat It Too)
9. Bag Lady
10. Better Than Nothing
11. Beggin' Business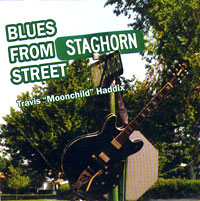 "Blues From Staghorn Street" (Wann-Sonn 2004)
1. Andy's
2. Nice To Be Needed
3. Acute Blues Syndrome
4. Am I Country Enough For You?
5. Cut Off Your Money
6. Blues From Staghorn Street
7. I'm On Top Of It
8. Shatterproof Heart
9. We Need To Talk
10. Rudolph's Girlfriend
11. Christmas 1911
12. Surprise From Santa
"Mud Cakes" (Wann-Sonn 2005)
live cd
1. Dance To The Blues
2. My Secret
3. Job Close To Home
4. Mud Cakes
5. Moonchild Ode To LJT
6. Winners Never Quit
7. My Pet Peeve
8. T-Bone Shuffle
9. My Wife, My Woman, My Girlfriend
10. Acute Blues Syndrome
"Mean Ole Yesterday" (Wann Sonn 2007) LISTEN
1. Never Make Your Move Too Soon
2. Big Leg Woman
3. Turn Back The Hands Of Time
4. Rock House
5. Mean Ole Yesterday
6. Dick For Dinner
7. Open Book
8. Summer Santa Claus
9. Sugar In My Tank
10. O-h-i-o or Oh-ten

"Daylight At Midnight" (Earwig 2008) LISTEN
1. Word a Lie
2. Backward Baby
3. Nine Behind
4. Who Could I Be?
5. Daylight at Midnight
6. Way Back in the Country
7. You Kind of Fool
8. What to Do
9. Good Buddy Blues
10. Blues Leftovers
"If I'm One, You're One Too" (Benevolent Blues 2009) LISTEN
1. Scared Half to Death, Twice
2. Clean Out of Love
3. Dollar's Worth of Gas
4. Little Snack, A
5. Getting Old, the Alternative
6. Can't Get You Back
7. If I'm One, You're One Too
8. Lump in My Throat
9. Hard to Teach, Hard to Learn
10. Don't Get Too Comfortable
11. Who Are You Asking?
12. It's Rooster Again
"A Dozen Times" (Benevolent Blues 2010) LISTEN
live cd + 2 new studio cuts
1. They Call Me The Moonchild
2. First Thing Tuesday Morning
3. Job Close To Home
4. Caught In The Middle
5. No No No
6. I've Got A Secret
7. If I'm One, You're One Too
8. Winners Never Quit
9. Down Home Blues
10. Scared Half To Death, Twice
11. This Foolishness
12. A Dozen Times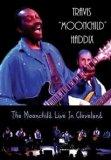 "The Moonchild Live In Cleveland" DVD (Benevolent Blues 2010)
1 Opening Jam
2 First Thing Tuesday Morning
3 Job Close To Home
4 Winners Never Quit
5 Caught In The Middle/No No No
6 Ive Got A Secret
7 If I'm One, You're One Too
8 Can't Get You Back
9 Two Heads Are Better Than One
10 Chestnuts
11 They Call Me The Moonchild
12 Down Home Blues
13 Don't Get Too Comfortable
14 Scared Half To Death, Twice

"The Moonchild Experience (Limited Edition CD + DVD)" (Benevolent Blues 2011)
limited edition 2 DISC version combining "A Dozen Times" CD + "The Moonchild Live In Cleveland' DVD
DISC 1: A DOZEN TIMES:
1. They Call Me The Moonchild
2. First Thing Tuesday Morning
3. Job Close To Home
4. Caught In The Middle
5. No No No
6. I've Got A Secret
7. You're One Too If I'm One
8. Winners Never Quit
9. Down Home Blues
10. Twice Scared Half To Death
11. This Foolishness
12. A Dozen Times

DISC 2: THE MOONCHILD LIVE IN CLEVELAND:
1. Opening Jam
2. First Thing Tuesday Morning
3. Job Close To Home
4. Winners Never Quit
5. Caught In The Middle/No No No
6. Ive Got A Secret
7. You're One Too If I'm One
8. Can't Get You Back
9. Two Heads Are Better Than One
10. Chestnuts
11. They Call Me The Moonchild
12. Down Home Blues
13. Don't Get Too Comfortable
14. Twice Scared Half To Death

"Old Man In Love" (Benevolent Blues 2011) LISTEN
1. She Hit a Grand Slam
2. Old Man In Love
3. Stankin' Thankin'
4. Cialis Before I See Alice
5. Two Steps From a Lie
6. Break a Habit With a Habit
7. Stiff Stuff
8. Too Narrow
9. Dreamed I Was Dreaming
10. Let Me Owe You One
11. Stop Lying About Your Age
12. Cix Spells Six
"Ring On Her Finger, Rope Around My Neck" (Benevolent Blues 2013) LISTEN
1. Jodie
2. Doctor Doctor
3. Rope Around My Neck Ring on Her Finger
4. Patience With a Purpose
5. Old Fashioned Justice
6. In Good Shape for the Shape I'm in
7. But Frustrated Full
8. She's Better, She's Best She's Good
9. Two Jobs With a Paper Route
10. Same Way Same Thing
"Love Coupons" (Benevolent Blues 2014) LISTEN
1 Love Coupons 5:29
2 Too Much Of Everything (But You) 3:58
3 Good Ole Monday 4:57
4 Art To Gettin' Even 4:12
5 Dinner With The Devil 5:26
6 Boogie Woogie Woman 3:46
7 Boogie With The Boogie Man 5:54
8 Take Me If You Want To 2:54
9 One Half Right 4:44
10 Sweet & Sour Loving 5:41
"It's My Time Now: The Best Of" (Blues Critic) LISTEN
1. The Dip
2. Two Heads Are Better Than One (new)
3. It's My Time Now (new)
4. Put Your Finger In It (new)
5. Cialis Before I See Alice
6. Don't Get Too Comfortable
7. You've Got Another Thing Coming
8. Bag Lady
9. Good Buddy Blues
10. Doctor Doctor
11. Dick For Dinner
12. Acute Blues Syndrome
13. Company is Coming
14. First Thing Tuesday Morning (Live)
15. Catch You In The Truth
16. Job Close To Home
17. Winners Never Quit
18. Go On From There With Prayer (new)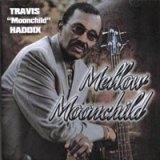 "Mellow Moonchild" (Wann-Sonn 2016) LISTEN
1 50-50 Relationship
2 Mr. Riley B. King
3 If You Know Better
4 Dog Biscuits
5 Penny For Your Thoughts
6 Cut Off Your Money
7 Bad To Worse
8 Everything Is Everything
9 Wasting Tears
10 Through With Love
11 Big Difference
12 Old Cliche