Stephanie Pickett "Finally Made It"
In Stock
1. Still Want You Baby
2. Family Man
3. Let's Get It Together
4. Love Me Right
5. Money Talk
6. Time Heals All Wounds
7. I'm in the Right Mood
8. Can't Get You off My Mind
9. Run'n
10. Stay with Me
Aviara
9.99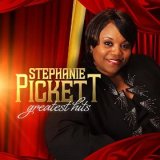 Stephanie Pickett "Greatest Hits"
In Stock
1. I Don't Need No Man
2. The Only Time I Get Lonely
3. My Love Is Guaranteed
4. Family Man
5. Run'n
6. I'm Takin' My Man Back
7. What One Man Won't Do
8. Too Many People
9. Still Want You Baby
10.Stay With Me
11.Lie To Me
12.Time Heals All Wounds
13.Let's Get It Together
Music Access
9.99