Mem Shannon
Mem Shannon is one of the most eclectic bluesmen you'll find. A brilliant songwriter and guitarist who incorporates New Orleans Funk, Jazz, Rock, Soul and whatever else he feels like into the Blues. The former cab driver quickly became a critic's darling when he dropped his debut LP, "Cab Driver's Blues", which showed his keen perspective on life through the eyes of a cabbie. Because of the interesting nature of the recording, which includes snippets of conversation with passengers from his cab interspersed with the music, Shannon's story attracted the attention of producers at PBS-TV, CBS-TV's Sunday Morning, and editors at the New York Times.

By April of 1996, at the annual New Orleans Jazz and Heritage Festival, Shannon announced from the stage that he was giving up his job as a cab driver to play blues full-time. He didn't looked back, and thanks to good booking agents and his own work ethic, he toured extensively around the U.S., Europe, and Canada. Shannon was the first major new talent to come out of New Orleans in some time, and since thousands of foreigners visit New Orleans every spring for JazzFest, Shannon forged his reputation as an international touring musician easily. His music isn't stuck in a jump-shuffle mode. He takes a broader view, incorporating elements of funk, jazz, swamp rock, and classic rock into the Membership's blues-based sound. The band funks it up with varying shuffle drum backbeats, throbbing basslines, a wailing saxophone, and feathery keyboard treatments. And there is room in Shannon's view of himself as a bluesman for political and social commentary in songs like "Wrong People in Charge," "Charity," and "Down Broke."

In addition to his two Ryko CDs, Shannon released "Spend Some Time With Me" in 1999, "Memphis In The Morning" in 2001, both on the Shanachie label, before siging on with Northern Blues .
Album Discography
"Cab Driver's Blues" (Hannibal 1995)
1. 5th Ward Horseman
2. Play the Guitar Son
3. $17.00 Brunette
4. You Ain't Nothin' Nice
5. My Baby's Been Watching TV
6. Me and My Bed
7. Ode to Benny Hill
8. Taxicab Driver
9. Miserable Bastard, The
10. One Hot Night
11. Dick Tie Commandos
12. Boogie Man, The
13. Maxine
14. Older Broad, The
15. Got to Go
16. Chantelle
17. If This Ain't the Blues
18. Food Drink and Music

"2nd Blues Album" (Hannibal 1997)
1. Wrong People in Charge
2. Old Men
3. Charity
4. Say That Then (The Parlez-Vous Francais Song)
5. One Thin Dime
6. Mirror Mirror
7. My Humble Opinion
8. Down Broke
9. Do You 'Yuh' What I Say
10. Mr. Blues
11. Blues Is Back, The
"Spend Some Time With Me" (Shanachie 1999)
1. Who Are They
2. Paying My Dues
3. Not My Friend
4. Don't Talk About My Mama
5. Last Time I Was Here, The
6. Pray for the Children
7. Dirty Dishes
8. Certain Shade of Blue, A
9. Spend Some Time with Me
10. Mother's Love
11. Born in This Time
12. No Such Thing
"Memphis In The Morning" (Shanachie 2001)
1. Drowning on My Feet
2. Why I Sing the Blues
3. Memphis in the Morning
4. S.U.V.
5. Invisible Man
6. Tired Arms
7. I Smell Something
8. You Belong to Him
9. I Love the Way You Love
10. Unconditional Love
11. Shake Up the Floor
12. Doing the Best That I Can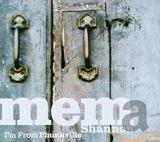 "I'm From Phunkville" (Northern Blues 2005)
1. Reason, The
2. Swing Tiger Swing
3. Perfect World
4. Phunkville
5. I'll Kiss a Pitbull
6. Battle Ground
7. Lights of Caracas, The (I Didn't Know)
8. Sweet Potato
9. No Religion
10. Forget About Me
11. Eleanor Rigby
12. Ignant Stick
13. We Going

"Live At Tipitina's" (Northern Blues 2007) LISTEN
1. Payin' My Dues
2. Smell Something
3. No Religion
4. Who Are They
5. All I Have
6. I Won't Back Down
7. No Such Thing
8. Forget About Me
9. Voodoo
10. Phunkville