**ARCHIVED 2006 WRITINGS**

MARCH 2006 ALBUM REVIEWS

RETURN TO 2006 Album Reviews HERE

BLUES CRITIC'S

Southern Soul Blog

A page for writings. Commentary, news and reviews.

Southern Soul, Rhythm & Blues News And Reviews

The Blues Critic is back! Well, sort of. Many of you may remember that this website began as an album reviews website of new and classic Southern Soul/R&B/Blues albums. We have decided to get back into the opinions game. It's just that...opinion. We actually question the usefulness of reviews so we are just doing it for entertainment purposes. People like to read reviews. Simple as that. We aren't accepting submissions for review. Keep in mind there is no objective way to judge music. You either like it or don't.

In regards to reviews, we will use this grading system:

***** = Excellent. Best Of The Genre
**** = Very Good. Just Shy Of Great
*** = Good. A Solid Effort Though Not Extraordinary
** = Has It's Moments. Mediocre Over All
* = Poor. Not Recommended.

(C) 2018. All written material found on this website is the property of Blues Critic and may only be used with permission and full accreditation (either "Blues Critic" or "Dylann DeAnna of Blues Critic") and link to this website.
---
Listed In Alphabetical Order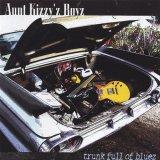 Aunt Kizzy's Boyz "Trunk Full Of Bluez" (self released 2004)
*** There's plenty of adequate blues bar bands on the West Coast but how many of them got a shot at the next level? Alls I know for certain is that California-based Aunt Kizzy's Boyz is one of them. I've heard a lot of hot shot guitarists and tight rhythm sections at pubs, clubs, festivals, weddings, Bar Mitzvah's (okay, maybe not) but if you ain't got a great singer you ain't got this critic's ear. Well, the Boyz got themselves a serious blues-shouter who goes by the name Sugaray Rayford. Hailing from Tyler Texas, Sugaray possesses one of those powerful ,gospel-soaked voices that can take the meekest of songs and improve it. He and his mates start their debut disc, "Trunk Full Of Bluez", on the good foot with a ripping 12-bar blues shuffle called "Jelly Roll". Sugaray comes-a-wailing' and guitarist Jim King shreds mightily over the racing groove, courtesy of bassist Joe Sciavone and drummer Duane Hathorn. Equally hot is track 2, B.B. King's "You Upset Me", which adds Teddy Andreas on B-3 and Bill Kilpatrick on keys. It's one of six covers and 7 appropriately derivative originals, including the fantastic Staxy soul/blues "Right On" and a smoky slowie ("Big Legged Woman"). Sugarar occasionally sounds like early Joe Cocker. Axeman King also sings and he handles vocals on a rousing "Route 66" and the disc's only weak spot- a tedious reading of Bob Dylan's "All Along The Watchtower". The latter along with the mellow instrumental "Hands Turned Upward" simply stick out like a giant white head on the tip of your schnoz. This 14-track collection would rate higher sans these two cuts. Better covers are found in the Zydeco-peppered "Got My Mojo Working" and their show stopping version of Albert King's "Rub My Back". This track sizzles! Dare I say it even eclipses King's version and this is coming from a serious Albert King admirer! I gotta catch these "boyz" live.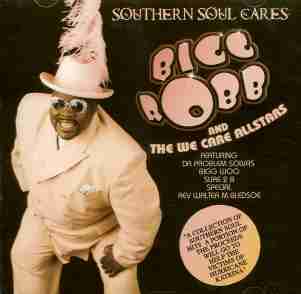 Bigg Robb & The WE CARE Allstars "Southern Soul Cares" (Over 25 Sound)
*** You need only slap on a Bigg Robb CD when you need a party started. The Zapp n' Roger alumni has carried on that signature synth/funk sound and this special release gathers some of the best jams released on his Over 25 Sounds label. The impetus behind this comp is Hurricane Katrina hence the title "Southern Soul Cares": a "portion of the proceeds will go to help the victims" of that tragedy. The first single (and new track) "It's Gonna Be Alright" is an instantly familiar midtempo charmer featuring the elastic chops (think Sir Charles Jones) of Bigg Woo (of Da Problem Solvas), Special & more on an extended sing-along chorus. Bigg Robb is a master producer and the sound is clean, tight and smoov as usual. The Southern Soul club smash "The Bigg Robb Freeze" is next fulfillin' yo' line dancin' needs. A real DJ's best friend indeed. Later you'll be 2 steppin' to the "Southern Ladies Remix" featuring Gregory "Uncle Love" Jackson. Bigg Woo returns on "Tune Up" and with Da Problem Solvas on the hits "Grown Folks Music #2" & "The Weekend". Special is front and center on hip-hop flavored "Down South Party" & creepin' "Why You Tryin' To Holla @ Me?". Much like Theodis Ealey's "Let Me Put The Head In It" project, "Southern Soul Cares" is a convincing commercial for these artists and the label in total. Fun stuff here and the earnest premise sweetens the deal.
Maurice Davis "I Want Some Brown Sugar" (Serious Sounds)
** Yes, what a difference a production budget makes. Recently I reviewed Davis' "The Right Way" for Sims Records. It's excellent and enjoys the benefit of live musicians, great tunes and a soulful performance from Davis. Interestingly, the disc opens with a blues cut that appeared on "The Right Way" but that ticking drum machine ruins it for me. Same problem with "Let's Do 69", and those pea-brained lyrics don't help either. There's good drum programming and there's "rinky-dink". These have the latter. Then, suddenly, live drums appear on the rolling blues "Love Freak" and the grinding slow blues "Brown Sugar", which appears to be a live recording. (The applause sounds more like sizzling bacon than hands clapping though!). It makes me long for a full fledged live record but it's too little too late. There ain't enough "Brown Sugar" to flavor this bland outing.
Tommy Hill "Rollin' With Tommy" (High Hill)
***
There's a lot of "types" of Blues music. Under the genre name "blues" you'll find a dizzying array of "styles" like "Country Blues", "West Coast Blues", "Soul Blues", "Blues/Rock", "Louisiana Blues", "Chicago Blues", "Contemporary Blues" and so on but when all is said and done "it ain't nothin' but the blues" people. I can't tell you the precise brand of blues Tommy Hill plays but I know it's genuine electric Natch'l blues (as Mississippi Fred McDowell would say). "Rollin' With Tommy" is ten slices of honest-to-goodness blues played by actual human beings. Hill was born in the Deep South in the small town of Magnolia Arkansas and has appeared on CDs for Cookie McGee, Randy McAllister, Gregg Smith, R.L. Griffin, Bob Kirkpatrick, and Eugene Church. So even though "Rollin'" is only the second record under his name he's been around for years paying his dues. At one point he and pal Andrew "Jr. Boy" Jones were on the road with Charlie Musselwhite. Hill and Jones proceeded to form their own band and signed with JSP Records, where Tommy played on Andrew's first two CDs. But this is Hill's CD and he's got an excellent band, the Hilltones, and a strong batch of songs. After a modest blues shuffle ("Moe's Union Hall"), Hill flexes his songwriting skills on the humorous 'Wig Blues", telling his wrong doin' woman "Give me back my wig I bought you baby/Let your nappy head go bald/I tell you if you gonna keep on messin' 'round here woman you gonna lose that wig, your head and all!". Some swell guitar soloing here and elsewhere from Bruce Benson. The pounding "Midnight Fire" is next with Hill, Benson, organist Ron Mason and Saxman Lee Charles Mitchell creating a grease fire raving up to one blazing hot finish! Must be great live. I presume this album was recording "live in the studio" as Hill's hearty vocals are deep in the mix and occasionally obfuscated by reverb but it actually adds rather than detracts. It gives it character (maybe it was planned?). Overall these 10 songs are all sympathetic blues templates augmented by terrific musicianship. Check the blarin' sax (Mitchell) and trumpet attack (Ira Bassett) on "What You Gonna Do", Hill's brilliant phrasing on "Linda Lou" and the aforementioned axework by Benson on "Tee's Blues". Blues lovers gotta check this disc out.

Lebrado "Try Me" (Ifgam/Majama Ent.)
*** Lebrado's debut single "I'm Missin' You Babe" is an infectious dose of slick, funky pop/soul that created demand for a full length from this elastic-voiced tenor and finally we have one. The song was written and produced by Mr. Stand Up In It Theodis Ealey along with Bruce Billups and Gregory P. Jones. Fans of mainstream R & B, Kenny Lattimore and perhaps Sir Charles Jones should be the first to dig the remaining 11 tracks (including a remix of "Missin' You Babe"). While none of the cuts match the single, others with potential include "Coffee" which "milks" a coffee/black woman metaphor for all it's worth. Hey, songs praising the virtues of black women are always welcome. "She said: 'Lebrado, can I cook you tea?' I said, 'Tea is cool but it ain't for me.' She said, 'Lebrado how you like your coffee?' And I said, 'Hot, black and always lovin' on me!'". What would a Southern Soul disc be without a steppin' groove? The smooth "Dancin'" fills that role. "Try Me", "Meditation" and "Can't Sleep" are the melodic late night ballads while "Blacksand" is a pretty good dancer. This album serves it's purpose in showcasing Lebrado's vocals but it's about 1 or 2 good songs shy of the breakthrough he needs and the unimaginative production lacks variety. Still, you can be sure you'll be hearing more from this talented singer.

Trudy Lynn with The Calvin Owens Blues Orchestra "I'm Still Here" (Sawdust Alley)
**** Hallelujah!, I exclaimed when I received a new disc from the marvelous Trudy Lynn, "Houston's 1st Lady Of Soul". I had to pause in consternation though when I saw "with The Calvin Owens Blues Orchestra". Don't get me wrong- Owens is cool so let me explain. Rue Davis wrote a handful of songs for Trudy and I had the privilege of hearing Rue's demos so I was "jazzed", no pun intended, to hear Trudy tear into this fine batch of songs. Cuz' people, Trudy don't play! There was no "blues orchestra" on them demos so I was a bit worried what would be the result of this seemingly superfluous hybrid. Them demos were just fine, after all, and they only needed live drums and a little bottom. I thought they didn't need to be jazzed up with a 24-piece orchestra. Well, it turned out the new backdrop took this project to another level! The arrangements are tasteful, not overblown like I feared, and this is one fantastic band and bandleader. As always, Lynn is a dynamic singer and she hasn't lost a hint of her vocal prowess.
The first cut ("Swing Boogie") sounds like what you'd expect- swingin' big band blues. Before going further I want to draw attention to the title song. We're talking award winning material here. "Looking back over my life/There's been so many memories/I've been singing these blues for awhile/Oh I guess it was meant to be/I've head my doubts/But don't count me out/In my life there's been some bouts/The struggle only made me stronger/I thank God I'm able to carry on." sings Trudy with all the sincerity humanly possible. In a perfect world this epic ballad would be up for a Grammy a year from now. Now this is a blues album and Rue also serves up some decent 12-bar bluesers ("Blues Party", "Left Me Singing The Blues") and Southern Soul ("You're The Only One", "Welcome Home Baby"). Trudy herself penned "Blues Singing Woman" and the B.B. King-like "Everybody's Got A Blues Song To Sing". Man, this woman can sang and the production is flawless on this 14-track release.
For some reason there's five cuts Trudy doesn't even appear on! Now the cookin' instrumental "Boogie Woogie Gumbo" with Clarence Holliman and and Jabo The Crown Prince Of Zydeco are fitting additions as an interlude but Calvin Owens' "Saturday Night" and Nelson Mills' "Starry Eyes" & "Hands Off My Woman" would fit better on the new Calvin Owens disc than here. "Hands Off" is sung (rather well, I might add) by Nelson Mills and although it's a good track Trudy needs no help with the vocals on her records! But it's good stuff so call it a bonus. I predict this will go down as one of the best blues albums of 2006.
Janiva Magness "Do I Move You" (Northern Blues)
**** The title of this record, "Do I Move You", is most certainly a rhetorical question 'cuz methinks she's got the answer already. With a powerful voice every bit as good as the more celebrated Susan Tedeschi, Magness gives it her all on a selection of R & B, Soul & Blues as does a crack band including husband Jeff Turmes (bass), Rick "L.A. Holmes" Holmstrom (guitar), Colin Lindon (guitar) & Stephen Taylor Hodges (drums). The Queen Of Soul, Aretha Franklin, gets some r-e-s-p-e-c-t on "I'm Just A Prisoner (Of Your Good Lovin')". Although this song is associated with another siren (Candi Staton), Magness' riveting performance and the tight arrangement has Aretha stamped all over it. If Hodges was any deeper in the pocket here he'd be tapping on your goodies. The band cooks again on the hard blues shuffle of Willie Dixon's "Workin' On My Baby" but it's not all blues n' bluster as evidenced by her soulful reading of Delbert McClinton's "You Were Never Mine". The churchy organ is perfect. Three strong Turmes originals appear via "I Can't Stop Crying", funky "Bad Blood" and the acoustic "Don't Let Your Memories". But if you want your world rocked jump to the dynamite closer "A Man Sized Job". The groove cooked up here is almost hypnotic and don't be fooled by the cover- just because Janiva is one pretty gal she'll kick your ass. If I were Ms. Tedeschi I'd be a little worried right now. Guaranteed to be on many-a-critics Top 10 lists come year's end.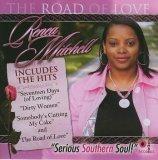 Renea Mitchell "The Road Of Love" (Jomar)
***
1/2 Jomar Records believes in this new artist and they've been willing to bank on her with classy promotion and phat production. The kind of push artists dreams of. But the question is: "Does it live up to the hype?". Well, in two words let's just say: "Sho 'nuff!". Likely you've already heard the runaway smash "Seventeen Days (Of Loving)", which has the audacity to best Carl Sims version (also produced by Marshall Jones)! It's racing up the Soul Blues/Southern Soul charts to #1 as I write. Mitchell has one of those sweet voices you could listen to all day- smooth, sexy and tensely soulful. Could she be the new Diana Ross? It don't hurt when you got Grade A material to sing. Check out the serpentine "Somebody's Cuttin' My Cake", a tale of a woman scorned and not with who you may think. She says "It's just like Adam and I'm your Eve/ But I didn't know you were lovin' Steve!". See, Peggy Scott-Adams, Renea feels your pain. Wonder if "Bill" and Steve will ever meet. Other likely hits are the head bobbin', toe-tappin' Southern Soul gems "Lay Your Head On Me", "Two Can Play The Game" & "Dirty Women" or maybe the 70s-styled dancer "Party Lights". Mitchell declares "Take down my pumps/Turn on the shower/Been workin' all week/It's time to spend some dollars". That says it all- that's what "Party Blues" is all about. Oh and let's not forget the title cut (appearing in two versions). Here, Mitchell, delivers a pitch perfect vocal on this melodic slow jam imbued with the spirit of Motown. "The Road Of Love" is not two singles and out like much of the competition- this disc holds up all the way through. Some big wigs of the "Southern Soul" world are on board (and behind the boards). Marhsall Jones, the man behind Carl Sims' "I'm Trapped" & David Brinston's "Hit And Run" is turnin' the knobs with assistance from Scott Thornton and Morris J. Williams, a key architect in the Ecko Records sound. Speaking of Ecko, Mr. John Ward himself is in the house to play guitar and Robert Smith Jr. handled vocal arrangements. Programmed Southern Soul at it's finest and hands down one of the finest releases of 2006.
Miz B "My Name Is $$$$" (HM Records)
**
1/2 One of those top-heavy records that's starts with the good tracks and starts slippin' n' slidin'. "Back It Up" is a catchy toe-tapper with a beach rhythm and ingratiating chorus. Good ole' synthetic Southern Soul music. (The song appears again as track 4 labeled as a "remix" but it's a seemingly identical instrumental. And an odd place for it.). Next, "Guilty As Charged", is a decent slowie. But the hit single is track 3 ("My Name Is $$$$"). Miz B ain't no ditsy teenager- she knows romance without finance sure is a nuisance. Sample lyric: "Say you wanna know my name...my name is 'car note'...my name is 'rent is due'...my name is 'diamonds'". Miz B's attitude and vocal phrasing rise above the nimble production, which characterizes this "Southern Soul" effort. Outdated synth horns and puerile incantations serving as backing vocals are hard to forgive when labels like Ecko, Jomar, Malaco and the like have a "big sound" on their releases. The "Miz B" persona though keeps it interesting. The remainder of the cuts are fair to middling replete with the typical relationship themes and colloquial witticisms but the selling points here are "Back It Up" and the title cut.

Lee Morris "I Got Played On" (Lee & Company)
** Likable independently-released Southern Soul from Morris, who made a little noise with "Rumpshaker" & "Whip It On U" a few years back. I believe this is his third album and you can call "I Got Played On" Ecko Records-lite soul as it features co-producer Morris J. Williams, a key player in that company's signature sound. One thing's for certain- this is the best singing Lee Morris has waxed to date. He reminds me of Johnnie Taylor on the title song and the very best cut "Party All Night", which also boasts a fine sax lead line (Ron Echols) on a mostly-programmed effort. Much like Ecko this disc mixes live instruments with synthesizers and tracking. "Party All Night", 'I Got Played On" and "Party Weekend" could work as radio singles for sure. Despite the fine singing this 10-track disc suffers overall from some second-rate material ("I Don't Know You Anymore", "Tender Trap") and an occasionally poor mix ("Junkyard"). Still, there's enough good tracks to make it worth checking out.
Johnny Neel "Gun Metal Blue" (Breakin' Records)
*** I knew Mr. Neel was dynamite on the keys, having played with the Allman Brothers, Carl Perkins and more recently Burton Gaar, but I didn't know he was a capable singer as well. "Gun Metal Blue" is actually Neel's third full length and it's an impressive collection of Southern Rock, R & B & Blues. The lead-off hitter "Cross My Mind" is a terrific hybrid of Bruce Hornsby and John Hiatt. A seamless, foot stomping number with icy organ rolls and a great sax solo courtesy of Marty Ojeda. Speaking of Hornsby, the anthemic ballad "Sure As The Day is Long" is the best song that the piano/songwriting kingpin never wrote and a hit single waiting to happen. Neel is an acclaimed songwriter himself, having scooped up a ASCAP Country Award for his "Take The Long Way Home" (Recorded by John Schnieder) and hitting the charts (#1 Billboard Rock) with "Good Clean Fun" by the Allman Brothers a decade back. It's not all Southern Rock here as the pounding Blues cuts "Not This Time", "I Found It" & "You Wouldn't know it know" raise a fuss. Plus, "Love Ain't A Bad Place" has some of that Dr. John N'Awlins flavor. There's a lil' funky R & B with the tongue-in-cheek "My Little Feel Good". Sample lyric: "I like the motion of her ocean/She likes the size of my sea". Um, not exactly elegiac lyrics but the Blues isn't known for poetry in couplets and quatrains. On a more serious note the countrified title cut, a homage to the 2nd Amendment that would make Charlton Heston smile, features some Honky Tonk guitar. Slammin' band-play again as this record is a musician's treat. Interestingly it almost didn't come to be as the liners say: "This is a collection of songs...that wasn't suppose to be recorded". Well, glad you changed your mind.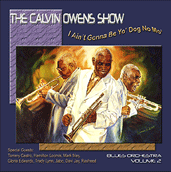 The Calvin Owens Show "Ain't Gonna Be Yo' Dog No Mo" (Sawdust Alley)
**** The working title of this blazing new disc was "Keepin' Big Band Blues Alive Vol. 2" and I believe this chapter succeeds more so than the first. Perhaps with a nod to his successful "True Blue" project the trumpet wizard is accompanied by some heavyweight guests. The incomparable Trudy Lynn is on board, as are Tommy Castro, Guitar Shorty, Hamilton Loomis, Jabo The Crown Prince Of Zydeco, David Maxwell, in addition to Owens' acclaimed 24-piece orchestra. "Aint Gonna Be Yo' Dog" comes a-blarin' on the opener "Mr. Handy" (love that Clarinet!), a tribute to the legendary blues figure. This is appropriate too as this disc is right up the (Sawdust) alley for the folks behind the former W.C. Handy Awards (now simply "Blues Music Awards"). All live players, hotshot guests and plenty of blues tradition. Castro lends his dry vocal chops and guitar lickery to the stompin' "Never Saw It Coming" and jump blues "Time To Rock". The latter exemplifies the airtight rhythm section of the "blues orchestra". Loomis helps out on the Bo Diddley-meets-Count Basie flavored "Best Worst Day" and Jabo steals the show on "Hold What You Got" and "You Didn't Hurt Me". I never realized what a strong singer he is, kinda like Roy Gaines. The Rue Davis-penned "Hurt Me" is a knockout! Another winner "Handcuffed To The Blues", which opens with a surprising rap from guest Rasheed that works fairly well (think US3 "Flip Fantasia"). Gloria Edwards, a regular player on Owens albums, lends her capable pipes here and again on the breezy "Nobody Ever Loved Me". Not to be forgotten is the cantankerous old man himself and he shines on the moody, late night numbers "Magic Stick" & "Mr. Maxwell". As a singer he's an acquired taste but his wry delivery is perfect for the title track and he completely transforms B.B. King's "Sweet (Little) Angel" into finger-snappin' jazz/blues. Best record of Owen's career. Period.

Sheba Potts-Wright "Big Hand Man" (Ecko)
*** Ecko Records already has the Queen Of Soul/Blues Denise LaSalle & the darling Lorraine Turner but let's not forget their other diva, Sheba Potts-Wright. Ms. Thang is back following two hit singles in 2005. The hot "I Can Hear Your Macaroni" & "I Need A Cowboy To Ride My Pony" were both sizable hits. Although there's no song of that caliber "Big Hand Man" serves up more sass and sexy swagger like the bottom-heavy title cut; featuring the customary sexual innuendo and urban legends. You know what they say about men with "big hands". But despite the trite lyrics the pumping groove gets those hips a-wigglin'. Other keepers include the slowies "Don't Wanna Say Yes But I Can't Say No" and the first single, "Don't Get Yours Before I Get Mine". Then there's the midtempo Southern Soul of "Knock On Wood", buoyed by shufflin' percussion and a catchy refrain reminiscent of Lee Shot's "I'm A Nibble Man". Echoes of Barbara Carr crop up on the cheeky blues "Private Fishing Hole". Another nice touch is the heavy Motown influence that graces "Love Did It" but the downright thievery committed on "I Just Can't Walk Away" is risky (they swipe the melody of David Ruffin's "Walk Away With Love") but don't tell the Van McCoy estate!
Root Doctor "Been A Long Time Coming" (Big O)
*** The Blues is alive and well and Root Doctor has been carrying the torch in Lansing, Michigan. In fact they've been named "Best Blues Band" four years in a row there. "Been A Long Time" is an impressive showcase for Freddie Cunningham's rich baritone and a crack band that effortlessly swings from 12-bar blues shuffles ("Me And My Baby") to horn-fueled soul ("The Turning Point") to Staxy R & B ("Respect Yourself") to acoustic Delta Blues ("Mississippi Blues"). There's even a Van Morrison-inspired number sung by keyboardist Jim Alfredson. Speaking of Alfredson, he also impresses on the Hammond B-3 during "My Foolish Pride", one of 5 originals here. Though the band nails the 7 cover tunes (including "Last Two Dollars", "Rainy Night In Georgia" and "Love Bones" featuring the Sofa King Horns), the new songs stand out best. On the soulful ballad "Hold On", Cunningham delivers a vocal in the league of one Lou Pride and guitarist Greg Nagy shreds on the funky "Michigan Roads". Hope these guys tour out West real soon.
Roy Roberts "Sicily Moon" (Rock House)
**** If Roy Roberts continues putting out music this good we're gonna have to crown him "King Of Soul/Blues". Horn-fueled, Hammond B-3, melodic Memphis soul heaven played by musicians not machines. I'm not sure who's the bigger star of this show- Roy with his simmering soul singing (especially on "I'm Gonna Love You") and songwriting or the "MoFo Horns" (Rusty Smith & Scott Adair). But wait, check out that bassline on "Turn That Thing Around" by Andrew "Feet" Taylor. Maybe it's the rhythm section who deserves the most props? Right now I'm like a kid in a whiskey store, um, candy store. Song after song "Sicily Moon" shines. Speaking of this lunar love, Mr. Roberts has legions of Italian fans and this gem is an homage to them. What's amazing to me is how Roy is still able to come with such strong new songs after releasing some 7 LPs and producing/composing a host of others for artists the likes of Eddie Floyd, Chick Willis, Lou Pride & Floyd Miles. For those in the know- remember how good Roy's song "Burnin' Love" is? Well, this is like having 9 more cuts of the same cloth! All hyperbole aside I'm unable to pick the best cuts here. They're all superb and this is the best Roy has ever sounded on the microphone! For the first time there's no straight blues cuts but instead there's a couple surprises. First, Roy transforms into Barry White on the sultry "Baby", dropping down an octave at times and then seducing you with breathy boudoir balladry. Roy must be in love. Once again the MoFo Horns carry this track into the stratosphere. Look out "Memphis Horns" these folks may be stealing some of yo' gigs. Make sure you listen to this record with headphones to hear all the nuances. Now track 10 is a definite wildcard, almost surreal. This is a cheeky (pun intended) little rap record called "Show Me What You Got"! Yes, Roy Roberts, the Soul/Blues master is rappin' over a James Brown-blessed groove with Brooklyn rapper Dana Dane! Yeah, "Double R & Double D" doing it street style, boyeeeee! What a hoot to hear a Roy song quote Whodini ("The Freaks Come Out At Night"). Now I'm no Hip Hop fan but this is cute, light-hearted fun but I don't want to give it too much credit less I encourage Roy to become a full-fledged rap artist! The liner notes explain that "Roy came up with the idea when he was playing a club and the young audience wasn't grooving to his sound. He got them up dancing". Hey, it works like dessert to one hearty Soul Food meal.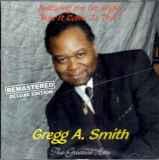 Gregg A. Smith "Greatest Hits: Collector's Edition" (G-Man)
**** It's easy to believe Smith is also a radio DJ when you hear that deep smoky voice chat us up on the new hit "Has It Come To This". Like Frank-O Johnson he also has a strong singing voice able to deliver on many forms of blues n' soul. "Has It Come To This" is the brand new single on this satisfyin' 15 song collection. Smith reminds us how we got our woman. "...you got her by taking flowers to her at her job...by taking her out to dinner and dancing, swingin'...you used to give her money to go to the beauty salon" but you don't do it anymore. Hey, the women get reminders too on what they used to do so it's equal opportunity. This is one of the better "same thing you did to get her/do the same thing to keep her" songs I've heard. Songs like this balance out the many "cheating" songs in the Southern Soul/Blues world. Next Smith puts on a vocal tour de force with "Tonight", a fantastic bluesy ballad that is part Ray Charles and part Johnny Adams. A gem! Nearly as good is "Stick And Stay" and his surprising deep soul rendition of Bob Dylan's "Knocking On Heaven's Door". I'm sure Bob would be proud. Smith also excels on soul/blues winners like "Stacked In The Back", "Louisiana Bound" and the B.B. King-influenced "Stuck On You" and takes you to the dance floor on "Dance With The One", featuring a squawking sax solo by Don Diego plus the Lucky Peterson-produced "Fell In Love". And like a sweet after dinner port Smith closes the disc with a tender ode to mama ("Mother"). A must have CD.

**** Candi Staton "Candi Staton" (Astralwerks) ***** Willie Hightower "Willie Hightower" (Astralwerks/Honest Jon's)
Two fantastic compilations from two fantastic singers."Candi Staton" is a 26-track release encompasses Staton at her artistic peak 1969-1973 during her Deep Soul era- where she was named "First Lady Of Southern Soul" before disco reared it's ugly head and scooped Candi up with it. All of her R & B charters on Fame Records are here from her Muscle Shoals R & B groover "I'm Just A Prisoner Of Love" to her soul version of "Stand By Your Man" to the stunning "Another Man's Woman, Another Woman's Man". Of course some of the song choices feel like karaoke when you're familiar with the originals. Something's missing on her "In The Ghetto" but she scores on Otis Redding's "That's How Strong MY Love Is". Canzetta Maria Staton was born in 1943 in Alabama and though she's probably better known for Disco smashes like "Young Hearts Run Free", "Victim" & "When You Wake Up Tomorrow", these Southern Soul tracks is where she fared best."Willie Hightower". When you listen to Hightower's blisteringly soulful voice you may ask yourself why wasn't he big like Sam Cooke? "Walk A Mile In My Shoes" is simply one of the best non-hits in the history of soul music. That deep in the throat raspy croon that made Cooke a star is hear in the same glory; albeit with out the same success. That Cooke was an influence can be gleaned from the two understated covers "Somebody Have Mercy" & "I Love You For Sentimental Reasons" and his regional hit "If I Had A Hammer". Another lost soul gem is Hightower's version of O.B. McClinton's "Back Road Into Town"; featuring a souring vocal and expert arrangement. This is 18-sticks of dynamite and no true Deep Soul fan should be without them.
Bob Steele "Life With Women" (Sound Mindz)
**1/2 Tony Gideon's Sound Mindz label gave us Roscoe Robinson's smash "So Called Friends" a couple years back and a solid disc by Southern Soul singer Bill Avery in 2005. Bob Steele's "Life With Women", released in late 2004, is finally starting to get some attention with two strong singles right off the bat: The Sam Cooke-swing of "Girls Got It Goin' On" & the funky soul/blues "Yo' Dress Is Too Short" both are picking up steam on "chittlin' circuit" playlists. Always smart to start off on your best foot. Track three ("If Loving You Is Wrong...") is a beguiling choice as Steele really doesn't have the voice to compete with the many great versions of this classic. Why tackle a song associated with singers like Luther Ingram & Bobby "Blue" Bland? Or even Chuck Strong? The man does have a cool voice though and delivers his 11 originals like Johnny Rawls' brother. "It Must Be Jelly" is a cute down home blueser and "Still On My Feet" is serviceable Urban Contemporary Jazz Pop. One detriment is the occasional rinky dink production on this 12-track disc with shallow percussion and a hollow bottom. But in another light you could say it's retro-sounding- circa 1983. In fact "Dress Is Too Short" is a relative of "Billie Jean". "You Keep Turning Me On" is a smooth pop number in the Sade mode. It's not perfect but the good 'uns make it worth yo' while.

Earl Thomas "Intersection" (Memphis International)
*** I have to admit that up to this point I was ambivalent about Earl Thomas. Though I've enjoyed seeing him live a couple times in San Diego, California I never felt compelled to pick up one of his CDs. He seemed too mainstream-leaning or maybe I was just too skeptical about a local singer. How can a soul man come from California? Well, a lesson I have learned. I gave his latest CD, "Intersection", a chance and I'm sho 'nuff glad I did. This is a clean, sharp contemporary Rock N' Soul LP. Not all that different from what "Mr. Rock N' Soul" himself Solomon Burke had being doing prior to his "comeback". Produced by Memphis International's David Less and backed by a group of Memphis musicians, Thomas displays his pretty voice with a touch of grit- the kind of tone that should soon get him signed with a major label. "Intersection" has serious crossover potential and I doubt that's an accident. He funks up the white boy rock classics "Bang A Gong (Get It On)" and "Brown Sugar" and mid-tempo compositions like "Sweet Like Sugar", "Workin' Together", "Life Of My Broken Heart" & "The Higher Ground" would sound right at home on Triple A & even Hot Adult Contemporary radio alongside Ben Harper orJack Johnson. Why this remake of Ike Turner's "Workin' Together" hasn't become a hit single is beguiling. Perhaps if Thomas hadn't been labeled a "blues singer" at the start of his career he wouldn't have been minstrelized like many other black blues singers. Really the only cut here that is somewhat bluesy (in a jazzy sorta way) would be "The Bright Side Of You", which happens to be my favorite track and this along with the Memphis Soul ballad "The Lucky One" brings out the soul in Thomas' voice the best. But there's nothing wrong with being a pop singer as long as you're doing the music you dig.
---
RETURN TO 2006 Album Reviews HERE
(C) 2018. All written material found on this website is the property of Blues Critic and may only be used with permission and full accreditation (either "Blues Critic" or "Dylann DeAnna of Blues Critic") and link to this website.