Earl Gaines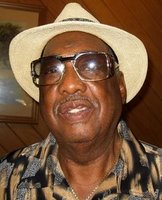 Buy CDs
In 1955 Gaines joined up with Louis Brooks & His Hi-Toppers as lead singer and scored a #2 R & B smash "It's Love Baby (24 Hours a Day)," which has become his signature song since. The outfit didn't score a followup hit and Gaines went solo for the same label, Excello, in addition to Champion and Poncello resulting a slew of unsuccessful singles. During this time he sang lead for Bill Doggett's band.
In 1966 he finally snagged a hit under his own name with "Best Of Luck To You" (#28 R 7 B) for the HBR label. He subsequently recorded record for Hollywood, Athens Deluxe/King and Seventy-Seven, including "Hymn Number 5".
Gaines recorded a single for Ace in 1975 ("Drowning On Dry Land") but then embarked on a fourteen year hiatus from the studio and working as a truck driver.
He resurged in 1989 with a new album "House Party" on Meltone Records, and this began his eventual comeback thanks in large part to producer Fred James. James, a Nashville-based producer whose affection for the classic Excello sound also resulted in the resurrection of onetime label staples including Clifford Curry and Roscoe Shelton; for Appaloosa, Gaines issued his 1995 comeback effort, "I Believe in Your Love", and in 1997 he also joined Curry and Shelton for a joint live recording. Since then he's appeared on a host of labels, culminating in his 2008 CD for Memphis-based Ecko Records.
Album Discography
"The Best Of Luck To You" (HBR 1966)
The Best Of Luck To You / It's Worth Anything / Trust In Me / Too Many Times / The Door Is Still Open / Poor Man Gotta Make It / Don't Take My Kindness For Weakness / You Belong To Me / I Have Loved And I Have Lived / 24 Hours A Day / Mercy On My Soul
"Lovin' Blues" (Deluxe 1970)
My Woman / The Things I Used To Do / Three Wishes For A Fool / Fruit From Another Man's Tree / From Warm To Cool To Cold / 24 Hours A Day / My Pillow Stays Wet / The Door Is Still Open / The Meaning Of A Sad Song / Don't Deceive Me / Everyday I Have The Blues

"That's How Strong My Love Is" (Vivid Sound 1979)
1. Turn On Your Love Light
2. Been So Long
3. Soul Children
4. Taking All The Love I Can
5. Since I Lost You
6. Nine Pound Steel
7. That's How Strong My Love Is
8. Hello My Lover
9. Certain Girl
10. Trust In Me
11. It Takes You
12. Lovin' Her Was Easier
(Than Anything I'll Ever Do Again)

"Yearning And Burning" (Charly 1986)
A Certain Girl / I'll Take Care Of You / If You Want What I Got / Been So Long / Taking All Love I Can / Trust In Me / Keep Your Mind On Me / Turn On Your Love Light / Hymn No.5 / Nine Pound Steel / It Takes You / I Can't Face It / That's How Strong My Love Is / Since I Lost You / Yearning And Burning / You're The One

"House Party" (Meltone 1989)
1. 24 Hours A Day
2. Hey, Hey, Hey, Hey
3. Tell Me Tonight
4. House Party
5. Trust In Me
6. You Don't Know, But I Do
7. Just A "Ennie Wennie" Bit
8. Somebody, Somewhere
9. In A World Like This
10. Every Night Of The Week
11. Olene

"I Believe In Your Love" (Appaloosa 1996)
1. It's Love Baby (24 Hours a Day)
2. Hey Hey I Love You
3. You're Gonna Burn
4. Closer to You
5. Door Is Still Open, The
6. Part Time Love
7. Reap What You Sow
8. Breakdown
9. Drivin' Wheel
10. I Believe in Your Love
11. Take My Love
Roscoe Shelton, Earl Gaines, Clifton Curry "Tennessee R & B Live" (Appaloosa 1997)
1. Is It Too Late Babe
2. Three Times Seven
3. The Provider
4. Somebody Somewhere
5. Think It Over
6. You Can Make It If You Try
7. Baby Kiss Me Again
8. The Next Time (Excuse Me)
9. She Shops Till She Drops
10. The Door Is Still Open
11. Stagger Lee

"Everything's Gonna Be Alright" (Blacktop 1999)
1. Every Night in the Week
2. Everything's Gonna Be Alright
3. Two Lovers Are Better Than One
4. Sittin' Here Drinkin'
5. Best of Luck Baby
6. Same Thing, The
7. Your Butt's Too Big
8. Brandi and Champagne
9. I'll Carry a Torch
10. You Put a Spell on Me
11. Is It Good to You Baby

"24 Hours A Day" (Black Magic 1999)
1. Best of Luck
2. Now Do You Hear
3. Sittin' Here Drinkin'
4. Love You So
5. If I Could Only Hold Back My Tears
6. Three Times Seven
7. Let Me Down Easy
8. Show Me Something
9. You Are My Sunshine
10. Best of Luck to You, The
11. It's Worth Anything
12. Trust in Me
13. Too Many Times
14. Door Is Still Open, The
15. Poor Man Gotta Make It
16. Don't Take My Kindness for a Weakness
17. You Belong to Me
18. I Have Loved and I Have Lived
19. 24 Hours a Day
20. Mercy on My Soul

"Lovin' Blues: THE STARDAY-KING YEARS 1967-1973" (Westside 1999)
My Woman / The Things I Used To Do / Three Wishes For A Fool / Fruit From Another Man's Tree / From Warm To Cool To Cold / It's Love Baby (24 Hours A Day) / My Pillow Stays Wet / The Door Is Still Open / The Meaning Of A Sad Song (Medley) / Don't Deceive Me (Please Don't Go) / Every Day I Have The Blues / Have Faith (In Me) / Tell Me Tonight / You Belong To Me / Good Good Lovin' / Let's Go, Let's Go, Let's Go / What In The World Can I Call My Own / Don't Deceive Me (Please Don't Go) (overdubbed version) / I'm the One You Need / House Full Of Rooms / Sixty Minute Man / Little Boy Blue / Finger Lickin'

Roscoe Shelton & Earl Gaines "Let's Work Together" (Cannonball 2000)
1. Let's Work Together
2. Why Do You Worry Me
3. Mercy on My Soul
4. Someday Things Are Gonna Change
5. We've Been Wrong
6. Hello My Lover
7. Rock Me One More Time
8. Blue and Miserably Unhappy
9. I Don't Need You Now
10. Give Me Love
11. Something's Wrong
12. Best of Luck to You
13. Be Good or Be Gone

"The Different Feelings Of Blues & Soul" (Blue Fye 2005)
1. What Is Love
2. Let's Sit Down and Talk Things Over
3. I've Kissed My Last Ass
4. You Don't Love Me
5. Let's Party - Earl Gaines, Varnell, Aaron
6. So Satisfied
7. You're My Baby
8. Mistreated Woman
9. Let Me Live My Life My Way
10. Goodbye My Love
11. I Got to Sit Down and Get a Hold of Myself
12. Slipping Around Must Be Catching

"The Lost Soul Tapes" (Aim 2006)
1. Turn On Your Love Light
2. Been So Long
3. Soul Children
4. Taking All the Love I Can
5. Since I lost you
6. I Can't Face It
7. Hello My Lover
8. A Certain Girl
9. It Take's You
10. I'll Take Care of You
11. You're The One
12. Hymn Number 5
13. Yearning and Hoping
14. Keep Your Mind On Me
15. Loving Her Was Easier (Than Anything I'll Ever Do Again)
16. That's How Strong My Love Is
17. If You Want What I Got
18. Nine Pound Steel
19. Trust In Me
20. You're the One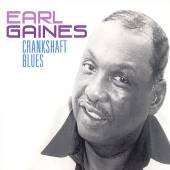 "Crankshaft Blues" (SPV 2007) LISTEN
1. Don't Take My Kindness For a Weakness
2. Where Have You Been So Long
3. Crankshaft Blues
4. Someday Things Are Gonna Change
5. Baby Baby What's Wrong
6. You Don't Know But I Do
7. I Believe in Your Love
8. Farther up the Road
9. Good News Real Bad
10. Doctor Lady
11. Hey Hey I Love You
12. It's Love Baby (24 Hours a Day)
"Nothin' But The Blues" (Ecko 2008) LISTEN
1. 24 Hours a Day
2. Let's Call a Truce
3. Meat and Potatoes Man
4. Let the Past Be the Past
5. If I Could Do It All Over
6. You Better Know Your Hole from Mine
7. Everything Sweet Reminds Me of You
8. Good Old Country Boy
9. Nothing But Party Blues
10. Cheat on Schedule
"Good To Me" (Ecko 2010) LISTEN
1. I'd Like To Try It One More Time
2. I Don't Wanna Be Here
3. It Ain't Easy To Tell the One You Love Goodbye
4. I Just Don't Know Anymore
5. You've Been Good To Me
6. Good Old Country Boy
7. I'm Throwing In the Towel
8. Let the Past Be the Past
9. If I Could Do It All Over
10. Let's Call a Truce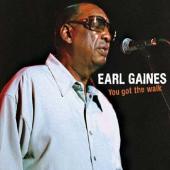 "You Got The Walk" (Phantom 2010)
1. You Got The Walk
2. A Fool's Advice
3. The Preacher's Daughter
4. Living On Borrowed Time
5. Love And Tenderness
6. Shoulda Been Me
7. Stacked In The Back
8. Mercy On My Soul
9. Part Time Love
10. You're Gonna Burn
11. Somebody Somewhere
12. Breakdown