**ARCHIVED 2007 WRITINGS**

APRIL 2007 ALBUM REVIEWS

RETURN TO 2007 Album Reviews HERE

BLUES CRITIC'S

Southern Soul Blog

A page for writings. Commentary, news and reviews.

Southern Soul, Rhythm & Blues News And Reviews

The Blues Critic is back! Well, sort of. Many of you may remember that this website began as an album reviews website of new and classic Southern Soul/R&B/Blues albums. We have decided to get back into the opinions game. It's just that...opinion. We actually question the usefulness of reviews so we are just doing it for entertainment purposes. People like to read reviews. Simple as that. We aren't accepting submissions for review. Keep in mind there is no objective way to judge music. You either like it or don't.

In regards to reviews, we will use this grading system:

***** = Excellent. Best Of The Genre
**** = Very Good. Just Shy Of Great
*** = Good. A Solid Effort Though Not Extraordinary
** = Has It's Moments. Mediocre Over All
* = Poor. Not Recommended.

(C) 2018. All written material found on this website is the property of Blues Critic and may only be used with permission and full accreditation (either "Blues Critic" or "Dylann DeAnna of Blues Critic") and link to this website.
---
Listed In Alphabetical Order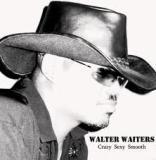 Walter Waiters "Crazy Sexy Smooth" (WW)
Terell House "Welcome To My House" (LaTrebor)
Carey & Lurrie Bell "Gettin' Up In It: Live At Buddy Guy's Legends, Rosa's & Lurrie's Home" CD & DVD (Delmark)
Walter Waiters is a true underground artist who writes, produces, performs and releases his own music to his fans, indie mom and pop shops and a few select online stores. Over the last several years he's steadily built his fanbase performing his one-man shows and reaching out via the 'Net. It's working as fans voted him "Best New Male Artist" at Blues Critic's 2006 Southern Soul Awards. Hip DJs got a lot of mileage last year from the album "Just Me", with songs like "Stays In The Club" and "Twerkin" consistently receiving an enthusiastic response from listeners. One can only guess what might've happened with some good promotion.
Nevertheless, it's on to an equally good followup in the aptly-titled "Crazy Sexy Smooth" (***). The title track is already burning up on various radio stations, featuring that laid-back percussive lean Waiters has perfected. Other contenders include the infectious dancer "Do What It Takes" sporting a saxophone-like keyboard lick and Hip Hop beat. Also the put your drink up and wiggle vibe on "I Bounce Back", which features a flute solo (!) rather than his usual tasty keyboard created "guitar" licks. In fact, Waiters doesn't play much Blues guitar on this outing with only the lowdown moody slowies "The Good Old Days" & "For Me Or Against Me" featuring some gentle picking. Instead he's showing off his creative keyboard skills, which helps make this his most radio-friendly and "Southern Soul" set to date.
Somewhere between Swing Out and Urban Contemporary describes the style of Terrell House. On his second album, "Welcome To My House" (***), he lays down more well-produced rhythmic Soul on joints like "Come And Get It" where he's joined by similar artist Cupid (best known for the novelty hit "Cupid Shuffle") and the stepper "You're The One". The majority of the disc, however, consists of silky slowies ("Rub You Down", "The Rain", "Yes I Can"), which I like to call "boudoir balladry". The best of the lot, "Can", features a terrific vocal arrangement with churchy backgrounds while House testifies about his love for the woman. Fans of Freddie Jackson and the like will dig this most.
Blues veteran Carey Bell must be quite proud and thrilled to be in tandem with his own son Lurrie Bell. I'm sure it's a dream of many fathers and sons to be on the road together, taking care of the family business. "Gettin' Up Live At Buddy Guy's Legends, Rosa's And Lurrie's Home" CD & DVD (****) collects, as the title suggests, material from three separate gigs in 2006.
Rosa's Lounge is a family owned and operated blues club on the Northwest side of Chicago. A portion of Martin Scorcese's PBS series The Blues was shot here. Four tracks recorded at the lounge on July 27 2006 appear on "Gettin' Up", including two Carey Bell originals ("Gettin' Up" & the harmonica instrumental "Bell's Back"). Amazingly, Carey Bell had just gotten out of the hospital after being bed-ridden for four weeks following a stroke! There's no evidence at the show for sure. The next day Carey & Lurrie recorded four tracks at Lurrie's house with papa on harp and son on acoustic guitar, whicelsewhere. Sandwiched between are four numbers extracted from a gig at Buddy Guy's Legend's some three months later. On this late October date the Bell's run through originals "One Day" & "Low Down Dirty Shame" and two Little Walter covers ("Leaving In The Morning", "Last Night"). All nailed tight.
If you took this disc, placed it in a sealed container and buried it, a thousand years from now some ultra advanced civilization would find it and get a perfect portrait of what was "Chicago Blues". Of course they'd probably already know! The DVD counterpart to this album includes two bonus tracks ("Hard To Leave You Alone" & "I'm A Fool").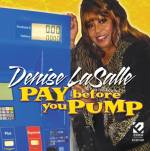 Roxanne Potvin "The Way It Feels" (Ruf)
Denise LaSalle "Pay Before You Pump" (Ecko)
I tried to resist but there's no way not to compare the style of Roxanne Potvin to the unbroken lineage of soulful, bluesy Caucasian female singers stemming from Bonnie Raitt. Even John Hiatt guests, showing what market Ruf Records knows it will succeed in. Like recent discs by Susan Tedeschi & Janiva Magness, "The Way It Feels" (***1/2) combines rootsy originals (all by Potvin) with Soul covers (Joe Tex.
The Colin Linden-produced set opens with the midtempo, radio-friendly "A Love That's Simple" featuring some Staxy horn fills, organ, harmony vocals by Hiatt and most of all a pitch perfect vocal by Potvin. Extract it now and release it as a single and you'll have a hit. The mandolin, dobro Folk piece "Hurting Child" is another standout, Potkin's voice again crystal clear and unthreatening. "Caught Up" has a touch of Dixieland, "Don't Pay Attention" and "Let It Feel" are torchy piano numbers with Potvin's best singing and "Say It" proves a sassy, singin' Blues. She's covered all the bases here. It's just so darn pretty and, yes, it would be easy to dismiss this disc as another homogenized white "Blues" record pleading for mainstream dollars but music snobbery is purely subjective (and pointless). Besides it's a great sounding record and succeeds by songs not sexines (although that voice is quite sexy).
It comes as no surprise the Denise LaSalle CD opens with a cheeky, double-entendre filled track ("Pay Before You Pump") being for the past decade she's had success with similar songs like "Lick It Before You Stick It", "Snap, Crackle & Pop", "Smokin' In Bed" to name a few. So "Pump", the title track to her new Ecko release "Pay Before You Pump" (***1/2), is yet another shuffle bump with a memorable refrain that'll garner instant adds at Southern Soul radio. The first single, however, is a re-working of Floyd Hamberlin's "Mississippi Boy" (re-titled "Mississippi Woman"), which has already been a regional hit for Will T and Charles Wilson. It'll no doubt hit again but better is the alternate "Delta Blues Mix" version of the song which adds honking harp and guitar that'll appeal to more mainstream Blues markets. It's the definitive version of the cut. The rhythmically similar "It's Goin' Down" was written by LaSalle. Here the "Queen" promises to put the smack down on a rival hen.
Overall, LaSalle wrote seven of the ten cuts, most notably the Memphis Soul ballad "Hold On Tight" and the up-from-the-bottom slow Blues "Walking On Beale Street On Crying". LaSalle is one of those rare Blues singers that seems to appeal equally to female and male fans. The ladies cheer when she talk smack, putting men in their place but the menfolk simply eat it up too because she's got the chops. Both will "pump" this one to the top of the charts.


Joan Armatrading "Into The Blues" (429)
Vernon Garrett "Blues In The Kitchen" (Video Uptown)
Lil' Fallay "Just For The Ladies" (Hot Like Fire)
TGZ "Living Dangerously" (King Mojo)
Folk/Rock/Alternative icon Joan Armatrading has released her first Blues album? Yes and no. Armatrading has occasionally added a touch of Blues to her feathery guitar licks during her 35 year career (most notably on her 1979 LP "Steppin' Out Live") but hasn't delved "Into The Blues" (***) until now. And realistically, she's merely dipping her toes in the genre instead of full immersion by adding bluesy guitar to her usual Adult Alternative Pop songs.
The leadoff "A Woman In Love" is classic Joan- a Jazz fusion background beneath a Reggae-fied Rock melody sung with that disparate Folk phrasing that recalls her brilliant 1975-1977 period, which produced masterpieces like "Cool Blues Stole My Heart", "Love And Affection", "Shoe Some Emotion" & "Down To Zero". Tracks 2 & 3, ("Play The Blues", title track, respectively) are equally effective. "Play The Blues" isn't really Blues but contains the memorable refrain "Baby, when you play the Blues I take all my clothes for you". "Into The Blues" is again sorta Blues- done the Armatrading way. So far so good but things get awkward on "Liza". Here she shows her Jimi Hendrix influence in phrasing but the rhythm is clumsy and forced. "My Baby's Gone", "There Ain't A Girl Alive" & "Deep Down" are almost grunge rockers that recall her early 80s foray into the mainstream before she went into a mushy Adult Contemporary lull. Unfortunately, they're simply forgettable songs.
The set closes with two (near) Blues numbers. "Mama Papa" is a finger snapper with Hendrix phrasing, honking harp and stinging guitar. "Something's Gotta Blow" could have been a convincing slow Blues were it not for the irritating delayed echo on her vocals and the interminable Prog Rock arrangement. Bottom line: As always, Joan is her own woman who won't be limited to any one genre but that also means fans of the particular genre she's dabbling in may find this music obtuse and impenetrable.
Vernon Garrett has one of those instantly recognizable urban blues voices- shoutin' on key, now weathered yet powerful with a trademark squall unlike any I've heard. In fact he squeezes his vocal chords to create a near squawk much unlike Bobby "Blue" Bland's nasal snort. Garrett had a brief moment of commercial good fortune when his signature song "Crossroads" reached #33 on Billboard's R & B Chart in the late 60s, but mostly he's survived as a critically-lauded journeyman Soul/Blues singer. His 1975 Grenade LP ("Going To My Baby's Place") is considered a classic 70s Funk set and usually rates a hefty price tag for collector's. His early 90's Ichiban material is highly underrated.
Lately there's been a small flurry of Garrett releases popping up. in 2004 Kent put out a compilation containing many of his best early recordings ("I Made My Own World"), Garrett then cut a new Gospel CD ("New Beginnings"), reissued his California Gold CD "Live & Well" (with new title "Welfare Blues") and has just now dropped a brand new set of soulful Blues called "Blues In The Kitchen" (**). Rather than some culinary crisis the title refers to Kitchen Studios in Dallas where it was recorded. All ten cuts are credited to Blues Boy Bo and are mostly generic and Garrett's performance sounds phoned in.
The set opens with it's best foot forward on the lean, mean "Barely Gettin' By", featuring distorted guitar by Timothy White. The lyrics are self explanatory. Same goes for the Downhome "Juke Joint Blues" and familiar "My Woman And My Wife Can't Get Along". My personal favorite is "Blacker The Berry", a bumpin' Blues praising the darker skinned beauties (which may remind Garrett fans of an earlier song, "Lil' Black Woman"). Real horns would've been preferred but White's guitar and the barroom piano do the trick. "Taxman" should appeal to some (as I write it's 3 days from USA's tax deadline) and "Gotta Tell You People" is potentially divisive. Over music similar to Latimore's "Let's Straighten It Out", Garrett opines on the evils of folks on the "down low" with Soulful vocals by Susie Hardaway. Still, overall, "Kitchen" is Vernon on auto pilot.
Don't worry, Lil' Fallay's "Just For The Ladies" (***) isn't just for the finer half of our species but rather a well produced "party Blues" disc for all y'all. The first single, "One 4 The Ladies", is already turning out to be Fallay's biggest hit to date. A danceable, shuffle bumper featuring perfectly-arranged vocals and a vibe not far removed from R. Kelly's greater moments. The similar "They're Trying To Stop My Party" should be hit number two. Further soundtracks for the feet (and booty) are "Up N' The Club", "Zydefunk Slide" & "Dream Lover" while smooth, slow Contemporary R & B jammies like "Chill", "Cruel" & "Summer Tyme Lady" are as good as any you will hear this year. There really isn't a single track that is useless (unusual for this genre). "Ladies" is already Fallay's fifth full length released on the independent tip so Fallay has built his own cult following the hard way- with shoes and self promotion. May only be a matter of time before his sound breaks mainstream. Perhaps "Zydefunk Slide" could following in the steps of Cupid's current phenomenon "Cupid Shuffle"? Whatever the case this disc could be the springboard to better days for the Louisiana native.
TGZ stands for "Toler Gary Zinner", three accomplished musicians with impressive résumés. The bluesified Jazz-fusion amalgam "Living Dangerously" (***) is their first collaboration together. The musicianship is predictably superb here but one wonders if the casual listener will find this meal overly-spiced with styles. "Sophisticated" listeners, however, will likely savor every nuance. Toler's soaring, retro-80s guitar lick opens the Urban Contemporary "Your Smile", which features that Michael McDonald multi-genre appeal. It's not easy nor really necessary to categorize all the original compositions but "Heart & Soul" is blue-eyed AC, Gary's instrumentals "RonKeeKay" & "One Last Set" could be described as "blusion" (Blues & Jazz fusion), to borrow from the King Mojo Records press release, while "Pour Me Another Tall One" & "Living Dangerously" are adventurous Blues pieces and "Summerwind" is lovely New Age Soul (?). Guests include former Dicky Betts & Matt "Guitar" Murphy sideman Matt Zeiner, Viktor Krauss (Lyle Lovett Band) and Floyd Miles.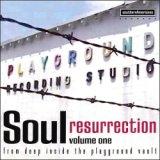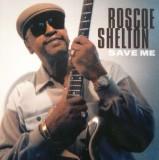 "Soul Resurrection Volume 1-From Deep Inside The Playground Vault" (Various) (Southern Americana)
Jimmy Hall "Build Your Own Fire" (Zoho Roots)
Roscoe Shelton "Save Me" (SPV/Bluesland)
Memphis Gold "The Prodigal Son" (Stackhouse)
There's no shortage of "lost soul sessions" or "deep in the vault"-type comps and for good reason- there's always been superb Soul & Blues music that got swept under the rug. The Playground Recording Studio was based in Florida and produced music for the tiny Minaret and larger SSS International labels from 1967-1970. "Soul Resurrection Volume 1-From Deep Inside The Playground Vault" (**1/2) has the usual number of hits-and-misses for such a project and will mostly appeal to Soul connoisseurs.
When I first heard the ebullient "Bad Habit Baby" I thought I was hearing a Johnny Adams song I'd yet to discover- Adams being one of my personal favorites- but the track was credited to a singer named "Reuban Howell". Could Mr. Howell have a voice as ethereal as Adams? Actually, no. Despite the credits this cut was in fact sung by Johnny Adams with Howell singing backups. Same thing goes for Adams' "How Can I Prove". Nevertheless, Howell turns out to have quite a fine voice of his own as evidenced by the Staxy "No Need To Worry" and the Englebert Humperdinck-like "Just Call Me Darling". The heavy warble of Doris Allen was quite a surprise. It's beguiling her big voice never got her on the charts. Her "I'll Keep On Loving You" and "Heavy In My Mind" are perhaps the two brightest spots on the record. She also duets with Big John Hamilton on "So Good To Be Together". Hamilton himself has a less stellar version of "I'll Keep Loving You". Elsewhere, mediocre tracks by folks named Jimmy Gresham, Len Wade and Count Willie are bested by the Otis Redding-inspired "Sang This Song" by Johnny Soul and two Blues instrumentals by Leroy Lloyd & The Dukes ("Leroy's Blues" & "Sundown").
Eddie Hinton was a great songwriter and one of the best unsung Soul singers of the 60s and 70s and posthumously he began finally getting the recognition he deserved and sorely sought. Though not titled as such, Jimmy Hall's "Build Your Own Fire" (***) should be considered a tribute to Hinton for Hall covers 11 (plus 2 alternate versions) of Hinton songs for this rootsy Soul Blues outing.
Hall was once the frontman of the Southern R & B/Rock group Wet Willie who placed 7 singles on Billboard's Hot 100 from 1974-1978. Hall himself hit #27 in 1980 with his "I'm Happy That Love Has Found You". While not quite as riveting as Hinton, Hall's gritty blue-eyed soul chops manage to make many of these selections his own. I admit my surprise that I could love another version of "Things Got To Get A Little Bit Salty" (simply titled "Salty" here) after Bobby Womack covered it let alone Hinton's own raw demo of the song. Hall's version relies on a lilting organ courtesy of Clayton Ivey and delicious harmony vocals by Kira Small. Delbert McClinton spices things up on "Still Want To Be Your Man". Even songs I think would be futile to cover, such as "Here I Am" (which featured a chilling Hinton vocal on the original), succeed thanks to fresh arrangements. Especially so on the midtempo, rolling take on the title cut. It's a different song here. Meanwhile, "Poor Old Me" actually improves upon Hinton's sloppy version (from "Hard Luck Guy"). Okay, the Hinton comparisons aside, this is a sturdy, sympathetically-produced set of Muscle Shoals music.
It's disappointing that Roscoe Shelton's terrific 1998 Black Magic CD "Shine It On" is out-of-print and frequently found in cut-out bins. Shelton remained one of few authentic 60s-styled SoulBluesmen of the 90s to the present decade. Shelton, who had a couple memorable R & B hits in the mid-60's ("Easy Going Fellow" R & B #32, "Strain On My Heart" R & B #25), made a comeback in 1995 when his "She's The One" LP dropped in Europe on the Appaloosa label. He continued to work and record up until his death in 2002. "Save Me" (***1/2) contains his last known recordings plus a few outtakes and rare sides from deleted compilations. The first three tracks ("Who Do You Think You Are", "It's My Fault" & "A Step In The Right Direction") were intended for a new album and if these are a proper gauge it would have been dynamite. "Direction" is an especially strong Blues pounder (reportedly aimed for Tina Turner to record as well). "Fault" was of course a Soulful re-cut of one of his classics and "Why Do You Think You Are" is one of his typical hard Blues shuffles of the 90s.
Interestingly two publishing demos, "Save Me" & "Why Didn't You Tell Me (For So Long)", turn out to be superior to the versions released on the "She's The One" set. Same goes for the alternate versions of "Please Think It Over" & "The Next Time"). This is an essential purchase for those who enjoyed his other latter day LPs. As a bonus Earl Gaines duets with Shelton on "Someday Things Are Gonna Change" (an alternate version of a track from their duet album "Let's Work Together") and Mary Ann-Brandon adds her capable pipes to the rockin' "He's Cool, She's Hot".
"Come Wit Me" by Memphis Gold has to be the most blatant example of musical plagiarism on record! It's basically B.B. King's "Never Make Your Move Too Soon" with different lyrics! The credits don't mention who gets the writing credit, however. Indeed an inauspicious intro to "The Prodigal Son" (**1/2), and like Chet Chandler's precious name (Memphis Gold), this collection's a blatant pilferage of Beale Street. Too often Gold comes off as a routine bar band but the set also offers an occasional spark of something shiney (I especially dig on the funky "Melt Down Baby", with an inspired bass keyboard riff of pure nastiness (think Steve Wonder in the 70s).
A tepid revision of O.V. Wright's (written by Deadric Malone) "Don't Let My Baby Ride" (as "Don't Let Her Ride") and a Willie Dixon rip ("Chicken It") annoy but the smoldering slow Blues "Big Leg Woman" is better as is the harmonica Blues "Prodigal Son" where Gold's thin voice finds it's niche. Next time Gold should employ some songwriters so his next disc doesn't sound like blanch imitation.
Swamp Dogg "Resurrection" (SDEG)
**** The iconoclast Swamp Dogg is simply hard to categorize. Though vocally you can hear echoes of Jackie Wilson and Van Morrison his musical style is one of the most distinctive in the R & B world- R & B, Funk, Blues, Rock & Roll, Soul, Folk and so on. Initially he was hired by Atlantic Records as a producer and sometimes songwriter to create more basic Soul music in the 60s before Jerry Williams (given name) transformed into the incomparable Swamp Dogg. He achieved sheer brilliance (and wild eccentricity) right from the bat with 1970's "Total Destruction To Your Mind" which featured the classic "Synthetic World" and his one-and-only nationally charting record "Mama's Baby Daddy's Maybe" (R & B #33). He followed this up with a series of equally creative LPs ("Rat On", "Gag A Maggot", "Cuffed Collared & Tagged") featuring politically and racially charged gems like "Sam Stone", "God Bless America For What?", "Redneck", etc... Despite a decline in popularity with the mainstream he remained a cult figure and champion of afro-centric concerns up to the present day.
"Resurrection" is his most provocative (and best) offering in decades (and not just for the crucifixion photo that dons the cover). The protesting "In Time Of War Who Wins" opens the record at a time in American history where anti-war sentiments are high. Despite the message the track is a winding, horn-heavy slice of energetic Soul- that Swamp Dogg sound. Even more so the catchy "No Deposit No Return", a great first single choice while "They Crowned An Idiot King" is a thinly veiled diatribe against the current rulership. Sample lyric: "Your mama told you about good and evil/The preacher told you about greed/But the biggest power you have to bear is stupidity/They crowned an idiot king/They kissed his ring". Perhaps more direct is the funky "America Is Bleeding" that looks with a jaundiced eye at the state of his country. Swamp says abortion/politics/homosexuality/race/religion/war distracts the people as the culture is dying. Still the centerpiece of the record is the twelve minute titled track, an unflinching treatise on the history of Black folk in America. "The notion of 'resurrection' is Biblical. We will rise from the death imposed on us by the evil events of history...we will restore our communities to the peaceful oasis of yesterday.". Deep messages are fine but if the music isn't just as inspired...fortunately it is. The only complaint is it's placement smack dab in the middle of the record.
Not all of "Resurrection" is dire and serious being half the record consists of lovely Soul songs reflecting Swamp's feelings for his new wife ("Today I Got Married", "Soul To Blessed Soul", "Love Song 4 U")- which balance this record out. When I spoke to Swamp about the LP he called it "The best thing I've done since "Total Destruction"". He may just be right.

Allen O "Sit Down On It" (Laryan)
J.T. Watkins "Why Not Tonight, Girl?" (Arrow Heart)
James Brown "A Family Affair" (Brownstone)
The Persuaders "Made To Be Loved" (It's Soul Time!)
Allen O possesses a smooth, though thin, tenor voice that would best fit in the Southern Soul market and, alas, he's dropped a set of programmed Southern Soul rife with the usual themes: parties, booty, cheating that'll please fans of the genre. The title track to "Sit Down On It" (**1/2) is not the Marvin Sease hit but a superior version of a different song by Willis Pugh. This one written by Mark Safford, who also contributes "Two Places" (a fast version was cut by The Love Doctor) and the slow grinding "Going Through Changes". The 'try it before I buy it' message of "Before The Honeymoon" reminds me thematically of Roy C's "Virgin Girl". Don't listen to them girls! Hold out for the ring. Nevertheless O's version salvages a fair track once wasted on a poorly produced Lee Shot Williams CD of the same name. Elsewhere, "Step With Me" is a weak steppin' cut but the bumpin' "Party Up In Here", "More" & "Don't Look Back" are swell toe-tappers. The boudoir ballad "Knocking My Boot" that closes the set is the jam to push to radio methinks.
For those of us that've made the search beyond what mainstream radio force feeds to the public we often strike gold over the number of great Soul & Blues artists we find making a living under the radar of the major radio companies. J.T. Watkins has one of those timeless Soul voices mixing the back-of-the-throat warble of Joe Simon with the deep timbre of James Carr. Watkin's not quite in the same league but still a pleasure to hear. I've known about Watkins since his excellent 1997 Ace CD "I Can't Get Over You". But for whatever reason Watkins had to go the self-financed route with his second and third offerings ("Tribute To Some Of The Greatest" & "Father & Son Sing The Blues"). This brings us to his new independent CD "Why Not Tonight, Girl" (***), which reminds me of what made his first record so good. The title cut is a great Country Soul ballad may not be en vogue these days but will delight real Soul music connoisseurs. "I Don't Want Much" ("Just A Little Bit"), "Bull Dog Blues", "Come Back Home For Me Baby" & "Back In Town Again" are all sturdy Blues cuts- the latter a treat for Albert King fans like myself. My personal favorite is the slow burning Blues "Church Going Girl". A funny concept having a Blues singer, who are often notorious for their ramblin' ways, wooing a righteous lady. Another thing "Why Not Tonight, Girl" has going for it it's mostly played by live musicians sans the tepid "Find Yourself Another Girl" and a few synths. If don't know J.T. pick up this new one and find his Ace Records debut.
Let's get one thing clear Mr. Henry Stone has every right to release this James Brown material albeit posthumously. Brown wanted it released and actually most of it did appear on various latter day Brown discs. According to Stone: "In the early 90s, we formed the Brownstone record label and put out several releases over the years. James sent me a number of tracks to be released and tested on the Brownstone label. After James' sudden death, I felt it was important to put out this CD... in honor of James' memory."
As it is, and as were all of Brown's final collections, "A Family Affair" (**) is a hit-and-miss hodgepodge. The 13 track set opens with arguably Brown's best 90s cuts, "Funk On Ahh Roll", an unabashedly retro dose of JB Funk. This track plus "That Lucky Old Sun" and "Peace In The World" first appeared on JB's out-of-print CD "I'm Back". The firs single from "Family" is "Respect Me (First, Respect Yourself)", which appears in two versions (one of which was tacked the end on JB's "Live At The Apollo, 1995"). The few apparently exclusive tracks here include a remix of "Motivation" (from "The Nest Step"), "Say It Again" (an early version of "Killing Is Out, School Is In" with Bobby Byrd), the Gospelish "God Is Good", the lean, funky, but mediocre "I Wanna Be Loved On The '1'" plus four plain awful tracks by Brown's daughters Yamma & Venisha Brown. Interesting in name only. So, no, "A Family Affair" isn't some lost treasure but JB completists will need this in their collection.
As if a word-of-mouth secret The Persuaders' fine comeback disc "Made To Be Loved" (***) has been picking up momentum since it's 2005 release, mostly thanks to the efforts of label owner Andy Lothian. The harmony group is best known for the stunning "Thin Line Between Love And Hate" (#1 R & B #15 Pop) but the only original member that appears on this new LP is Willie Holland (on the closing "All The People"). Richard Poindexter, while not one of the original leads, created The Persuaders with his brother Bobby back in the late 60's and they wrote all of the early Persuaders material (including "Thin Line") . Richard produced and also wrote the original songs on the new CD. Plus, new Persuaders Alex Brown, David Turner and Tony "Mr Showtime" Riley are all top notch vocalists who recapture the spirit and sound of the original group.
The stirring "A Woman Was Made To Be Loved" features sweet four-part harmonies, a steady, tappin' groove and a potent David Ruffin'-like lead by Riley. Raspy power with perfect control. A truly scrumptious Contemporary R & B/Urban AC cut. In fact the remaining 14 songs all feature flawless production and smooth as cream vocals. Most of the tracks are of the slow tempo, croon the drawers off the ladies vibe with the occasional midtempo headbobber . Now I usually like my Soul music grittier and unhinged but undeniably this set is pure ear insulin. Fans of the Temptations are in for a treat. The Tempts are still temptin' and The Persuaders are still...
---
RETURN TO 2007 Album Reviews HERE
(C) 2018. All written material found on this website is the property of Blues Critic and may only be used with permission and full accreditation (either "Blues Critic" or "Dylann DeAnna of Blues Critic") and link to this website.